2021 Ford Mustang Mach 1 Fills Void Left Behind By Shelby GT350 Nicely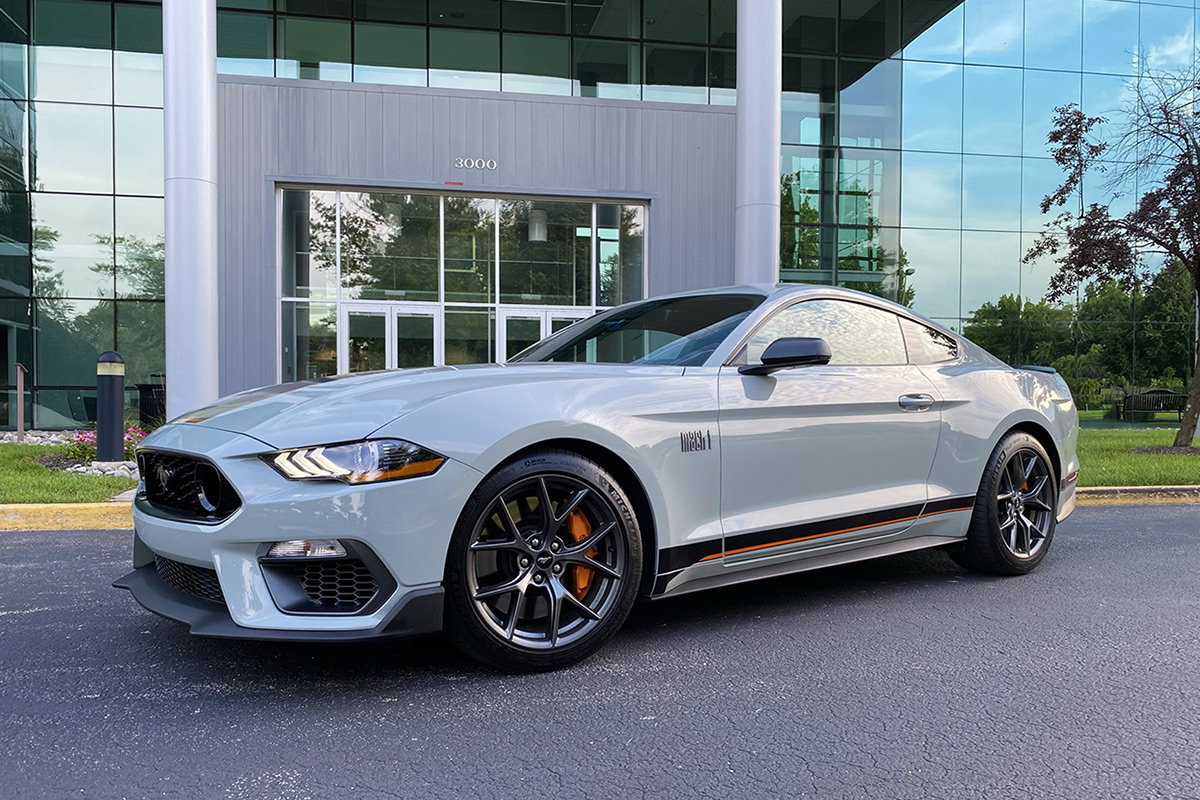 When Ford discontinued the Mustang GT Performance Package 2, Bullitt, and Shelby GT350, it was a huge blow to enthusiasts who wanted something a bit more track-focused than a stock Mustang GT, but didn't necessarily want to "pony up" to the venom-spewing, 760-horsepower Shelby GT500 and its hefty $70K+ price tag.
Enter the new 2021 Ford Mustang Mach 1, "the most track-capable 5.0-liter Mustang ever," a parts-bin special that takes the best bits from the various Mustangs past and present to bridge the gap between the Mustang GT and Shelby GT500. And it delivers in spades, with 480HP on tap, unique functional aerodynamic enhancements, competition-capable suspension upgrades and a driver-focused cockpit.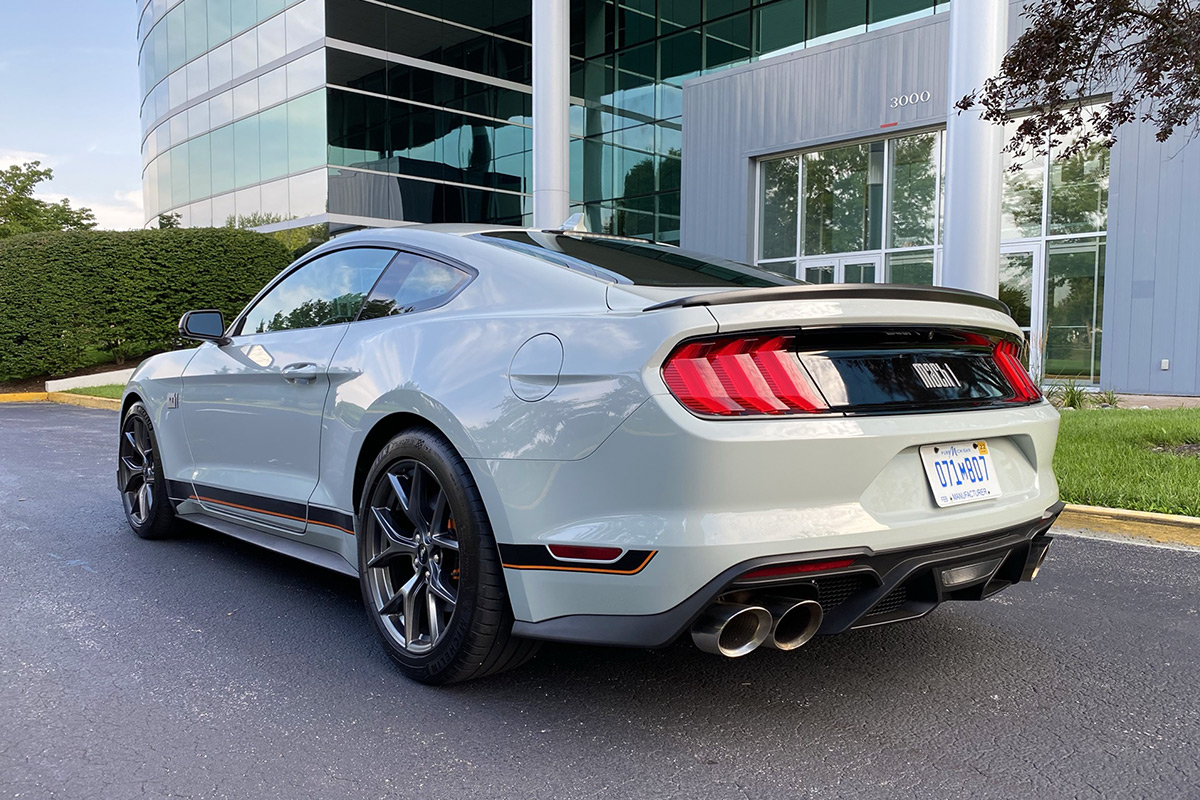 Like many of you, I would have loved it if Ford used that screaming 5.2-liter Voodoo flat-plane V8 from the Shelby GT350 with its 8,250-rpm redline in the Mach 1, but that just wasn't in the cards. Instead, we get the same 5.0-liter Coyote engine from the discontinued Bullitt, which puts out 480HP and 420 lb-ft of torque, an increase of 20HP over the Mustang GT thanks to a larger 85mm throttle body, the GT350's intake manifold, and an open airbox.
Unlike the Bullitt though, the Mach 1 uses the Tremec TR-3160 six-speed manual transmission from the Shelby GT350, which is an absolute joy to row and features automatic rev-matching downshifts and a slick no-lift-shift feature. That said, our tester was equipped with a 10-speed automatic, which was surprisingly good in its own right, with an upgraded torque converter and unique calibration that enables optimizing torque capability, shift character and overall enhanced performance.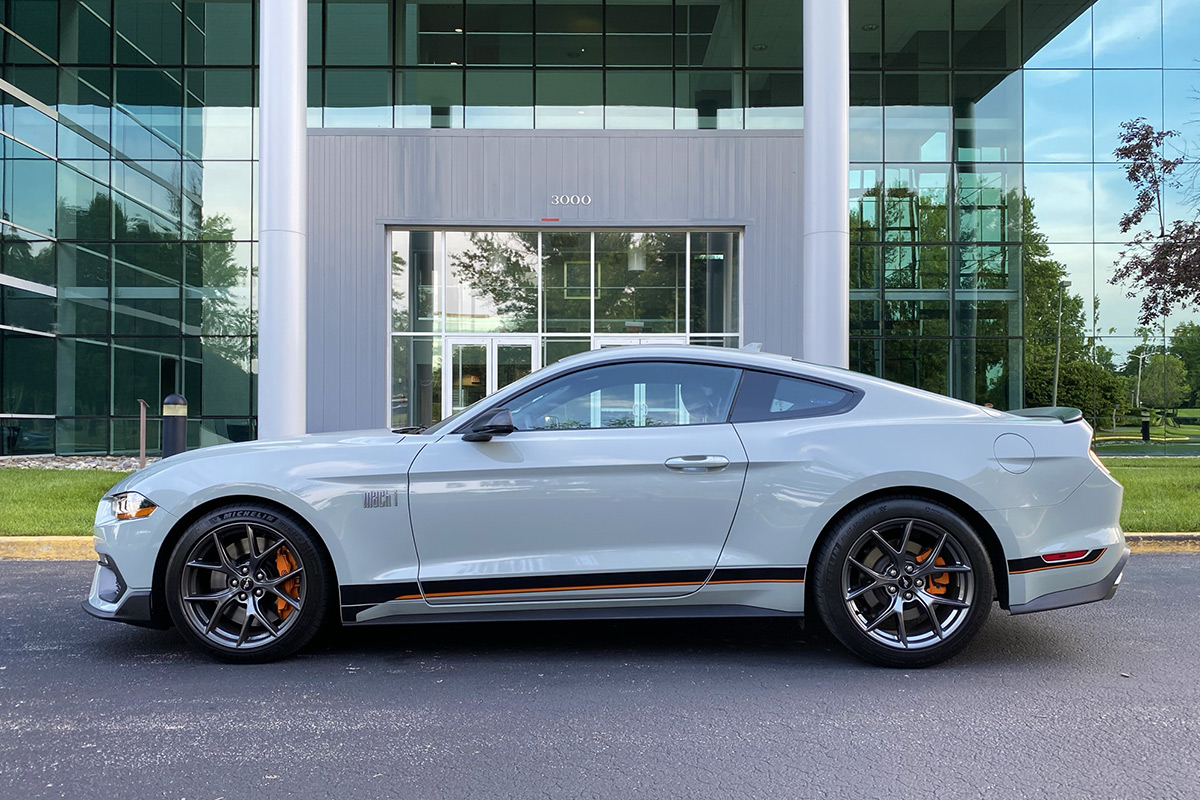 To improve ride and handling, the Mach 1 features the latest MagneRide calibration, a stiffer steering I-shaft, new EPAS calibration, stiffer sway bars and front springs, a brake booster from the Mustang GT PP2, 9.5-inch/10-inch split fitment wheels with Michelin PS4 tires, a rear subframe with stiffer bushings and a rear toe-link from the Shelby GT500.
A number of aerodynamic changes were also made to improves track performance, create ideal lift balance, and increase downforce. And for those that plan on tracking their car, an optional Handling Package ($3,500) adds a larger unique higher downforce front splitter, new front wheel lip moldings, and a low-gloss Magnetic swing spoiler with a Gurney flap and rear tire spats from the Shelby GT500.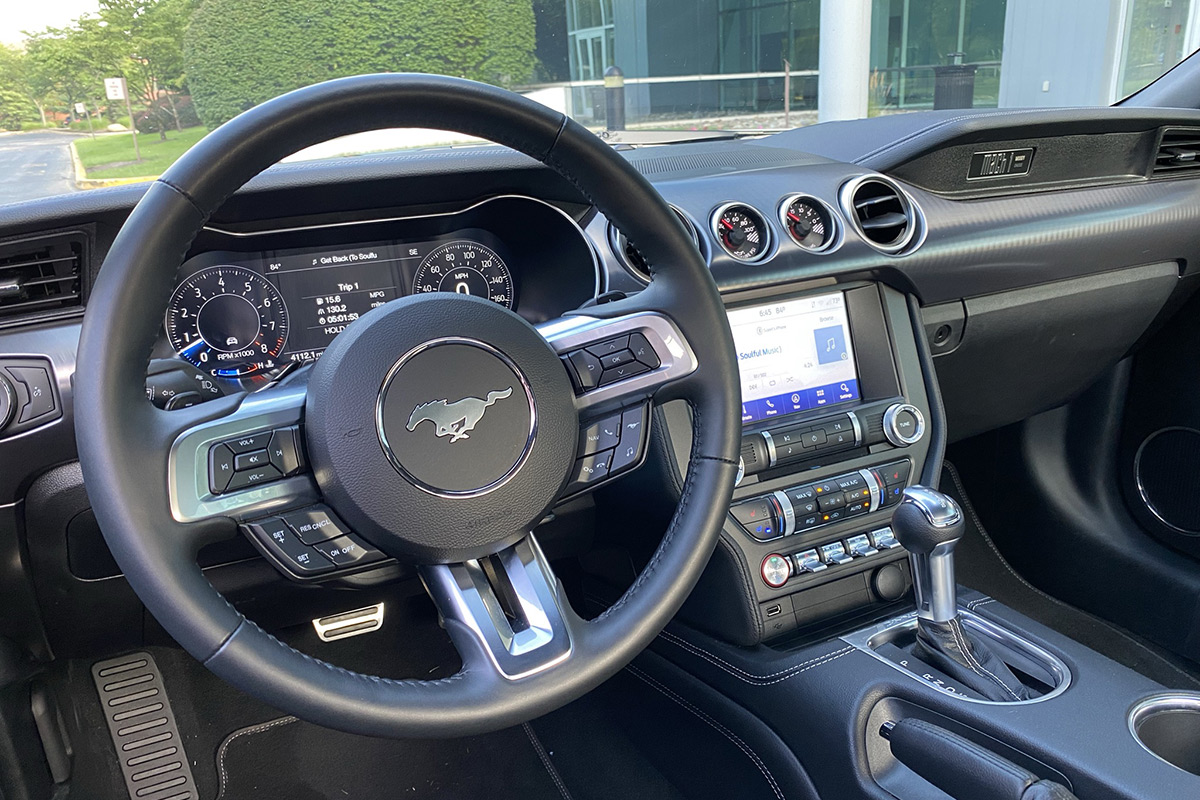 Visually, our Mustang Mach 1 tester turned more than a few heads, thanks in part to the Mach 1 exclusive Fighter Jet Gray paint, black/orange hood and side stripes, the unique front grille, the painted 19″ wheels and orange brake calipers, and the aggressive aero pieces. Everything really ties together nicely, the designers really knocked it out of the park.
Now that you're up to speed on what makes the Mach 1 so unique, let's talk about the driving experience. While I didn't get a chance to test out it's track worthiness, around town the car is just a blast to drive. The car has tons of power, grips like crazy, the Brembo brakes stop on a dime, and the exhaust note is just sublime. I thought the automatic transmission was going to suck the life out of the car, but it's actually REALLY good (so much so that I'd buy one with it).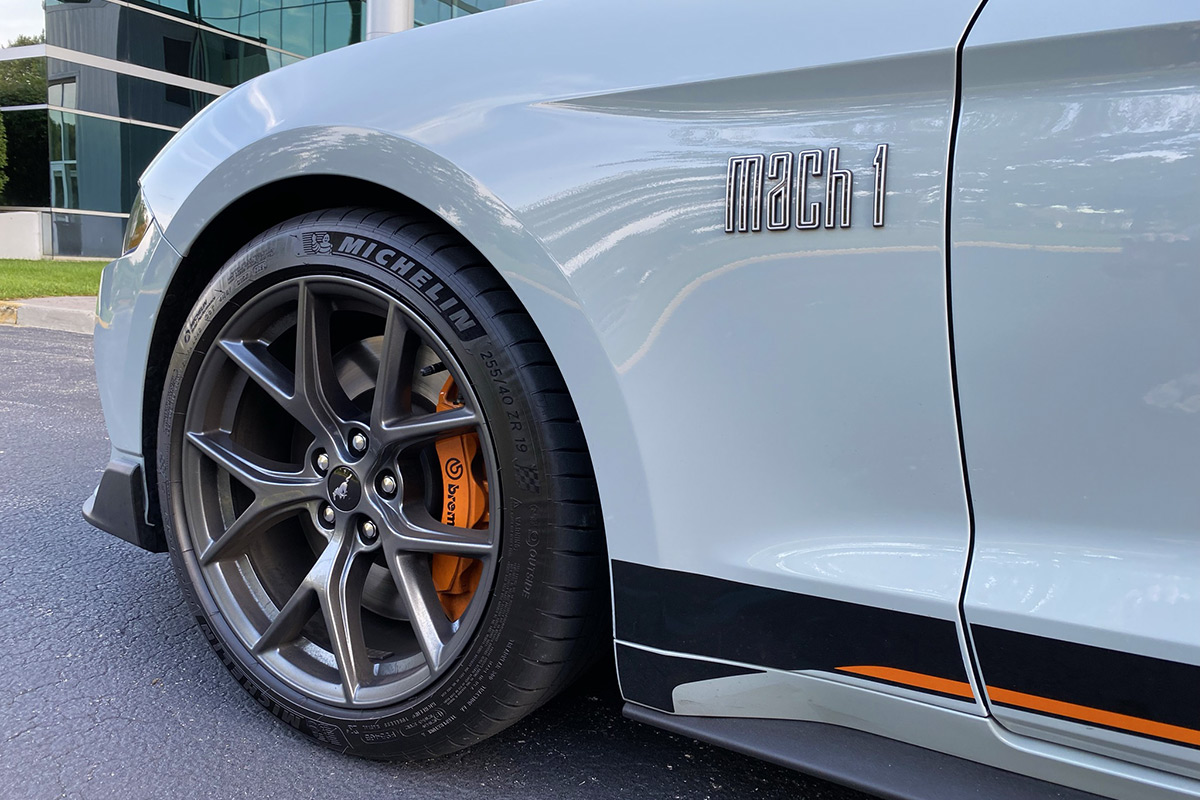 The 2021 Ford Mustang Mach 1 has a base price of $52,915, while a fully loaded model will set you back north of $60K. While it's not exactly inexpensive, it's a great option for people who missed out on the Bullitt and the GT350 and are looking for a track car that they can still daily drive during the week.
All in all, I think Ford really knocked it out of the park with the Mach 1. While it doesn't quite live up to the Shelby GT350 that we tested a few years back, it's a heck of a car in its own right, and one that's definitely worthy of the Mach 1 nameplate. God knows if I had the money, this one would be on my short list!