5 Badass Games Coming Out This August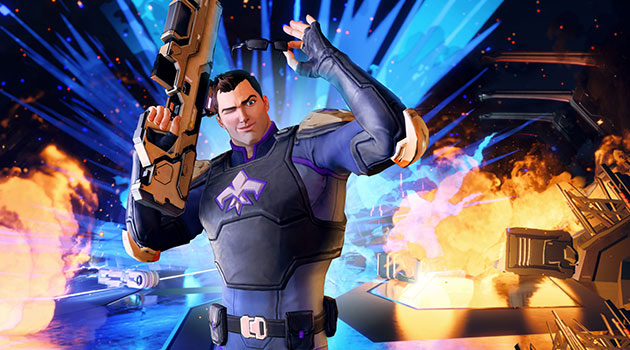 For the gaming crowd, there's no denying that the summer video game release schedule typically leaves one much to be desired. In fact, most use June, July, and August to catch up on their backlog before the big fall games begin releasing.
But this summer is different. In June, we were given Tekken 7, ARMS, and a brand new Final Fantasy XIV expansion (if you're into that kind of thing). In July, Final Fantasy XII: The Zodiac Age and Splatoon 2. And for August, there are so many games being released that we don't know how we're going to play them all.
Typically speaking, January and August are the low points of the year when it comes to getting new video games. But, in 2017, that's simply not the case. Whether you're a PC or console gamer, there are numerous new releases coming next month that should definitely be on your radar. Getting your hands on your eagerly awaited game can be strenuous so start saving right away so that you don't have to wait long to start playing after they're released. Buy your favorite game using coupon codes available on Frugaa for extra saving.
With that in mind, here are five badass games coming in August:
1. Madden NFL 18
Developer: EA Tiburon
Publisher: EA Sports
Platform(s): PS4, Xbox One
Release Date: August 25, 2017
One thing we CAN expect every August is the yearly iteration of the Madden NFL franchise from EA Sports. This year's game is Madden NFL 18, and it features New England Patriots poster boy and one of the most-hated quarterbacks in the league right on the cover: Tom Brady. If you can stomach having a game box with Brady plastered on its cover, Madden NFL 18 is likely going to be a great game to pickup in August.
So what makes this year's Madden release so badass? For starters, and for the first time ever, Madden will introduce a story mode named The Longshot that will follow a small-town high school quarterback by the name of Devin Wade as he tries to make his way to the NFL. Secondly, the franchise will be running on the glorious Frostbite engine for the first time ever (the same engine that Battlefield 1 and the Star Wars Battlefront franchise runs on. That will likely mean better, smoother animations during gameplay.
---
2. Hellblade: Senua's Sacrifice
Developer: Ninja Theory
Publisher: Ninja Theory
Platform(s): PS4, PC
Release Date: August 8, 2017
So many action-adventure games nowadays are filled with meaningless side quests, crafting, and other tasks that are simply there to extend the gameplay to over 100 hours. But Ninja Theory's upcoming Hellblade: Senua's Sacrifice takes a more succinct route, claiming to not be loaded with all of the fluff. Instead, they'll present a strong character story that actually matters.
The game follows Senua as she embarks on a journey through an underworld made up of her own psychotic manifestations, bringing to life all sorts of hellish demons and creatures. The dev claims the game will have a strong emphasis on delivering a deep character set in a twisted world, and it will have combat that is brutally unforgiving. Its Senua's Sacrifice's intriguing lead character that makes Hellblade one of August's most anticipated games.
---
3. LawBreakers
Developer: Boss Key Productions
Publisher: Nexon
Platform(s): PS4, PC
Release Date: August 8, 2017
If you guys are looking for something that can be considered a more mature (ie. M-Rated) Overwatch then LawBreakers from Boss Key should definitely be on your radar this August. The game is an FPS multiplayer game that aims to be a grittier, bloodier version of Overwatch (which is one of the most popular games of the past decade).
But it's more than just a reskinned hero shooter, as LawBreakers brings in some new elements. The game (which, by the way, is designed by Gears of War creator Cliff Bleszinski) also takes a more aerial approach than any hero shooter before it, bringing an emphasis on omnidirectional multiplayer combat unlike anything we've seen to date.
The game will have nine unique roles with over 18 characters available at launch, with each character having their own thrilling ability combos that can devastate their opponents. Each character also moves in different ways, with some using hooks and others using jetpacks. It's a game that's played fast and furiously, which is an entirely different pace than what other, similar shooters offer.
---
4. Agents of Mayhem
Developer: Volition
Publisher: Deep Silver
Platform(s): PS4, Xbox One, PC
Release Date: August 15, 2017
If you loved the ridiculous, ludicrous side of Saints Row IV, then you're going to want to check out Volition's latest game, Agents of Mayhem. The game takes place within the same universe but has a more cartoony feel to it. The characters in Agents of Mayhem are loaded with attitude, each with a unique playstyle and vibe.
The moment-to-moment gameplay of Agents of Mayhem sets you in various missions, and it'll essentially play like a Saints Row V. Expect big explosions, hilarious dialogue, and fun combat. You'll go in guns-blazing to complete awesome action sequences using your character's unique abilities to take out your foes and complete your mission. In fact, it's Agents of Mayhem's highly stylized over-the-top action that sets it apart from other, similar games. If you love explosions, guns, and great combat, AoH is one badass game you aren't going to want to miss this August.
---
5. F1 2017
Developer: Codemasters
Publisher: Codemasters
Platform(s): PS4, Xbox One, PC
Release Date: August 25, 2017
Developer Codemasters is well-known in the gaming community for their quality racing games, ranging from the high-octane thrill of Fuel to Dirt to the more arcadey racing game franchise, Grid. But one of their most popular video game franchises in their repertoire is the F1 series, and this year's new release, F1 2017, will release on August 25th.
Each year, the series gets better and better, receiving higher review scores and more praise from its fans. This year's title is based on the 2017 Formula One season and it'll include all twenty circuits, twenty drivers, and ten teams. The game will also bring back classic Formula One cars, which we haven't seen since F1 2013. Like its predecessor, it'll take place on the EGO Engine 4.0 system that will bring ultimate high-fidelity racing that rivals the best racing games in the business.
Which of these games are you most excited for?