A New Season Of Impractical Jokers Kicks Off Tonight!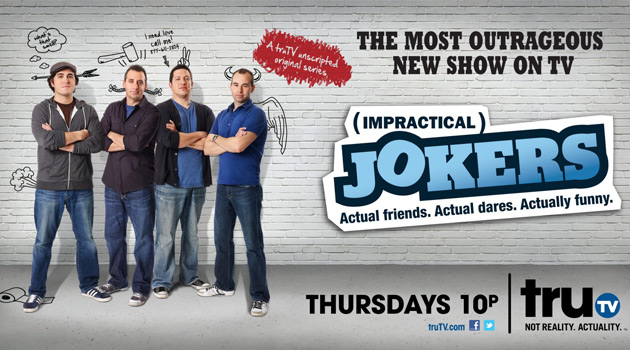 If you haven't watched TruTV's Impractical Jokers before, you don't know what you're missing, as it's one of the funniest shows on TV. The show follows Joe, Sal, Murr and Q, four high school friends who coerce one another into doing the most ridiculous public dares imaginable while being filmed by hidden cameras.
What makes Impractical Jokers unique is that the stars of the show don't know the details of the prank until the moment they approach the strangers. While one cast-member performs the prank, the other three guys are behind-the-scenes feeding lines to their friend through an earpiece. Hilarity ensues.
If they fail to complete the task, they don't get the point. At the end of each episode, the Joker who comes in last has to attempt the most mortifying challenge ever.
The show is comedy gold, and it's not unusual to find me laughing uncontrollably (often to the point of tears) during an episode, that's how crazy their antics are.
This morning, we got to interview Joe and Murr about the new season, as seen below:
Make sure you tune in to Impractical Jokers tonight at 10pm on TruTV.