truTV's Impractical Jokers Live: Nitro Circus Spectacular Giveaway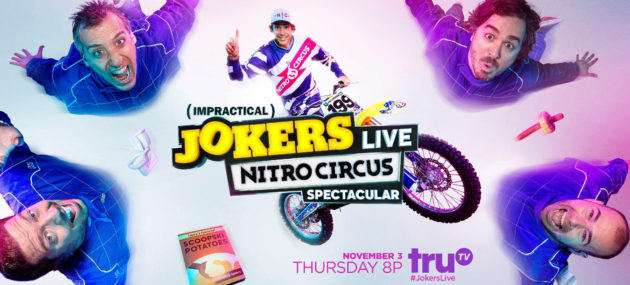 If you haven't watched truTV's Impractical Jokers before, you don't know what you're missing, as it's one of the funniest shows on TV. The show follows Joe, Sal, Murr and Q, four high school friends who coerce one another into doing the most ridiculous public dares imaginable while being filmed by hidden cameras.
What makes Impractical Jokers unique is that the stars of the show don't know the details of the prank until the moment they approach the strangers. While one cast-member performs the prank, the other three guys are behind-the-scenes feeding lines to their friend through an earpiece. Hilarity ensues.
Every week, these guys bring me to tears with their outrageous pranks, and it looks like they're going to end this season with a bang, teaming up with the Nitro Circus guys for an epic two-hour special live event!
Hosted by extreme sports superstar Travis Pastrana and powered by the unmatched showmanship of Nitro Circus, the Impractical Jokers Live: Nitro Circus Spectacular season finale will feature Joe, Murr, Q and Sal tackling their biggest challenges yet, including two high-stakes live punishments and a four-part obstacle course.
Here's a little teaser of what Q is in for:

Set to air Thursday, November 3rd at 8pm ET/PT, the Impractical Jokers Live: Nitro Circus Spectacular will be broadcast live from Prudential Center in Newark, NJ and will reveal which Joker can best overcome their nerves to claim victory for ultimate bragging rights – and their favorite charity. The Jokers have a great history with Prudential Center, having visited The Rock to film punishments with the New Jersey Devils and Top Rank Boxing.
To further fuel fans' thirst for all things Impractical Jokers on the night of the finale, truTV.com will stream a pre- and post-episode digital show, live from Prudential Center. Beginning at 7:30pm ET / 4:30pm PT, the pre-show will feature guests, exclusive video and surprises leading into the night's event. And immediately following the live special, the four Jokers will sit down with the truTV.com post-show crew for an exclusive interview to discuss their experience as well as answer questions fans have submitted via social media.
Who'll get punished at Impractical Jokers Live: Nitro Circus Spectacular? For the 1st time, FANS DECIDE. Vote using #Fanshavethelastlaugh and #PunishJoe #PunishMurr #PunishQ #PunishSal.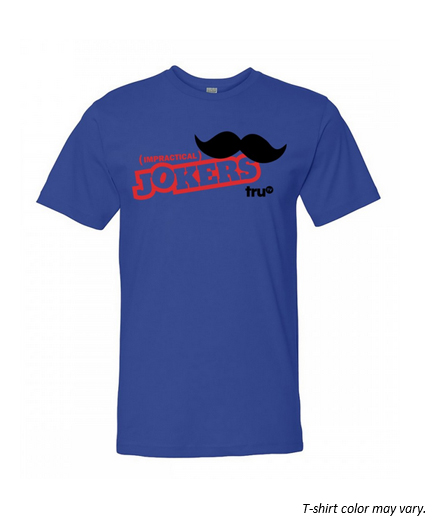 And here's the best part: One lucky winner is going to win an Impractical Jokers T-shirt AND a $50 Visa gift card to host a live viewing party on November 3rd! How sweet is that?
To enter, simply leave a comment below and tell us who your favorite Impractical Jokers is. We will pick a winner at random on October 24th at 5pm EST. Contest open to US residents only.
For more Impractical Jokers goodness, make sure you visit their official website, like them on Facebook, follow them on Twitter and Instagram, and subscribe to truTV on Youtube.
—
Disclosure: I received compensation from Turner, but all opinions are my own.