Acura RLX – Savings Of A Hybrid, Power Of A Car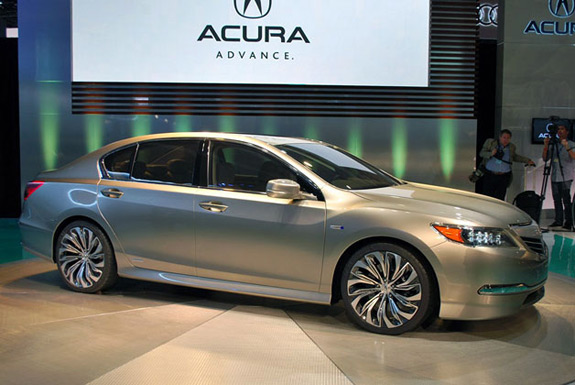 The new Acura RLX is at the forefront of a new advanced engineering philosophy at Honda's luxury brand: create hybrid cars with outstanding fuel efficiency, but with a new focus on performance. Like the next Acura NSX supercar, the RLX uses a combination of gasoline and electric power for high output with an innovative new electric-driven all-wheel drive system.
Acura RLX: True Sport Hybrid Powertrain:
There's been a few cars that bill themselves as "sport hybrids." The Lexus CT200h and Honda CR-Z come to mind, but neither were really all that sporty. The RLX makes big usable HP and torque from a combination of a 3.5-liter V6 gasoline engine and three electric motors.
Driving the front wheels, the V6 and an electric motor work in tandem to provide both power and efficiency. Driving each rear wheel is a dedicated electric motor, which can supply torque as needed for acceleration, cornering and navigating situations where 2WD wouldn't cut it.
All told, the system outputs 370 horsepower, with Acura predicting the new RLX will achieve a combined 30 mpg using EPA testing methods, better than any full-size luxury car to date.
The system is essentially a flip-flopped version of the three electric motor package in the new Acura NSX, set to debut in 2014 or 2015. In the NSX, the V6 and electric motor drive the rear wheels, while each front wheel gets its own electric motor.
RLX: A Hybrid, But A Real Luxury Car:
Luxury hybrids made to date are often robbed of the spot-on driving feel that makes their gasoline counterparts so appealing. CVT transmissions are great for fuel efficiency, but don't work out too well in true performance cars. Regenerative braking needs to be tuned so that the brakes don't feel slushy, and don't fade over time.
Honda promises the answers to these qualms with the new RLX. Designed from the ground up with the new SH-AWD hybrid powertrain in mind, this promises to be one thrilling sport sedan. The Acura TL SH-AWD model has already proved the brand's system is great for performance applications, and the addition of dedicated electric motors not only brings greater control but eliminates the need for a complex limited-slip center differential.
The RLX should hit 60 mph in the mid 5-second range. This is a hefty car, to be sure, with comparable interior dimensions to the regular-wheelbase BMW 7-Series, Audi A8 and Mercedes-Benz S-Class. Its exterior is a bit smaller than those models owing to a long wheelbase and short overhangs. With the redesign, the RLX no longer plays second fiddle to the rakishly styled (and cheaper) TL.
RLX Pricing and Availability:
Clearly targeting the American market, the RLX is expected to debut in final production form at either the 2012 Los Angeles Auto Show or 2013 Detroit Auto Show, meaning it will likely hit dealerships in mid-2013. The current RL starts at just under $50,000. With the new technology and corresponding increase in performance, the RLX will likely increase in price, though still should stay under $60,000 to compete with the class sales leaders.
The 2012 Acura RL and its recent predecessors have been some of the slowest-selling models on the market, as full-size luxury sedan lovers have looked elsewhere for larger, higher-powered and more luxurious models from Germany, or even from Japan's own Lexus. Expect that to change with the advanced RLX, which promises true luxury sport sedan performance while maintaining a green image that no other car in the segment can match.
This article was written by Karl Stockton for the team at Dallas used cars.