An Interview With Scream Queens' Diego Boneta
Diego Boneta has spent a great deal of his short career surrounded by legends. A few years ago, he burst onto the scene in the musical Rock of Ages, in which he along with Tom Cruise, Catherine Zeta Jones, and Alec Baldwin among others gave us their takes on classic hair metal standards. Since then, he's been busy filming the upcoming Ryan Murphy series Scream Queens co-staring Jamie Lee Curtis and Emma Roberts, recording some music of his own, and traveling the world, which has been a lifelong hobby.
Now, in his partnership with Marriott hotels through their #LoveTravels social movement, he hopes to not only share that love of travel, but encourage people to be more open to cultures outside of their own.
So Scream Queens is a mix of legendary stars such as Jamie Lee Curtis and some more up and coming actors like yourself, and I was wondering what the cast dynamic of something like that is?
It's been an awesome cast dynamic. First of all, it's lead by Ryan Murphy. He created Glee, American Horror Story, and Nip/Tuck. He is very very very respected in the business by actors, and by executives. When Ryan calls, you're there, you know what I'm saying? He directed the pilot so everyone was from the very beginning on board, very excited to be part of this. Starting with Jamie Lee Curtis, Emma Roberts, he set the tone for the whole thing. It's something that is very unique, very different. This show is unlike anything that I've ever seen before, ever. We're all just excited and honored to be a part of this.
What specifically makes Ryan Murphy unique as a show-runner?
I think what makes him unique is that he is one of the few people who can take something so 'out there' and weird, that nobody would every think about, and mixing it together to make it a pop culture trend. He's a trend setter. All of the stuff he's done, it's new, it's risky, and that's why I think he's respected by the critics and loved by the fans. In Scream Queens, I think the easiest way to describe it is bubblegum meets blood.
So you mean that you're mixing the tropes of something that's more pop culture, with something that's more taboo, like American Horror Story in a sense?
Yeah. I think what makes this so different is that you have comedy and horror. After watching it I was very impressed by how funny it is. I think that combo of having humor with twisted horror, I can name very few projects like it, Heathers being one of them. It's in that world. It has some of the humor that Glee had with the creepiness of American Horror Story.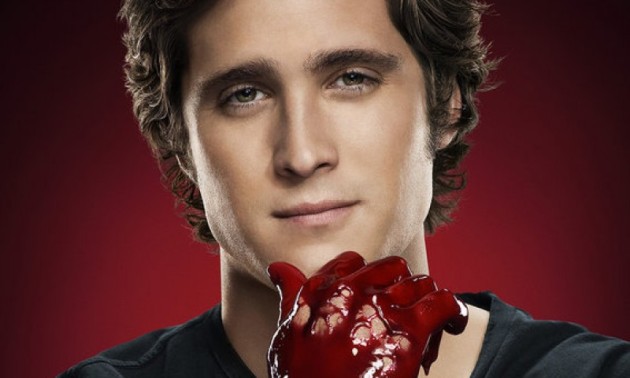 When you're working on something like this which obviously has a very different tone from your last big project which was Rock Of Ages, how does the on-set chemistry change, even though the types of actors you're working with are similar?
Rock of Ages was surreal man. That was the best experience of my life. Being able to work with Tom Cruise and Alec Baldwin and Catherine Zeta Jones on my first movie was a huge blessing. Being able to learn from them was even cooler. When you come to people like Jamie Lee Curtis, you realize that all of those legends have the same thing in common. They love what they do, and they're in it for the work. There's no games, and they're humble. Jamie Lee is an amazing example of that. First of all, she's a wonderful and very strong woman and a perfect idol for women. She kind of sets that tone on set. I love doing scenes with her. All of the actors involved are actors who are serious about what they do. They're not just doing it just to do the show, they have great careers. We've got people like Emma Roberts, and Lea Michelle, and even singers like Ariana Grande and Nick Jonas who are also in it. We all feel lucky to be a part of it and we want to shoot the best show we can and have fun while doing it.
Who is your character on the show?
Pete, my character is the investigative reporter of the story, who runs the school paper. He's not part of the Greek system. He's anti-that whole world. He doesn't like the sorority girls. He's a hardworking guy who is very passionate about telling the truth and takes his job very seriously. He's trying to figure out who the murderer is, how the murders are connected and he thinks that he's solving the world, you know? He's very intense about what he believes in. He's also a romantic guy. He meets Grace who's played by Skyler Samuels, a spark hits and they have a little thing going on.
Sounds great! Diving into the #LoveTravels campaign. In your video, you talk the story of how you met a group of girls at the airport when you traveled to France, and how you ended up staying with them. You say that you like to be open to meeting new people when you're traveling. I was wondering if you had any other stories that were similar?
That's definitely the craziest of all the stories. We're still really close friends and that happened four years ago. I think the most important thing when traveling, for me at least, is just being open and kind to people. It sounds silly, but it really works. Especially when you're in a country that puts you out of your comfort zone, especially when you're in a place where you don't speak the language. Like France. I don't speak French, and I am visiting their country. If you try to speak a few words, if you're polite, people can tell when you're trying to make an effort vs when you're being arrogant.
In that same trip, I was with my best friend, we were in the middle of France, and we had missed a bus. We were stuck there, the next bus didn't leave for two days, and we were going to miss our flight back to Paris. Just not a good situation. Just as we're about to have dinner, an older couple comes up as a table frees up, so I let them take it. We got seated at a table right next to their table, and they overheard our conversation as we tried to figure out how we were gonna get out of there. I think that we had to go to Nice to catch the flight, in the south of France. They offered to drive us to Nice, and they ended up doing it thanks to that small gesture. It's stories like that, which made me appreciate traveling even more.
I've been very lucky, traveling the world since I was twelve years old, eventually touring and shooting movies. It's by far my favorite way to learn. If you study a bit about a country outside your comfort zone before going and you really try to understand and experience local spots through their eyes, you just kind of understand more about other people. And that especially as an actor is very cool, since it's also research for roles. That's why when I'm not shooting or singing, my favorite thing to do is to travel.
You also talk about how when you started acting, you saw your nationality (both American and Mexican) as a disadvantage, which evolved into being an advantage. When you're traveling you're constantly learning new cultures which absorbs into being new advantages. I was wondering what your mental process is as you take in these cultures when it comes to acting?
Well, the disadvantage was not so much on my behalf but more on that of the industry. I started out being a Mexican who could play other nationalities because of how I look. I feel like Hollywood likes to stereotype a lot. This guy goes in this box, this guy in that box. So having a guy who can fit in two or three boxes is hard to accept for them. I feel like that way of thinking is changing a lot.
I think that especially with the Latin community, after Obama's re-election, people saw how powerful the Latin audience are. They're literately a country within a country. There are 33 million Mexicans in the United States alone, and I'm not talking about Puerto Ricans, Dominicans, Cubans, or Colombians. One out of six people in the US is Latin. Also, they're huge movie-goers. For a lot of these action movies, the number one audience is Latin. I love that there is a lot of change going on. I think it also has a lot to do with social media and this new generation full of people who can connect and feel like they're from everywhere. You can see pictures on Instagram of people in Europe, and China, and Asia and it's way easier to have that immediate interaction. Whether it's video, pictures, or twitter. So when I travel, seeing how people are in different cultures is fascinating to me, even if it's just people watching. At the end of the day, that's one of the things that I do, it's playing other people. I can just take things and learn from that.
Thanks again to Diego Boneta for taking time out of his busy schedule to talk with us about Scream Queens, and be sure to join the #LoveTravels conversation on social media at @LoveTravelsWithMe.