Off-Roading In The 2014 Nissan Frontier Pro-4X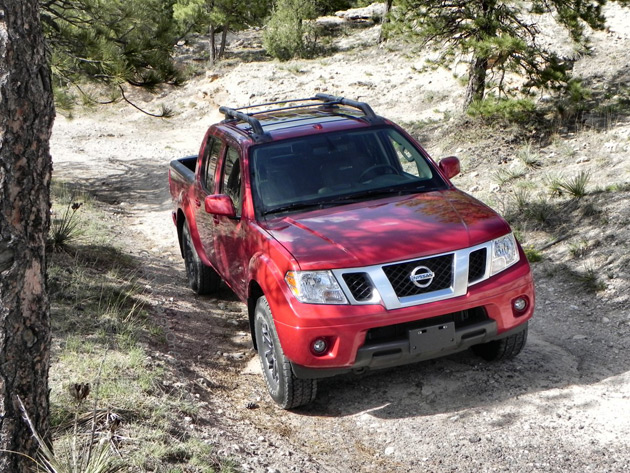 There are three things to do for fun in Wyoming that don't involve risks of unintentional fatherhood: rodeo, firearms, and offroading. Quite often, all three are combined in a weekend's worth of good times. This is where the 2014 Nissan Frontier Pro-4X comes in. After watching the Friday night rodeo, we packed it up with firearms, picked a random direction, and followed a dirt road until it ran out and then kept going anyway.
The Frontier in its Pro-4X package is capable of getting you just about anywhere you want to go. After leaving the road behind, we bounced and climbed our way through empty fields and short hills. The GPS didn't know where we were, there weren't any street signs or maps to be had, but it didn't matter. We kept going because the direction seemed like a good one. Once in a while, we stopped and took photos, shot off a few rounds, or maybe ate a sandwich. The journey was the point. There was no destination.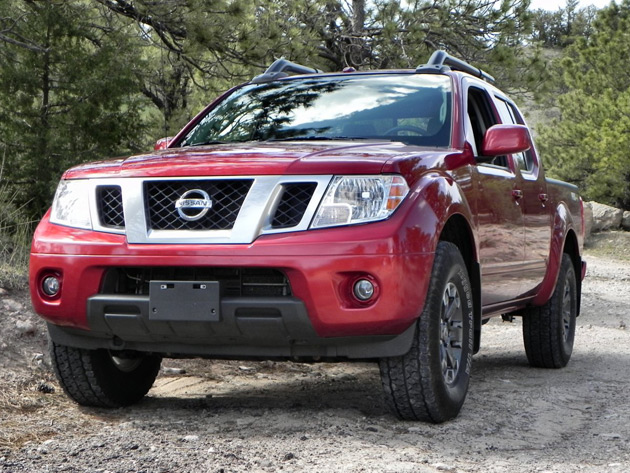 The odometer in the 2014 Frontier said that we were about forty miles out from where we started. Of that forty miles, perhaps three of them had been on pavement. We decided to make a loop out of it, so we turned left. With seating for four, a comfortable feeling when bouncing off the beaten path, and a Rockford Fosgate stereo to blast.. no one was in a hurry.
Another dirt road appeared and it was headed more or less westward. So we took it, stopping occasionally to water the bushes and drink something caffeinated. The sky was becoming overcast, but no worries, as the 2014 Frontier Pro-4X has Bilstein shocks, and since it's largely the same as its 2013 brother from last year, would have no trouble in the mud. We'd thoroughly tested it. Our odometer was now showing 60 miles out in the wild.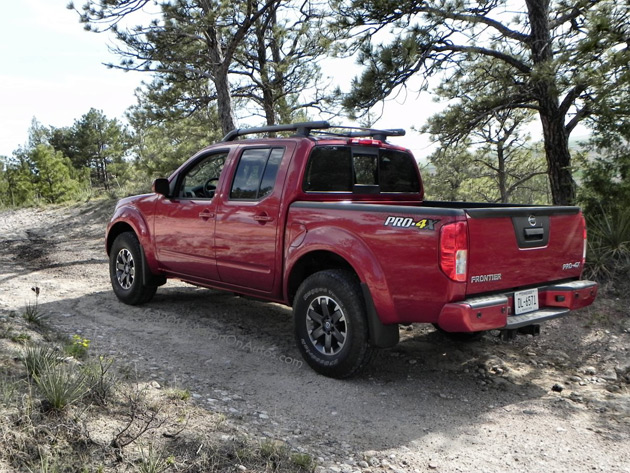 Sure enough, the rain came. The dirt road became more muddy as we progressed, but not once did the 4.0-liter V6 bog down as the hi-four used its 261 horses to keep the pace up down the muddy track. Western Nebraska turned back into Eastern Wyoming and we kept going. Somewhere in there, we realized that home was probably to the North of our location, so we turned again. Road or no road.
Sagebrush gave way to fields of corn. We found the farmer's track through them (hey, there's no point in destroying someone's crop) and we followed that to a county road. The mud gave way to packed dirt and, eventually, pavement and then town. After almost exactly 100 miles of driving, we'd made a huge loop and seen very little pavement in the process.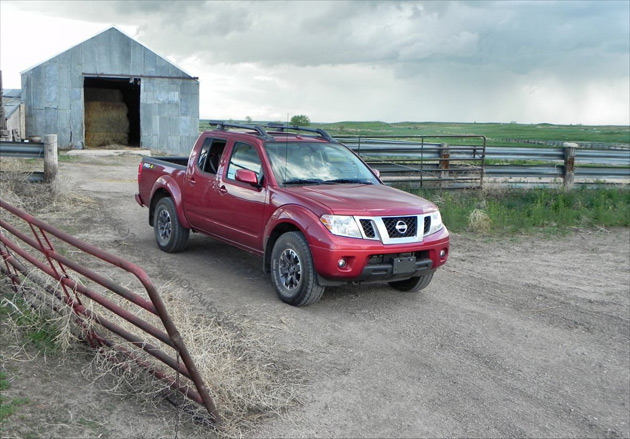 The point of all this? The 2014 Nissan Frontier Pro-4X is comfortable, fun, and one of the most offroad-ready machines you can find. It'll get you there, every time. Even if there is no "there" and the getting to it is all that matters. Good times.