Aquatic Music Festivals: Kickin' It on the High Seas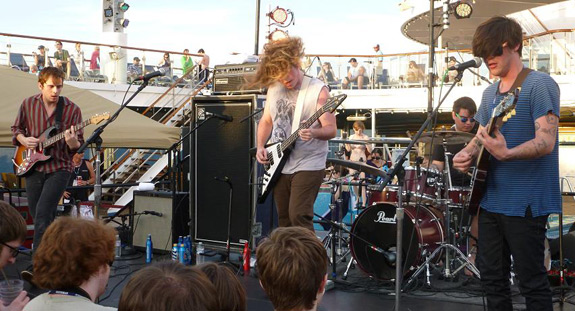 Good-bye Mark McGrath & friends, hello Weezer. For one reason or another, it seems Sugar Ray is done with their run on the high seas. Weezer is taking over and they are ready to get their 90s geek chic rock fans back out for a second romp to the Caribbean. With this current event in sight, I did some information diving into the world of concert cruises, which seem to be trending hard at the moment. All types of sounds are represented and they have one thing in common—they are all Caribbean cruises.
If you have the dough and one of the following music interests, what could be better than sitting by the pool on a cruise ship with your favorite musicians, rocking front and center to some killer music and ending up on a Caribbean island to frolic about with bikini-clad women? Here's where to sign up.
Hipster Sail
Alt-rock band Weezer announced this week they will take their show on the open seas for the second time in February 2014. The Weezer Cruise will take hipster superfans from Jacksonville to Heaven (okay, just the Bahamas) as they rock two onboard shows and one private island beach concert during the four night adventure. With theme nights afoot and photo opps with the band, geeking out has never been so fun.
Monsters of Rock
Ditch the day job for a week, dig out your leather and hair spray, and get ready to throw the horns. For you, the Monsters of Rock cruise is not just any trip, but the vacation of a lifetime. This year, look forward to Cinderella, Tesla, Queensryche, Lita Ford, Stryper and Kix, to name but a few. Could a run-in with Tawny Kitaen happen? Possibly? It's not confirmed, but I'm pretty sure you can look forward to an air guitar competition or two.
Rock Legends
You might have missed it this year, but surely they will to do a third Rock Legends cruise next January. Their hair is shorter and a little grayer, but these classic rockers still "got" it. In an intimate and unique setting, cruisers felt the sweat of Foreigner, Creedence Clearwater Revisited, Kansas, Molly Hachet and Bob Burns (the original drummer for Skynyrd, dude) on their skin as music recaptured their souls in legendary fashion. Stay tuned for next year's cruise details.
Shiprocked
When hurricane season ends in the Caribbean, the music tornado begin as Korn, Godsmack and Filter seriously rock fans' worlds. Last year, these bands set sail from Nov. 27-Dec. 1, and the experience will not be forgotten by those lucky enough to have been at the party. (Some will only remember what happened from pictures) This year, expect mayhem to ensue.
S.S. Coachella
While the land version of the Coachella festival happens each year and has a wide variety of music, the ocean liner Celebrity Silhouette pumps out primarily electronic music all day long. Hitting the Bahamas and Jamaica at the end of last year, the inaugural cruise graced the stars with sets by Girl Talk, James Murphy, Sleigh Bells, Pulp, Z-Trip and other cool DJs. Two things Coachella and Celebrity cruises have in common is they are full of class and they bring it all.
Funky Fresh
You just missed the 2013 Caribbean Cruise with 311, but do not fret, there will probably be another one right around March 11. (Go figure, 3/11…get it?). This year, 311 had Less Than Jake, The Aggrolites and DJ Kilmore (from Incubus) along with 2,000+ of their closest friends (biggest fans) for yet another journey across the crystal blue seas to Great Stirrup Cay, Bahamas. Check out a recap of last year's expedition.