AXE Hair Introduces 'Styled In Seconds' With Football, Food and Cocktail Tips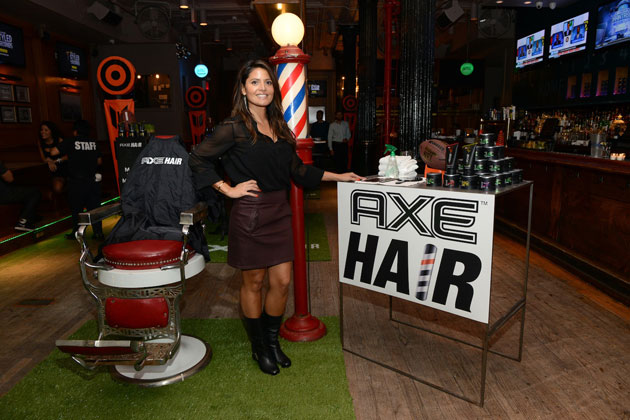 Last week, AXE Hair invited writers to experience what it means for you have your hair Styled in Seconds. The experience started at Bounce Sporting club in downtown NYC with an array of goodies, which included AXE hair products, food, drinks, and four unique stations that highlighted the many ways an AXE man lives. The evening took an amazing turn after we learned the many ways we could be 'Styled in Seconds' when we were taken away to Met Life Stadium, where we watched the New York Giants face off against the Minnesota Vikings for Monday Night Football.
AXE has many levels of hair products for men. From the 'Messy Look', to 'Spiked Up Look', and 'Clean Cut' plus the 'Natural Look'. You can get all of these looks in a gel, spiking glue, styling gum, pomade, putty and hair paste. Each individual texture gives your hair a different feel and look. See how Natalia Bruschi styled one of the writers in seconds here.
We also got tips on how to make great drinks and easy-to-make foods and sauces for your next tailgate or gathering. Oh, and did I mention we learned how to play the guitar in 10 minutes? Yes, that really happened. For more from 'Style in Seconds', go to AXE's YouTube channel for awesome videos and more expert tips.
As I mentioned earlier, we ended up at Met Life Stadium for the NY Giants game. Not only were we watching the game, but we were in the AXE suite. Here's a quick look at their suite AXESUITE, which included some exquisite food and top shelf hooch.
Here are some photos from the event:

The NY Giants ended up winning the game, which made my day. But better than that was the experience and people who made it possible. Remember it only takes a few seconds for guys to get the hair girls love with AXE Hair styling products.
Stay connected with all things AXE on Facebook, Twitter, and of course http://www.theaxeeffect.com.