Divoom Introduces Bluetune-Solo Bluetooth Speaker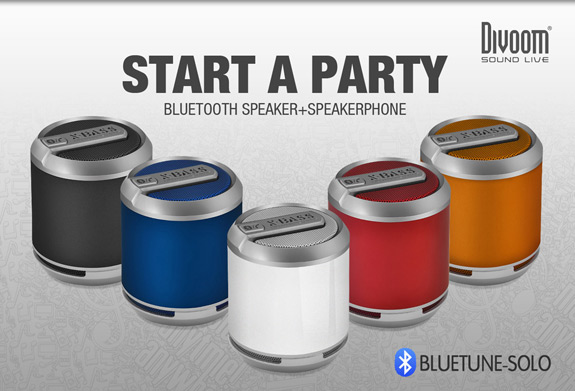 At this year's CES, Divoom released their new portable Bluetooth speaker, the Bluetone-solo.
The speaker combines superb stereo sound, hands-free speaker phone, and daisy chaining, ideal for listening to music on-the-go. It's perfect for students, teens and kids, as well as adults.
The X-Bass sound system features patented PO-Bass Technology to provide a deep bass in a compact package and more resonant sound than comparably-priced portable speakers.
The Bluetune-solo includes a built-in microphone for hands-free calls (in apps, such as Skype and Facetime) and has a built-in rechargeable battery for up to 8 hours of play time.
Designed for on-the-go music enjoyment with an all-in-one button conveniently placed on top for easy access, the Bluetune-solo speaker wirelessly connects to all Bluetooth devices, smartphones, tablets, laptops and more, including iPhones, Androids, BlackBerrys, and iPads. For extra convenience, the speaker also works with devices that don't support Bluetooth through its auxiliary-in port.
The Bluetune-solo is available in 5 colors (as seen above), and retails for under $50.
We'll have a more in-depth review in the coming weeks, but until then you can click here to learn more about the Bluetune-solo.