Eating Burgers And Drinking Beers With Top Chef's Richard Blais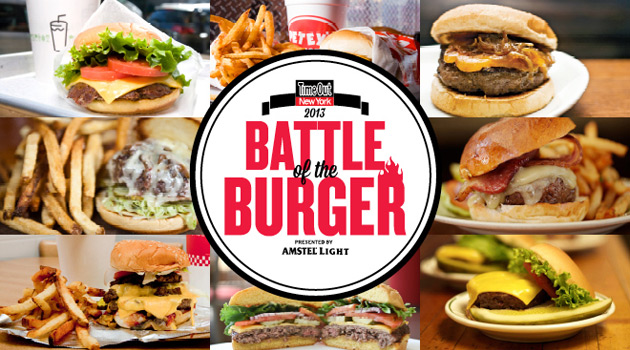 Last week, Amstel Light organized a meet-and-greet with Top Chef's Richard Blais, where we tasted one of his signature burgers, all the while sipping on some refreshing beer from Amstel Light. The day started out with meeting the great chef, but ended in a food coma which included tasting almost a dozen burgers from some of the best burger joints in NYC.
Most know Chef Richard Blais from his participation in Bravo's Top Chef: Chicago where he came in 2nd, or more notably as the winner of Top Chef All-Stars, but what most do not know is this NY native had baseball aspirations and worked in McDonalds before becoming a Chef rock star.
I had a one-on-one with the Top Chef, where we discussed the perfect burger and more…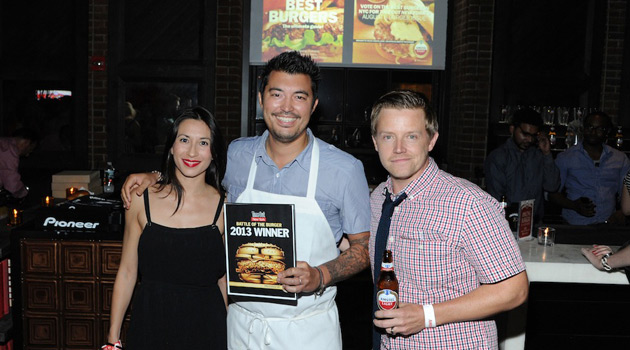 How did you get hooked up with Top Chef?
They called me, and recruited me, which has opened up amazing opportunities like what I'm doing today with the Battle of the Burgers.
What's your favorite burger?
I really don't have a favorite, I like all types of burgers, I even like fast food burgers, I'm not one of those chefs who cant say every once and a while a fast food burger hits the spot. But in its essence, my perfect burger comes with dry aged meat, cooked on a wood fire grill, with a soft bun, caramelized onions, and ketchup.
What's your favorite type of meat in a burger?
Lamb and duck
Tell me about the Battle of the Burger?
12 restaurants throw down to win a trip to Burger Bash in South Beach, Miami in February, where almost a 100 restaurants compete for the crown.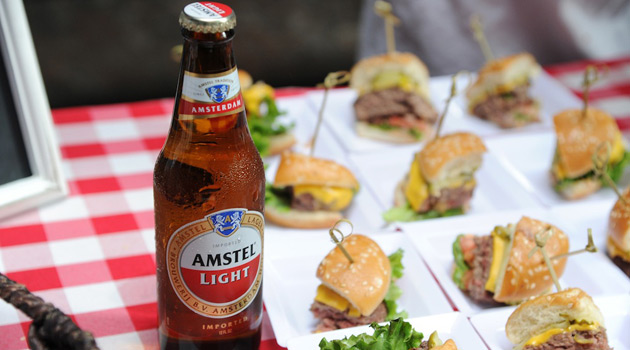 After our sit down in the afternoon, the evening festivities were a burger lover's dream. The 2013 Time Out New York Battle of the Burger had spots like Minetta Tavern, The Burger Joint, 5 Guys, and more packed in the Hudson Hotel in NYC to put their best efforts and dominate the burger world.
At the end there was only one winner, voted by the people using wooden coins that were deposited inside a voting box. The people voted Maialino with the Maialino Late Night Burger (Pat Lafrieda Beef with House Made Pancetta, Gorgonzola, Rosemary Brioche Bun) as top burger of NYC. The runner ups were Jeepney with the Chori Burger (Angus Beef n Sweet Cured Pork Longanisa With Banana Ketchup, Atchara (Pickled Carrots, Cucumber, and Jicama), and lastly the Hudson Common (who I voted for) with the Common Burger (Brioche Bun, Custom Ground Beef Blend, Common Sauce, Velveeta, Cheese Pickles).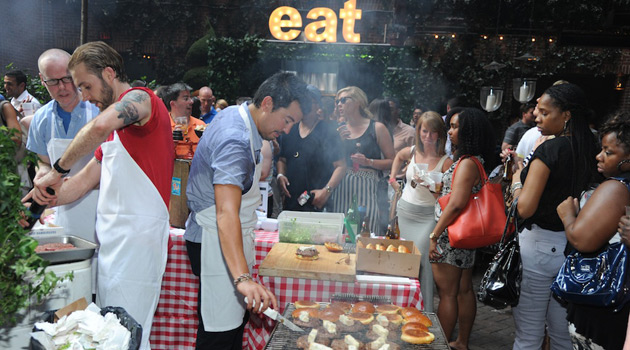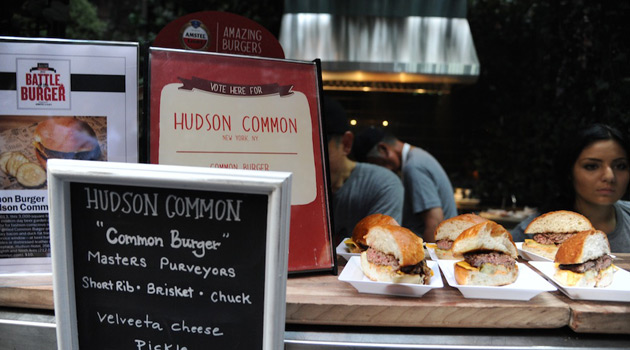 For me, the Jeepney burger was a 4 out of 5, and so was the Hudson Common Burger. The Maialino burger was good, but I felt the gorgonzola overpowered the beef too much. Surprisingly, the Burger Joint burger didn't make the top 3, odd considering that their burger is always ranked high on most of the more prominent top ten burger lists.
Overall, the Hudson Hotel was buzzing unlike any other time I've visited, with the promise of tasty burgers and cold beer surely bring everyone out. Congrats to the winner and all the participants, but let's be honest: The real winners were people like me who had 12 different burgers and all the beer I could handle.
I call that a #win folks.