Enter To Win A 'Black Sails' Prize Pack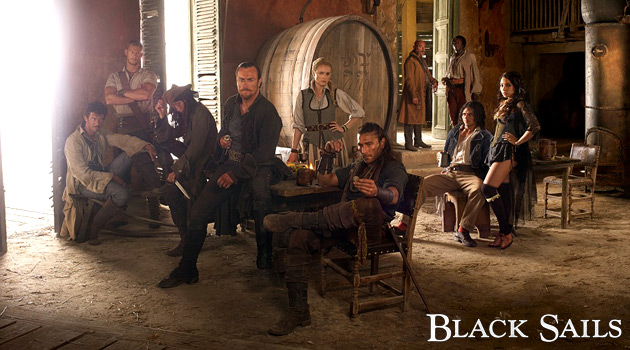 If you missed acclaimed STARZ Original series Black Sails, you're in luck, as Black Sails: The Complete First Season is being released on Blu-ray + Digital HD with Ultraviolet and DVD on January 6th, 2014.
Here's a quick synopsis of the first season:
Black Sails: The Complete First Season begins in 1715. The Golden Age of Piracy in the Caribbean is at its apex. The former British colony of New Providence Island is now lawless territory, controlled by a few dozen of the most notorious pirate captains in history. The most feared among them is Captain Flint (Toby Stephens). As the British Navy returns to these waters, and the threat of extinction looms, another side of Flint emerges. A man driven by deep, complicated, even romantic motives. He will ally himself with the beautiful Eleanor Guthrie (Hannah New), daughter of the local smuggling kingpin who turns the pirates' loot into profits. Together, they forge a plan to hunt the ultimate prize, and by winning it, stave off reclamation of their home by a resurgent empire. Arrayed against them are a series of opponents: rival captains, jealous of Flint's power; Eleanor's father, whose ambitions for the island conflict with his daughter's; and a young sailor, recently recruited onto Flint's crew, who will somehow manage to constantly undermine his captain's agenda. His name is John Silver (Luke Arnold).
And here's a trailer for you to check out:

It's a pretty bad-ass show, and with the new season starting up on January 24th, now's the perfect time to get caught up with the first season.
In celebration of the upcoming DVD release and new season, Guys Gab has teamed up with our good friends at Anchor Bay Entertainment to offer one lucky reader a Black Sails Prize Pack that includes Black Sails Season One on Blu-ray along with a stainless steel Black Sails flask.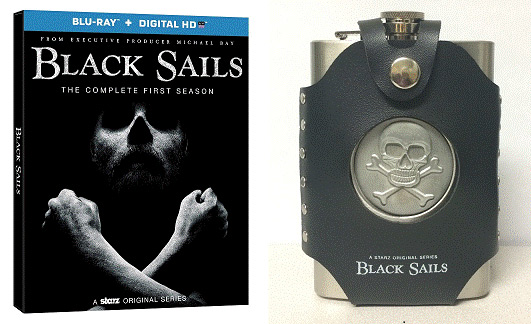 To enter, simply e-mail us and tell us who your favorite pirate of all time is. We'll pick a winner at random on January 6th at 5pm EST. Contest open to US residents only.
Good luck!