Netflix To Debut "Nick Offerman: American Ham" Comedy Special on December 12th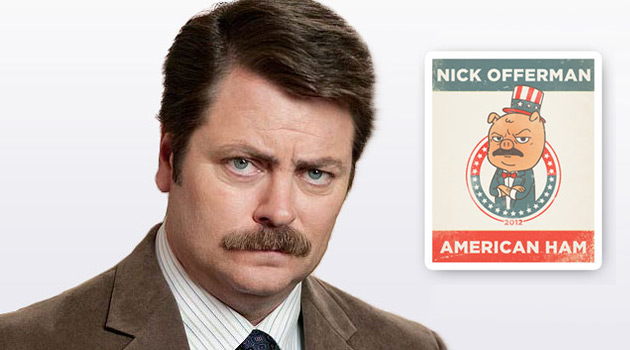 Who doesn't love Nick Offerman? One of America's greatest treasures, he has imparted great wisdom to us courtesy of his Parks and Rec alter-ego Ron Swanson. He's got a sweet stache, he's into woodworking, and he's a real man's man. And now he's premiering his new comedy special Nick Offerman: American Ham next Friday, December 12 at 12:01am PST on Netflix.
Nick's master class in life, love, woodworking, meat eating and being a man, American Ham was taped last March at the legendary Town Hall theater in New York. In the show, Nick offers his own 10 tips for prosperity, as told through scripted vignettes (that include appearances by wife Megan Mullally), humorous stories and his own original songs.
"Hanky Song" is a funny song making fun of the uses of a handkerchief:

In true Nick fashion, here's how he describes American Ham, proving yet again he is a man of many talents:
"Fed up with abject failure? Lack of meat, cash, or fornication got you down? Refuel yourself with Nick Offerman's 10 tips for prosperity in his chuckle-licious humor program, American Ham. Mediocre songs, ribald japes, and minor nudity guaranteed."
But perhaps the best thing about this news is how Offerman chose to announce his Netflix debut, putting his woodworking skills to the test to announce the news with the following Tweet:

I made you a gift of #Ham. @BarackObama @VogtRoberts @netflix @carrieunderwood I am a HUMORIST. 12/12 on NETFLIX. pic.twitter.com/kDP4LD2mVZ

— Nick Offerman (@Nick_Offerman) November 24, 2014
I'm sure we're in for a real treat here, and next Friday can't get here soon enough!