Fatties Rejoice: TGI Fridays 'Endless Apps' Promotion Is Back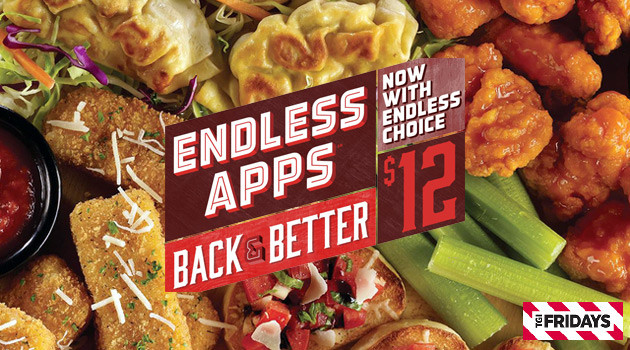 Last summer, TGI Fridays introduced an endless appetizer promotion, where diners could get unlimited apps for $10. But there was a glaring flaw in the system – You were limited to one specific appetizer. If you ordered mozzarella sticks as your app, that's all you could get refills on. This actually led to one of my favorite posts on Gawker, where Caity Weaver spent 14 hours eating mozzarella sticks and shared the whole disgusting experience in painstaking detail.
In any event, Fridays has reintroduced the Endless Apps deal, but under the new $12 deal (it was previously $10), you can choose any appetizer from a limited selection and then move onto different appetizers from the same selection with unlimited refills.
The appetizer selection for the deal include:
– Boneless Buffalo Wings
– Boneless Sriacha Wings
– Boneless Memphis BBQ Wings
– Mozzarella Sticks
– Garlic & Basil Bruschetta
– Loaded Potato Skins
– Pan-Seared Pot Stickers
– BBQ Chicken Flatbread
– Spicy Chicken Tostadas
If you're up for the challenge, you'd better get on it before the limited-run promotion ends on April 19th.