Pick The Next Red Baron Thin & Crispy Pizza Flavor And You Could Win Free Pizza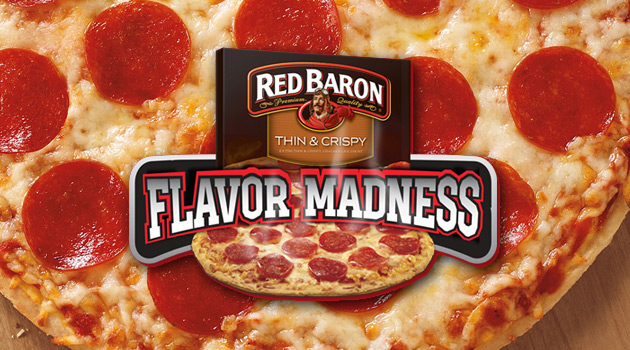 During March Madness, the food of choice for bracket junkies is evident, with more than 52 million pieces of pizza being consumed throughout the college basketball tournament. To add to this bracket-crazed time of year, Red Baron is introducing a tournament of its own: The Red Baron Flavor Madness.
Eight toppings will go head-to-head in a bracket competition that will crown the fan's choice for top thin-and-crispy pizza. The toppings competing for the top spot are: BBQ Chicken, Bacon Lovers, Bacon Luau, Bacon Club, Chicken Fiesta, Triple Cheeseburger, Vegetable Medley and Cheesy Alfredo.
Over 26 million homes across the country trust Red Baron Pizza, and for good reason. Red Baron believes a better crust, makes a better pizza. That's why its pizzas start with the perfect crust – One that has a satisfying texture and bakes to a delicious golden brown. Each pizza is topped with a robust sauce containing the right medley of herbs & spices. And of course, we can't forget about the real cheese deliciousness. From the first bite to the last, it's pizza nirvana.
Fans who vote for their favorite topping will have a chance to win the following prizes:
Grand Prize: New widescreen TV ($1000 value)
(4) 2nd Place Prizes: A Year Supply of Free Red Baron Thin & Crispy Pizza
(10) Runner-up Prizes: 12 Red Baron Thin & Crispy Pizza Coupons
So cast your vote now and let us know which of these 8 new, great tasting pizzas should win the bracket to become the next great Red Baron Thin & Crispy variety!