Feast Your Eyes On Pizza Hut's 3-Cheese Stuffed Crust Pizza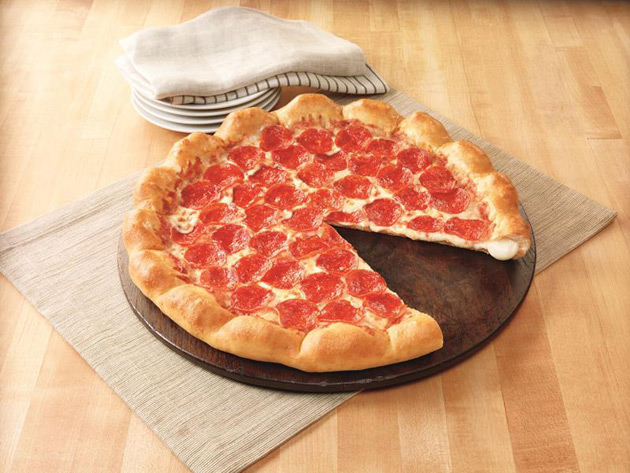 Nearly 20 years ago, Pizza Hut reinvented the way many people eat pizza by introducing Stuffed Crust Pizza, a runaway success that generated more than $300 million in sales in it's first year. Now, the brand that made it cool to eat a slice of pizza backwards has taken things to the next level with the first permanent product to be added to their menu in over 18 years – The Pizza Hut 3-Cheese Stuffed Crust Pizza.
Pizza Hut's 3-Cheese Stuffed Crust Pizza features even bigger flavors, better crust, and a bolder look. At the heart of this new pizza is it's innovative crust, which is stuffed with white cheddar, mozzarella and provolone cheeses.
But unlike the original Stuffed Crust pizza, which features cheese throughout the crust, the 3-Cheese Stuffed Crust pizza has pockets of cheese, with regular crust sections breaking things up. The crust is designed to cleanse your palate between bites, giving your taste buds a blast of cheesy flavor each time you bite into the cheese-filled pockets.
While the rest of the nation has to wait until October 20th to experience Pizza Hut's new 3-Cheese Stuffed Crust Pizza, we were invited down to the Discover Great event at Austin City Limits over the weekend for an exclusive sampling of the new pizza.
It was love at first bite.
Coming in, I was a little skeptical about the 3-Cheese Stuffed Crust Pizza, but I was totally sold after my first slice. Everything works so well together! If you're not careful you'll find yourself eating half of the pie yourself, and hating yourself in the morning. Don't say we didn't warn you..
The new pizza will see a nationwide release on October 20th, but Pizza Hut has rewarded three stores that have shown the most love for Stuffed Crust through the years with an early taste of the 3-Cheese Stuffed Crust Pizza:
3094a Story Road, San Jose, Calif.
3052 Lancaster Drive NE, Salem, Ore.
9200 New Hampshire Ave., Silver Spring, Md.
These three Pizza Huts will be the only places in America to get the all-new 3-Cheese Stuffed Crust Pizza, a special "thanks" to customers for making them the nation's hub for Stuffed Crust devotion. These restaurants will offer 3-Cheese Stuffed Crust at its regular menu price of $12 for a large one-topping.
I have a feeling October 20th is going to be one for the record books for Pizza Hut, as people clamor to get their hands on this historic pizza! The 3-Cheese Stuffed Crust is a home run in my opinion, and I urge you to try it out for yourself. You won't be disappointed!