First Drive: 2015 Volkswagen e-Golf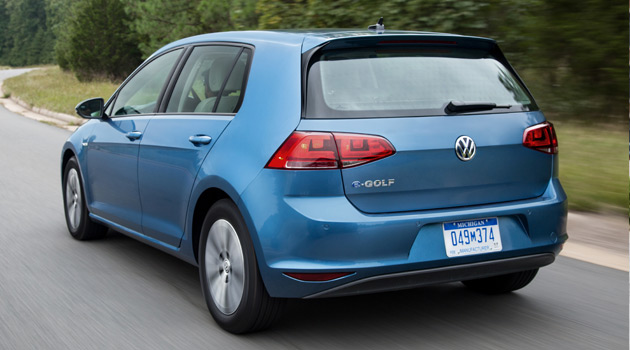 Last week, Volkswagen brought us down to the AMAZING Salamander Resort in Middleburg, VA to drive the all-new 2015 Volkswagen e-Golf. The e-Golf is Volkswagen's first fully electric vehicle for the U.S. market and joins the burgeoning Golf family of versatile, sporty hatchbacks.
Although VW has sold more than 30 million Golf models worldwide, this is the first zero tailpipe emissions, fully electric version of the car. The e-Golf brings all the benefits of an electric vehicle to the Golf's "fun-to-drive yet practical" formula, forever ending the idea that compact EVs must be bland and focused only on efficiency.
Exterior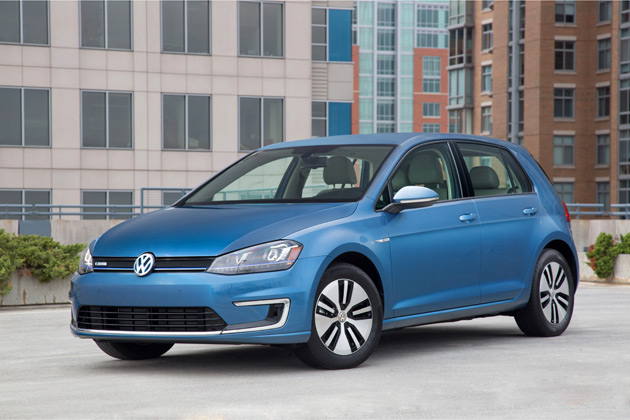 As you can see here, the e-Golf shares the majority of its exterior design with the rest of the new Golf family, which means it has the same sharpened lines and dynamic proportions as the other seventh-generation models. It is distinguished by some key features, however. The most notable of these is the energy-efficient LED headlights (the very first application of this technology on any Volkswagen vehicle in the US). These lights offer greater illumination than traditional Bi-Xenon units, yet use less energy doing so. These LED clusters are complemented by C-shaped LED daytime running light strips in the bumper below. Other clues that this is an all-electric VW are the unique badges and blue accents, as well as the obvious lack of any tailpipes at the rear.
Not it's not all aesthetics, as the e-Golf exterior has some unique functional elements. Bespoke 16-inch alloy wheels are flushed tightly within the wheelarches, helping ensure airflow is smooth and efficient along the sides of the vehicle. These wheels are wrapped in low rolling resistance, 205/55 tires. The radiator shutter and grille, underbody paneling, rear spoiler and C-pillar air vanes also all play a role in helping the e-Golf cut through the air as efficiently as possible. The result of this is an impressive coefficient of drag of just 0.27.
Interior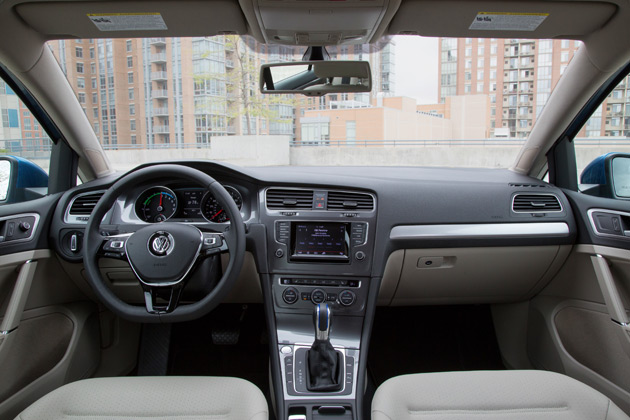 As with the exterior, the e-Golf features an interior that incorporates common elements found in the rest of the 2015 Golf line as well as several unique features. Despite the large battery pack lying underneath, the e-Golf's cabin offers exactly the same interior volume as other Golf hatchback models, 93.5 cubic feet. It retains the Golf's highly versatile cargo area, with 22.8 cubic feet of space behind the rear seats and 52.7 cubic feet with the seats folded. Similarly, it features the same use of upscale materials and premium build quality as other Golf models, as well as the updated ergonomics and driver-centric layout.
Now if you've ever driven an electric vehicle before, you know that without the vibration and noise from a combustion engine, new sources of sound can become more noticeable inside the cabin, such as noise from wind and tires. Volkswagen has paid great attention to perfect the e-Golf noise levels and acoustics, fitting the interior with highly sound-absorbent, lightweight materials to create a cabin space quieter than many luxury vehicles. Further, the electric powerplant's subframe was changed to a pendulum mount design, which, along with a low-noise motor housing unit, helps to enhance the calm acoustics of the e-Golf, despite the motor's high torque buildup under acceleration.
Launching as a premium model in the Golf lineup, the e-Golf will offer an extremely high level of standard and available equipment, including: a touchscreen navigation system, VW Car-Net connected services; Keyless access; heated front seats; a leather-wrapped multifunction steering wheel; Bluetooth technology; V-Tex leatherette seating surfaces; SiriusXM Satellite Radio; rearview camera; and front/rear Park Distance Control.
Powertrain
The e-Golf is powered by a compact electric motor that delivers it's power to the front wheels via a single-speed transmission. In standard drive mode, it's capable of delivering 115 horsepower along with a class-leading 199 lb-ft of torque, all the while not using a single drop of gas and producing zero tailpipe emissions. Depending on your driving style, vehicle settings, charging behavior, and other factors, the manufacturer estimated average "real world" range for the e-Golf is expected to fall between 70 and 90 miles.
And therein lies the rub. Today's all-electric cars still offer a limited range, requiring you to do some planning before heading out to make sure you've got enough juice to get back. If your office is only 20-30 miles away, then you're good to go. Likewise, if your work has charging stations in the parking lot, you've got nothing to worry about. But if your commute is longer than that, you might find yourself switching to Eco+ mode with the regenerative braking set to level D3/B in order to eek out every last mile from the car. (And don't forget to turn off the A/C, as that gave us an extra 4 miles or so of range)
Price
With a starting price of $35,445 (plus $820 destination and delivery), the e-Golf SEL Premium brings a high level of standard equipment to the compact EV class. While that price tag might seem high for a Golf, keep in mind that there's a $7500 federal tax credit currently being offered on electric vehicles.
In addition, many states offer some cost relief in the form of tax credits, rebates, reduced vehicle taxes or registration fees for buying a qualified electric vehicles. Factor in the gas money you'll be saving, and the e-Golf might not be as expensive as you thought.
Final Thoughts
Compared to the other electric vehicles in this market (Chevrolet Volt, Ford Focus EV, and Nissan Leaf), we think the VW e-Golf is a no-brainer. It looks and handles great, has an upscale interior with tons of technology features, a roomy interior with ample cargo space, and an acceptable range for the vast majority of people.
So if you're in the market for an all-electric vehicle, be sure to check out the Volkswagen e-Golf when it hits dealerships this November.