Have You Driven An All-Wheel Drive Ford Lately?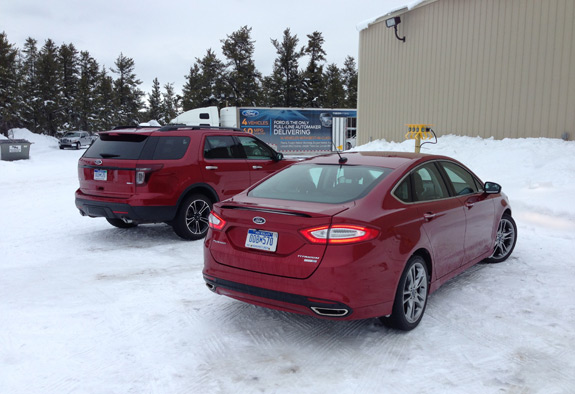 Ford recently invited us to their cold weather testing track in Sault Ste. Marie, Michigan to learn about the various technologies (all-wheel-drive, torque vectoring control, curve control) offered on Ford's vehicles that make drivers feel comfortable and confident while traversing snow, ice and other adverse weather conditions.
All-wheel drive cars have become more popular in recent years, with a 53% jump in retail sales between 2009 and 2012. During that same time period, Ford's sales of all-wheel drive vehicles jumped by 72%. And while AWD car sales are understandably strong in cities like Boston, New York, Chicago, and Denver, they're also very strong sellers in Miami, Phoenix, San Francisco, and Seattle.
Surprised? It's clear that people are starting to recognize the benefits of all-wheel drive, and Ford offers AWD on eight vehicles in their lineup: Escape, Explorer, Edge, Expedition, Flex, Fusion, F-150, and Taurus.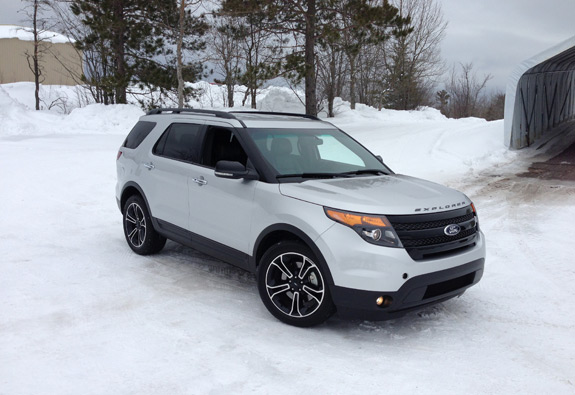 Ford's Intelligent All-Wheel Drive system determines where to send power by measuring all four wheel speeds, the speed at which you're traveling, steering wheel angle, accelerator and brake pedals, lateral acceleration, and yaw rate. And it does all this in the blink of an eye.
Torque Vectoring Control utilizes the vehicle's braking system, balancing and optimizing engine torque distribution between the front wheels. By applying braking to the inside wheel, it allows torque to go to the outside wheel, while minimizing the amount of vehicle deceleration. This provides more grip and better handling when on-throttle and turning.
Curve Control checks 100x a second to see if the vehicle is turning as quickly as the driver intends. If the vehicle enters a curve too fast, the system reduces engine power and applies smart four-wheel braking to reduce vehicle speed. The system is able to slow the vehivle by 10mph in about one second!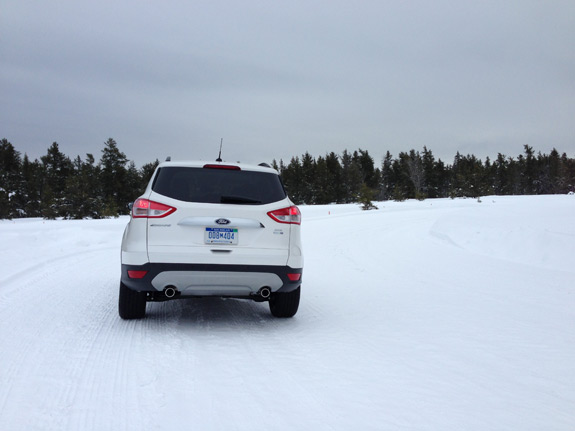 We spent the day driving the Ford Escape, Fusion and Explorer Sport in a variety of wintery conditions, and I walked away with a newfound appreciation for the technologies packed into these vehicles. It's truly amazing what they're able to do..
From cornering to slaloms to icy 15% inclines, there was nothing thrown at us that our trusty steeds couldn't get through. And these vehicles were shod with stock all-season tires, I can't even imagine what we could have done with a set of good winter tires!
Of course, no technology can overcome the laws of physics. Go into an icy corner at 60mph, and no system in the world will be able to help you. And turning off traction control is a BAD idea, as we found that out hard way: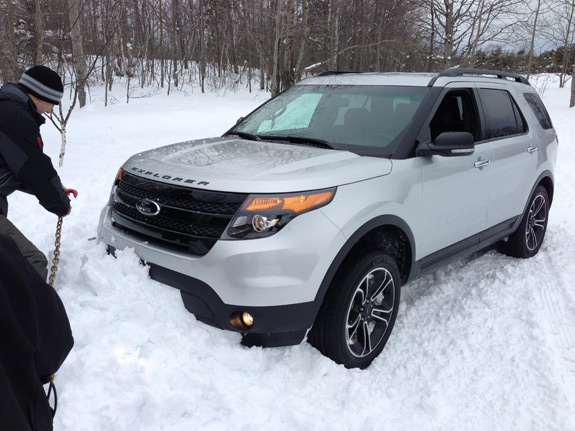 All three vehicles were really impressive, and I'd be hard-pressed to pick a favorite. Everyone thought the Explorer Sport was dead sexy, but it's $40,780 starting MSRP is pretty steep. I'd probably have to go with the Fusion, as turning off the traction control and hooning around the snow circle in that car was some of the most fun I've had in a long time! 🙂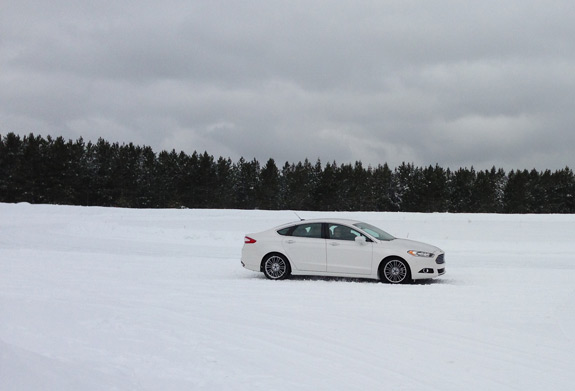 If you're in the market for a new Ford vehicle, I'd seriously encourage you to get an all-wheel drive model. It's about $2000 more than the non-AWD model, a bargain in my book!