The Iconic KFC Double Down Sandwich Is Coming Back For A Limited Time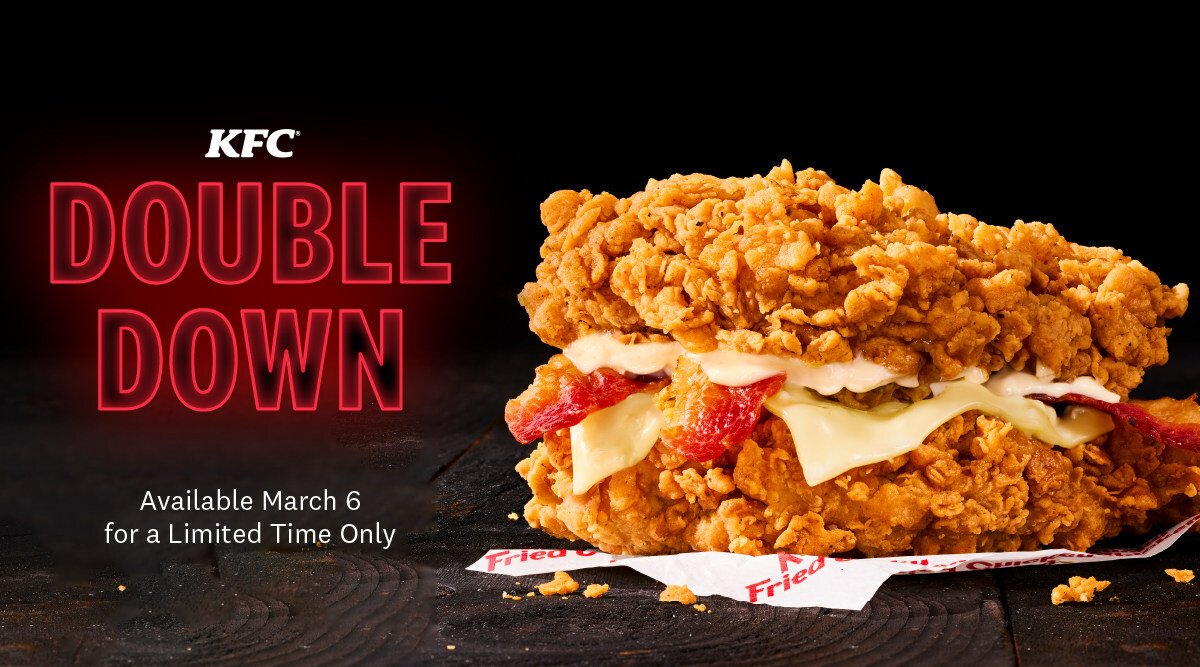 For the first time in nearly a decade, Kentucky Fried Chicken is bringing back a menu item with a cult following like none other – the KFC Double Down Sandwich. The KFC Double Down drops at KFC restaurants nationwide on Monday, March 6, and this artery buster will only be available for four weeks!
As you may remember, the iconic bun-less sandwich features two of KFC's Extra Crispy, 100% white meat filets, two slices of cheese, two pieces of crispy, hickory-smoked bacon, with either the Colonel's real mayo or spicy sauce. KFC originally debuted the Double Down in 2010, and they sold more than 10 million sandwiches in the first month! Due to much hype and fanfare, the brand brought it back for a limited time in April of 2014.
"The Double Down is one of the most buzzworthy fast food menu items ever. After nearly a decade of people begging for its return, we're embracing the chaos, bringing back our most iconic sandwich ever for just four weeks," said Nick Chavez, CMO, KFC U.S.
It seems strange to make this a limited time offering, considering how popular this was back then. But I guess it's a scarcity play, much like whenever McDonald's rolls out the McRib and people go crazy trying to get their hands on one.
That said, it's probably good that this isn't coming back for good, as it's packing a whopping 950 calories, not to mention a considerable amount of salt and saturated fat. I might try this for nostalgia's sake, but I won't be making it a regular thing.
Furthermore, KFC is also rolling out a more traditional Bacon & Cheese Chicken Sandwich on a brioche bun, for those who are looking for the craveable taste of bacon and cheese added to the chicken sandwich perfected by the fried chicken experts.
Who's going to order a KFC Double Down Sandwich when it hits stores next week?