TRUFF Releases Limited-Edition Super Mario Bros. Movie Collectible Pack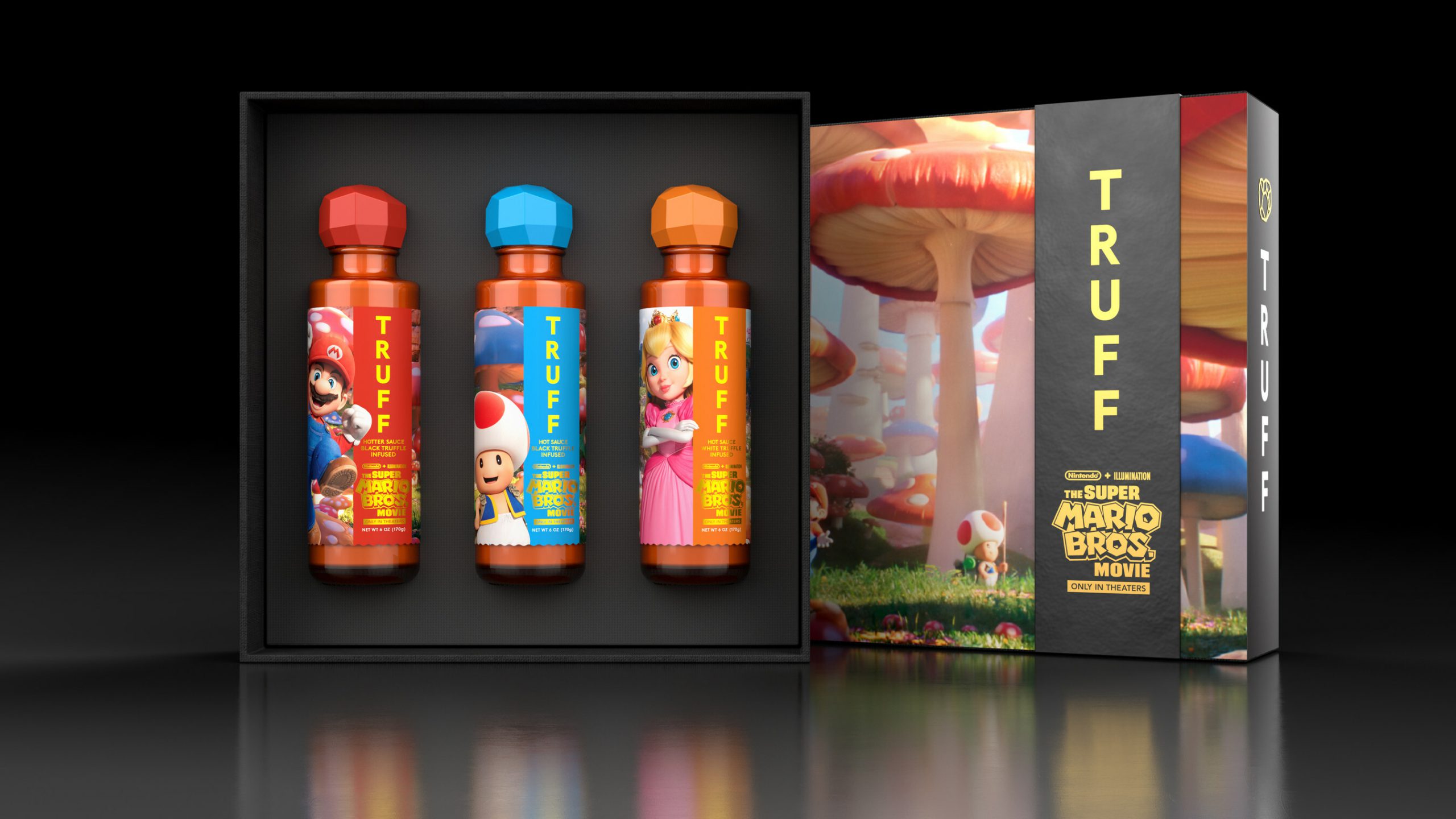 TRUFF, the iconic truffle hot sauce brand that has taken the Internet by storm, has teamed up with everyone's favorite Italian plumbers for a rather clever collab to promote the upcoming action-packed animated comedy adventure, The Super Mario Bros. Movie, which hits theaters April 5th.
Fans can look forward to The Super Mario Bros. Movie Collectible Pack which features the brand's three best-selling truffle-infused hot sauces in special 6 oz. bottles with custom labels, colorful geometric caps and an exclusive Mushroom Kingdom VIP gift box.
"At TRUFF, we're known for our dedication to adventurous flavors. And that all starts with our signature ingredient, the black winter truffle," says Nick Guillen, Co-Founder and Co-CEO of TRUFF. "So when we first glimpsed the spectacular Mushroom Kingdom and the adorable and cheerful character Toad featured in The Super Mario Bros. Movie, we were instantly inspired. We had clearly found another brand who celebrates mushrooms as much as we do."
This release is a fun way for TRUFF to introduce the truffle ("the crown jewel of mushrooms") to the passionate global fan base behind The Super Mario Bros. Movie. The set is a flavor-forward ode to Mushroom Kingdom and is reimagined with the film's heroes:
Toad is presented on the TRUFF Original Hot Sauce, an intricate blend of ripe red chili peppers, real black truffle, agave nectar, and savory spices. This combination of ingredients delivers a flavor profile unprecedented to hot sauce.
Mario is displayed on the TRUFF Hotter Hot Sauce, a jalapeño rich blend of red chili peppers, black truffle, agave nectar, and red habanero powder.

Princess Peach

is featured on the TRUFF White Truffle Hot Sauce, a blend of ripe red chili peppers infused with white truffle and agave nectar. This variety is then sprinkled with coriander for a brighter and decadent sensation.
With its distinctive flavor profile and pristine bottle, TRUFF has taken its line of pantry staples from a condiment to a conversation point. The brand has a distinct presence online with its coveted Instagram account, @sauce, where it seamlessly merges the culinary world with pop culture and boasts the largest following of any hot sauce on social media.
Starting the day the film opens, on April 5 at 10am PST / 1pm EST, the exclusive collectible box will be available only at TRUFF.com/MARIOMOVIE to purchase for $69.99.
Fans can join the waitlist starting today to get notified the second it goes live. This ultra-limited release will only be available while supplies last.