Load Boost Review: A Natural Way To Improve Semen Volume and Quality
While a lot of focused is placed on endurance and stamina during sex, one part that often gets overlooked is ejaculation. When it comes to semen, increased volume and improved taste can go a long way in boosting your sex life.
But that's not all. Semen is a major predictor of fertility. The higher the semen volume, the better the chances of sperm traveling far enough to make reproduction possible.
For these reasons, paying attention to your semen is important. But what can you do if your semen volume isn't as high as it should be?
Common advice is to eat healthy, exercise often, and get plenty of sleep. But if you're already doing all of these things, there are safe additions to make to your regimen via supplements.
Luckily, natural supplements like Load Boost exist, and are loaded with natural science-backed ingredients that will increase your semen volume, improve your semen taste, and boost your orgasm intensity.
How Does Load Boost Work and Is It Effective?
Load Boost contains a combination of natural ingredients that have been shown by multiple studies to improve sexual health.
Here are the main ingredients in Load Boost and how they work.
1. Pygeum
Pygeum is derived from the bark of the Prunus africana, a large tree native to Africa.
This ingredient contains chemicals that help to reduce inflammation in males with enlarged prostates. For this reason, pygeum has been used for centuries to treat benign prostate hyperplasia (BPH), a common condition that slows down urination and ejaculation.
In males with or without BPH, pygeum can reduce prostate inflammation and decrease prostate cholesterol build-up. As a result, supplementing with pygeum can boost semen volume and distance during ejaculation.
2. Zinc
This is an essential trace mineral that our body doesn't produce on its own. As such, we must get it from our food.
Studies show that men who are deficient in zinc have a lower sperm count, which can affect their fertility. Correcting a zinc deficiency can help to boost sperm volume and count. Because zinc is anti-inflammatory, it can also protect sperm from other damaging toxins, improving overall sperm quality.
But the benefits of zinc aren't confined to those who are deficient. Even in men with normal zinc levels, supplementation has been shown to significantly increase semen volume and sperm motility, while reducing the amount of "abnormal" sperm.
3. L-Arginine
L-arginine is an essential amino acid that acts as a precursor to spermin, which is a protein that boosts sperm production. Without adequate amounts of L-arginine, you may not be able to develop normal amounts of sperm, leading to reduced semen volume.
One study found that increasing L-arginine consumption can improve virtually all aspects of ejaculate. Males who supplemented with L-arginine experienced increased sperm count, improved sperm motility, and higher sperm quality.
4. Lecithin
Lecithin is a mixture of fats that can be derived from various plants, most commonly soy. Fatty acids can increase sperm health and reduce the risk of sperm volume reduction. Not surprisingly, one study found that supplementing with lecithin led to a significant improvement in sperm count and motility.
5. Bromelain
Bromelain is an enzyme derived from pineapples with various anti-inflammatory effects.
In popular culture, it's long been said that pineapples improve the taste of ejaculate. A modern take on one of the oldest known semen enhancers, Bromelain is the part of pineapple and other citrus than can make semen taste sweet. Men are using bromelain to improve the taste of their semen — and experiencing seriously impressive results.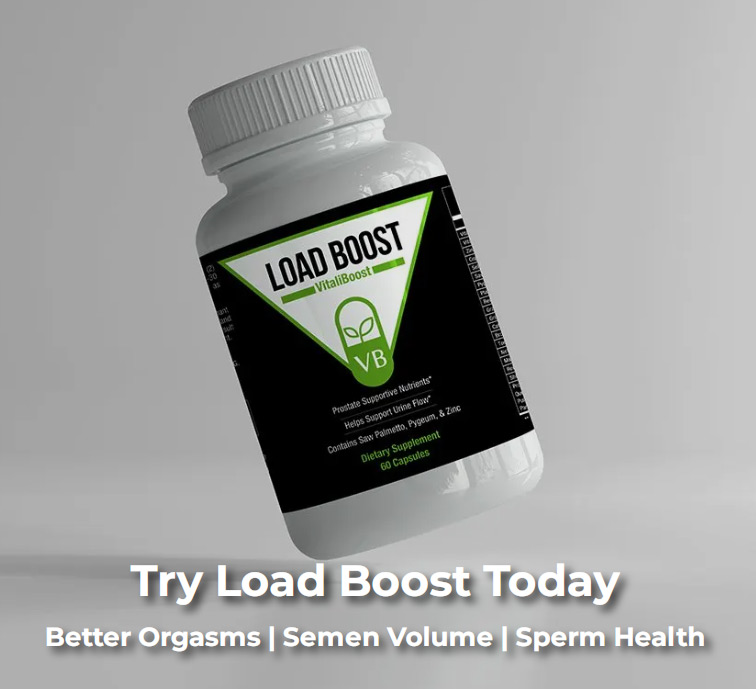 Is Load Boost Safe?
None of the ingredients listed above are associated with any adverse side effects, which makes them perfectly safe to supplement with.
Of course, anyone with an underlying medical condition should consult with their doctor before taking any supplement.
While many supplements contain the above ingredients, they are also full of other ingredients that may cause adverse side effects — especially if taken in higher doses.
However, Load Boost only contains six natural ingredients that were developed after extensive collaboration with clinical researchers. Load Boost does not contain artificial ingredients, junk fillers, and other unnecessary add-ins.
Load Boost is NSF Certified and made in an FDA-regulated, cGMP-certified facility in the U.S.A. — so you can be sure that you're getting only the highest-quality supplement.
How Fast Does Load Boost Work?
When it comes to natural supplements, the ingredients start working almost immediately. However, you may not notice the full results for about three or four weeks after starting them.
In the studies cited above, one month of supplementation was enough to produce effects in men. However, because of Load Boost's proprietary formulation, some men report seeing results as soon as three weeks.
What Customers Are Saying About Load Boost
According to independent review websites, men experience an increase in sperm volume, an improvement in fertility, and improved semen taste after taking Load Boost.
Below are some featured reviews from verified customers (edited for clarity).
"Bought on a whim and within 2 days BIG change overall. This like their Drive Boost is simple and effective." -Happy C.
"I have been taking Load Boost for around 2 weeks and so far I am very pleased with the product. I can't wait to see how well it works after I spend more time taking it." -J.L.
"Took this product for 2 weeks and got my wife pregnant. That was the goal." -Matt W.
VitaliBoost: Official Retailer of Load Boost
You can buy Load Boost directly from its official retailer, Vitaliboost.
By purchasing from Vitaliboost, you can be sure that you're getting quick shipping speed, superior customer service, and even a discount for subscribing to monthly Load Boost deliveries.
Get Load Boost today for safe and effective improvement in your semen volume and quality.
Our Sources: