MINI Superleggera Vision Concept Blends Traditional With Modern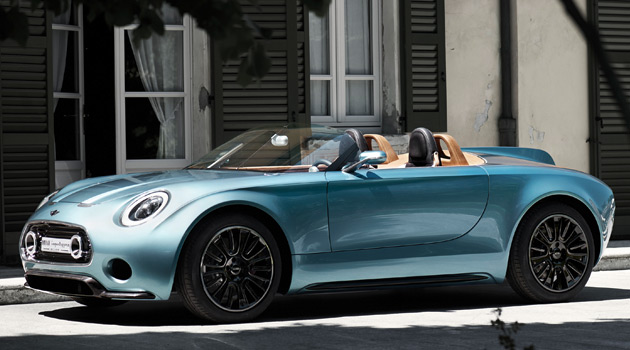 The BMW Group unveiled a very special concept vehicle at the Concorso d'Eleganza Villa d'Este 2014, the MINI Superleggera Vision. This exclusive interpretation of an open-top two-seater was created by MINI and Touring Superleggera, the tradition-steeped design and coach building house based in Milan. The MINI Superleggera Vision is on the one hand a classic roadster, a compact and agile two-seater, expressing the most minimalist and emotional style of motoring; and on the other hand its electric drivetrain gives the car distinctly modern driving dynamics. In collaboration with MINI, Touring Superleggera has designed and built an elaborately crafted, unique model which blends the tradition of classic coachwork construction with the MINI's authentic British styling to create timeless aesthetic appeal.
Modern Britishness meets Italian flair: the iconic design of MINI meets elegant, athletic beauty – interpreted in contemporary style.
Classic Italian body construction and hand-shaped metal sheeting give the MINI Superleggera Vision a unique emotional appeal.
Both on the inside and outside, the form is reduced to the maximum extent so as to achieve a clear focus on the distinctive driving experience.
The interior reflects traditional coachwork construction in terms of materials and styling, combined with the icons of MINI interior design.
High-end materials such as leather, aluminium and black chrome highlight the clear aesthetics of the interior.
Adrian van Hooydonk, Senior Vice President BMW Group Design on the concept: "Touring Superleggera and MINI have much in common: both companies attach great importance to their history and this is something which defines their outward appearance to this day. What is more, they both emphasise iconic design and distinctive solutions. These elements are merged in the MINI Superleggera Vision to create an elegant automobile which interprets a British roadster under the influence of Italian style and hand craftsmanship."
BMW's press release goes on for a few thousand more words, but given that this concept will likely never see the light of day, does it really matter? Still, it's a gorgeous concept vehicle that shows off MINI in a completely different light. So take it all in and enjoy!