Nike Takes Us 'Back To The Future' With Nike Air Mags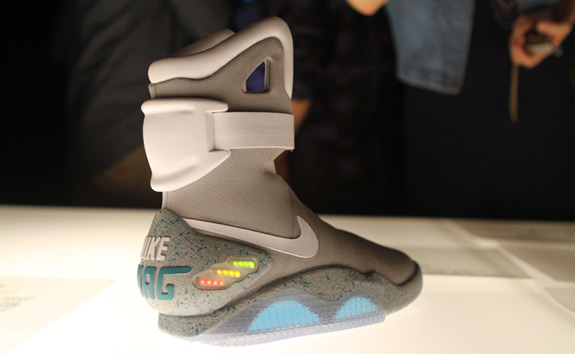 A few moments ago, Nike officially unveiled the Nike Air Mag AKA "Marty McFly" shoe. Nike announced that 1500 pairs of this shoe will be auctioned on eBay, with all net proceeds going directly to the Michael J. Fox Foundation.
"This project is exciting to me because it brings together three very passionate audiences: the Parkinson's community, the sneakerheads and Back to the Future fans." – Michael J. Fox.
The auctions begin tonight at 8:30PM PST and end on September 18th (150 pairs will be posted on eBay per day for 10 days). The Nike Air Mag has been anticipated for the longest as it first showed its face in the film Back to the Future II:
The Air Mag is the first rechargeable footwear from Nike, designed as an identical replica to the originals seen in the Back to the Future II movie. Some of the constant elements include the upper contours, the glowing LED panel and the electroluminescent Nike logo in the strap. The Nike Air Mag actually illuminates with the pinch of the "ear" of the high top, glowing for five hours per charge.
Unfortunately, it doesn't come with Power Laces. 🙁