Nike's Self-Lacing 'Back to the Future II' Sneakers Can Finally Be Yours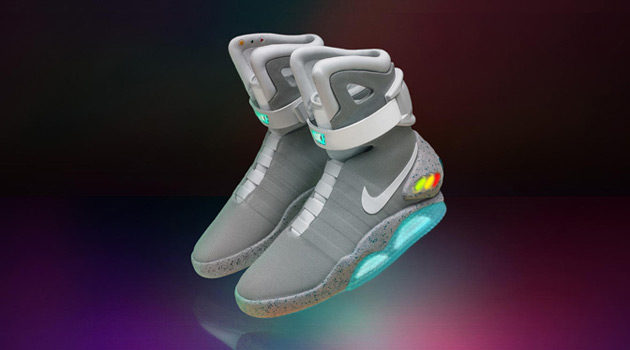 If you were a child of the 80's who dreamed about getting a pair of self-lacing Nike Mags after seeing Marty McFly rock them in Back To The Future II, you're about to get your chance!
Back in 2011, Nike partnered with the Michael J. Fox Foundation for Parkinson's Research to build a version of the iconic shoe, which they produced in a limited run, raising nearly $10 million in 10 days! The only thing missing from them? The self-lacing feature that made them so memorable.
Four years later, Nike had finally perfected the auto-lacing technology, and they hand-delivered the first pair of functional Mags to Michael J. Fox, which he proudly showed off that night on Jimmy Kimmel Live.
Now, the brand is releasing a limited run of 89 pairs of Nike Mags, complete with working power laces, which are available through an online drawing that starts today.
Sneakerheads and Marty McFly wannabes interested in winning a pair of these iconic kicks can head over to nike.com/mag to purchase a ticket. Each ticket costs $10, and there's no limit to the number of tickets you can buy. But most importantly, 100% of the proceeds will go to the MJFF to help find a cure for Parkinson's.
Obviously, your chances of winning a pair are really slim, but it's for a good cause so why not give it a shot?