Introducing Nike's HyperAdapt 1.0 Self-Lacing Shoes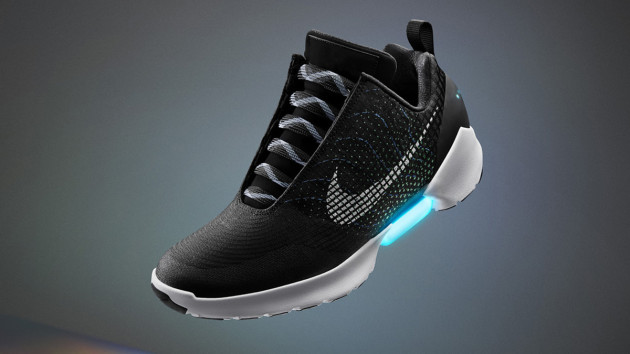 When you think of Back To The Future II, the scene that always comes to mind is when Marty McFly slips on those futuristic Nike Air Mag sneakers and they lace up automatically for him. They instantly became the object of desire for every teenaged boy who saw it.. But who thought that they'd ever come to be?
Sure, Michael J. Fox showed off a pair of working Nike Mags on Jimmy Kimmel Live back in October for Back To The Future Day, but those were being auctioned off for charity, not for public consumption.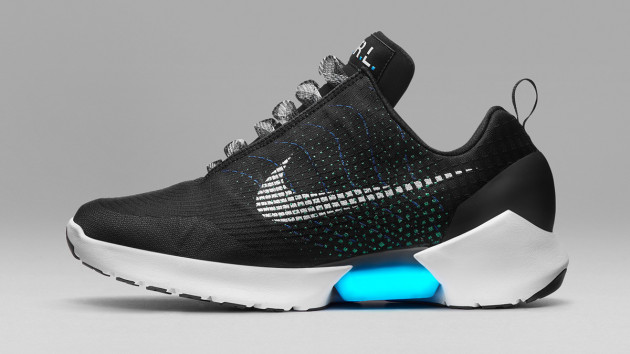 But at this week's Nike Innovation Summit, they introduced the Nike HyperAdapt 1.0, their first pair of self-lacing shoes that will be hitting stores later this year. (No word on pricing just yet)
The HyperAdapt 1.0 doesn't use a traditional lacing system, but rather a battery-powered series of pulleys to cinch the tongue of the shoe. When you step in, your heel will hit a sensor and the system will automatically tighten. Then there are two buttons on the side to tighten and loosen. You can adjust it until it's perfect. After a couple of wears, the shoe will automatically adjust to your preferred setting.
Nike says the shoes operate on a battery that will last for two weeks on a single charge. So what happens if the batteries die while you're still wearing the shoes? I have no idea, but hopefully they have a contingency plan in place for that scenario.
The Nike HyperAdapt 1.0 will be available to members of Nike+ beginning Holiday 2016 in three colors.