Olive Garden Is Bringing Back Their Iconic Never Ending Pasta Bowl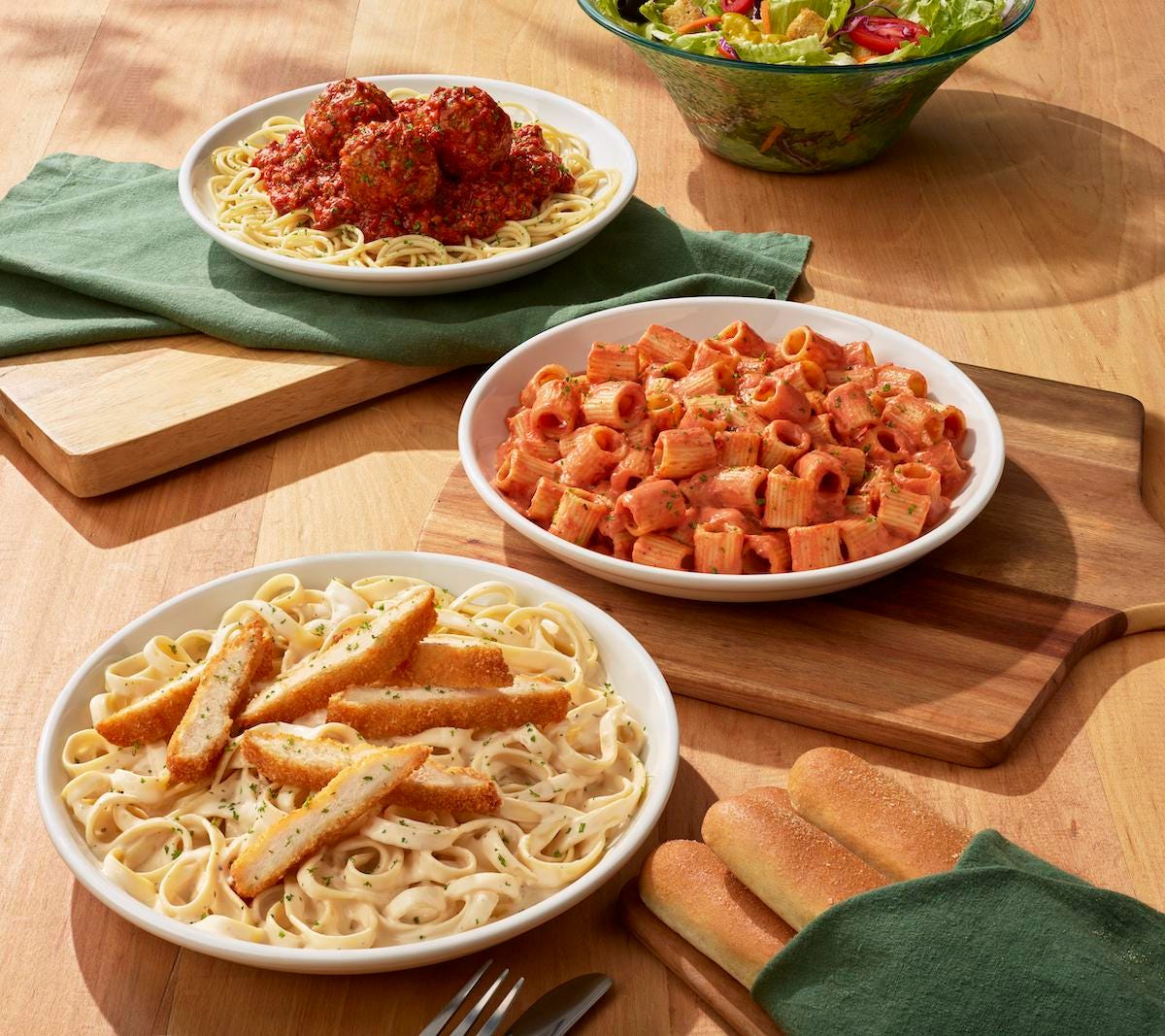 Tired of how expensive food has gotten over the past year? Well you're in luck, because Olive Garden is bringing back their Never Ending Pasta Bowl, and it's a great value.
For the past 25 years, pasta lovers far and wide looked forward to this annual promotion that's offered in celebration of National Pasta Month. Sadly, the deal stopped during the pandemic, but it came back last year to great fanfare, and now it's back again. So break out those stretchy pants and get ready!
Here's all the details on the Never Ending Pasta Bowl promotion:
From September 25 to November 19, guests can enjoy unlimited servings of their favorite pasta combinations, homemade soup or salad and freshly baked breadsticks, starting at $13.99. Each never-ending topping can be added for $4.99.
Choose from the following pastas: Fettucine, Spaghetti, Rigatoni and Angel Hair.
Choose from the following sauces: Creamy Mushroom, Traditional Marinara, Five Cheese Marinara, Traditional Meat Sauce and Alfredo.
Toppings include: Meatballs, Italian Sausage and Crispy Chicken Fritta.
"At a time when guests are getting less from other casual dining concepts, Olive Garden is proud to give them more of the abundant, craveable Italian food they love with our fan-favorite Never-Ending Pasta Bowl offer," Jaime Bunker, the senior vice president of marketing at Olive Garden, said.
"With 80 different possible combinations of sauces, toppings, and pastas to choose from – plus the unlimited soup or salad and breadsticks we offer with every entrée – we're committed to making sure every guest leaves full and satisfied and, possibly, with a new favorite pasta combination."
As an added bonus, Olive Garden eClub subscribers can take advantage of the Never-Ending Pasta Bowl a week early (9/18-9/24), assuming you sign up before September 16.
Something tells me that Olive Gardens all across the country are going to be mighty busy over the next month or so. 😋