On The Track With The 2014 Nissan GT-R Premium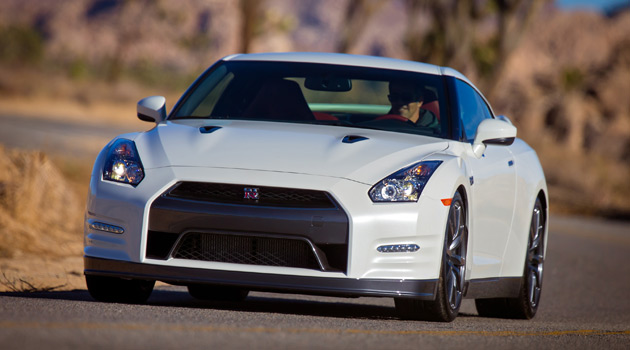 Like any job, being an auto journalist has its perks, and recently the Rocky Mountain Automotive Press held its annual Rocky Mountain Driving Experience, which included a day on a GT race track with some very awesome vehicles. One of those, and likely the star of the show, was the 2014 Nissan GT-R Premium.
The GT-R is the epitome of what a Japanese supercar should be. It's beautiful, powerful, and exudes Nipponese excellence. It's 3.8-liter V6 uses a direct overhead camshaft (DOHC) configuration with four valves per cylinder and sequential multi-point electronic fuel injection. This translates to a 9:1 compression ratio in a 95.5×88.4mm bore stroke. At near-maximum RPM, the Nissan GT-R churns out an amazing 545 horsepower and grumbles a beautiful mid-pitched exhaust note from its twin pipes.
All of that muscle is controlled by a six-speed, dual clutch sequential transmission that is controlled by magnesium paddle shifters. The all-wheel drive GT-R has final drive ratios of 2.937 and 3.7 (front and rear respectively). Braking, should you think you need it, comes from premium Brembo six piston and four piston monoblock calipers and an advanced anti-lock brake system with EBD.
Steering is at a 15:1 ratio with just about two and a half turns to make a full left to right sweep. With Bilstein shocks, progressive-rate springs, and large-diameter, hollow stabilizer bars at both front and rear, the 2014 Nissan GT-R Premium is definitely track-ready.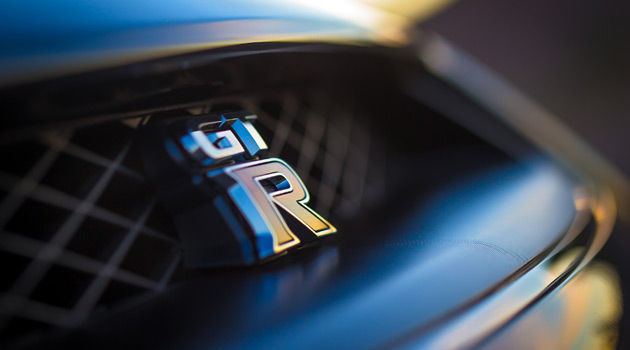 For the novice driver, the GT-R is intimidating, but shouldn't be. This is a car made for amateurs to learn in and experts to take to the checkered flag. For the rest of us, it's just pure fun. Tuning the satellite radio to SiriusXM Liquid Metal is almost mandatory.
Anyone who's driven on the race track before knows that acceleration is only part of the overall equation. The Nissan GT-R has acceleration in spades, but adds to that the requirements of excellent handling – thanks largely to the low-slung weight distribution, all-wheel drive, and excellent suspension tuning – and a presence that gives the driver a sense of confidence behind the wheel.
Our track was the High Plains Raceway just east of the Denver International Airport. This is a high-altitude track on which we had a soft turn into a quarter mile straight on one end. After a couple of warm-up and familiarization laps, I was ready to seriously challenge myself and this car. Well, at least myself, anyway.
The GT-R is a powerhouse of awesomeness and I barely qualify as an amateur race driver. The car's top speed is 193 mph, according to Nissan, though others have seen 195 mph. Because of the altitude, the top speed of the GT-R for us was likely a couple of points lower than that, in the 190-range. I managed a 170 mph best on the straight. Other drivers that day who have more experience were able to get over 180 in their runs.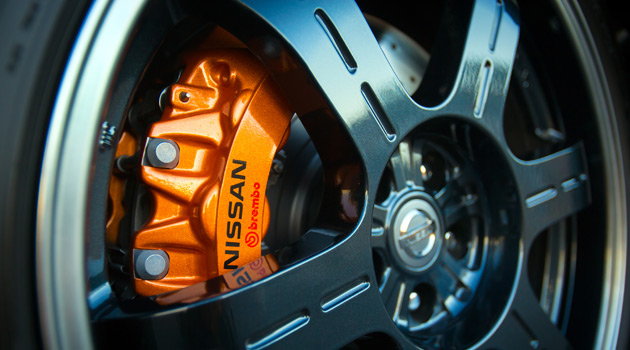 The Nissan GT-R wants two things out of the driver: the pedal pushed down and the steering wheel held firmly. It will take care of the rest if you let it. It powers around corners at speeds that most non-race drivers would find impossible, taking a 90-degree at over 60 mph in my amateur hands with a lot of Gs, but not even a hint of spin. The happy squeal of the tires and the satisfied grumble of the engine told me it would be comfortable bending faster than that. Again, all-wheel drive and a beautiful suspension make the difference.
The Nissan GT-R has proven itself in professional hands around the world as a formidable supercar, besting many that are at far higher price points. For an amateur like myself, it proved that it is a superior experience that will not be soon forgotten.
Note: The 2014 GT-R Premium driven was provided by Nissan for the event, which itself was paid for by the 24 manufacturer's brands in attendance that day. Special thanks to Steve Parrett of Nissan for shipping the GT-R to the track and to the Rocky Mountain Automotive Press for organizing the event.