Project WRX: Nameless Performance AxleBack Muffler Replacement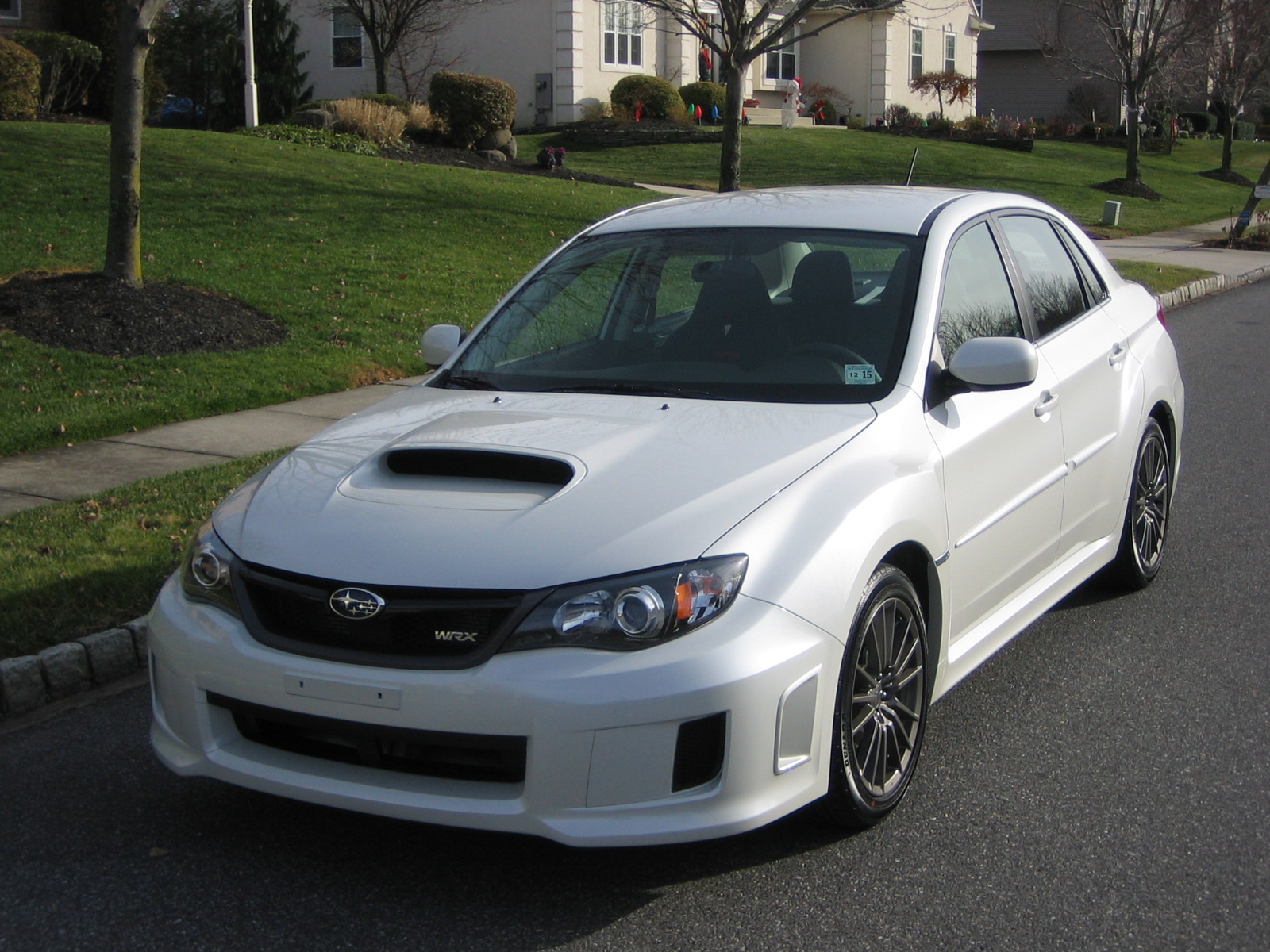 For the past two years, I have kept my 2011 Subaru WRX bone stock, a real rarity in the Subaru world. Honestly, the car's pretty impressive in stock form, but let's face it, there's always room for improvement. I'm not looking to do a crazy magazine-style project where the car's off the road for 6-months, but rather some mild upgrades that can be done in my garage over a weekend with a standard set of tools.
Over the next few months, I'll be tackling some of these projects and posting the progress on here for all to see.. Right now, the list includes tint, stereo/speakers, a tune, and possibly some suspension work. Nothing too wild, just some subtle tweaks to make an already great car that much better.
But before tackling all of that, we had to do something about the stock exhaust. Subaru added quad tips to the 2011+ WRX's, and while they look great, they're MUCH too quiet! When I first got the car, most of the aftermarket exhaust systems were carry-overs from the 2010 model, which meant single or dual exhaust tips. The large exhaust cutouts in the WRX bumper required quad tips to look right, so I kept searching.
A name that kept popping up in the Subaru forums was Nameless Performance. These guys had built quite a reputation in the Subaru world with their $299 axleback muffler deletes, so I decided to take a closer look.
The axleback muffler delete is exactly what it sounds like. It replaces the two factory 13.5lb mufflers with a pair of mandrel bent, TIG welded, T304 stainless steel pipes, with various tailpipe tip styles to choose from. While it's an interesting option, I was concerned that it might be too loud for me (and the wife).
Thankfully, Nameless has another axleback system that replaces the factory mufflers with smaller 4″ mufflers, the aptly named AxleBack Muffler Replacement w/ 4″ Mufflers. It's meant for those who want the sound and tone, but like the volume lower and more refined than their deletes. (Nameless saw a 20db reduction at idle and a 10db reduction during free revving from their standard muffler delete)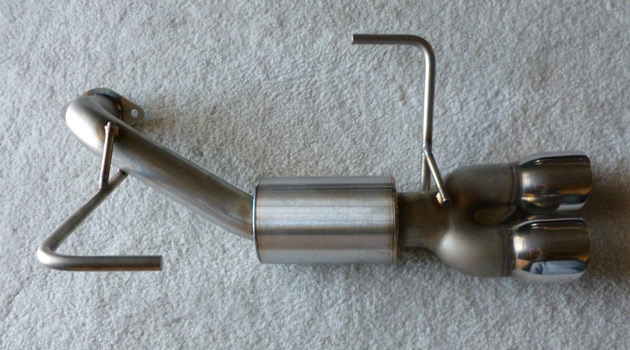 This system uses a proprietary muffler that they designed and tuned specifically for the WRX sedan, and it's all built by their fabrication team in-house. This system costs $399, and that's ultimately what I went with.
I received the Nameless exhaust back in mid-January, but Mother Nature was determined to keep me from installing it. About a month later, the weather started warming up, and I was finally able to install the system.
The first thing you'll notice when you look at the exhaust is the quality of their welds. The exhaust is truly a work of art, it's a shame that it's hidden beneath the car.
The tips also looked fantastic, and I couldn't wait to see how they filled out the rear valence. There are lots of tip options to choose one, but since I wanted a more OEM look, I went with the 3″ quad staggered double wall tips. These sit flush with the valence (while the stock tips don't extend the whole way out), and the staggered layout looks great. If you want a little more bling, they offer a number of 3.5″ tip options, and I've even heard rumors about a 4″ tip being offered!
Installation takes about 20-30 minutes (unless you have some stubborn bolts that don't want to come free), and you don't even have to jack up your car to do the install. We took our time, took lots of pictures, and spent about an hour. We decided to use ramps, just to give ourselves some extra room.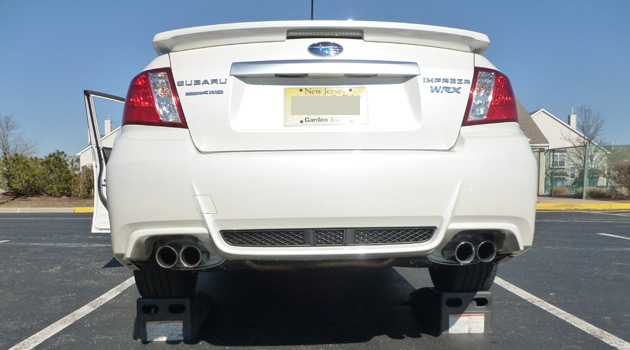 The process couldn't be easier. You just remove the two bolts holding each muffler in place, slide the mufflers out, slide the new mufflers in place, and bolt them back on. If you can, have a friend help you out, as that old muffler is pretty heavy, and you definitely don't want that sucker falling on you!
Once everything was bolted back on, my buddy fired up the car so I could hear the Nameless Axleback for the first time. OMG, I was grinning from ear to ear, the sound is just INSANE! That signature boxer rumble has finally been freed, and this is how the car should have come from the factory!
This is a system that's got to heard in person to fully appreciate. We shot some before-and-after videos, but unfortunately they didn't do either system justice. You'll just have to trust me on this, it's freaking awesome!
I purposely held off on this review for awhile, because I wanted to see how the exhaust faired over time.. When I first installed it in mid-February, it seemed pretty loud, making me wonder if I should have gone with their 5″ muffler option instead. But as the weeks wore on, I found myself getting used to the exhaust, and what seemed "too loud" at first now seems perfect. The sound is easily modulated through the gas pedal, so if you're passing a cop and don't want to attract any unwanted attention, just get off the gas and your car will sound as quiet as stock. But if you want to attract some attention from that EVO across the way, drop down a gear, mass the pedal, and you'll surely be heard!
I may look into some sound deadening options for the trunk in the future, as the new exhaust does make the inside cabin a little noisier than before. I have no problem talking on the phone with others through Bluetooth, so it's not obnoxiously loud or anything. But nonetheless, a little noise reduction couldn't hurt.
If you're looking for a quality exhaust system for your 2011+ WRX sedan that sounds great and has no drone, then get the Nameless Performance AxleBack Muffler Replacement w/ 4″ Mufflers. You won't be sorry!