Red Robin's Beam-N-Bacon Boozy Shake Takes Things To A Whole Other Level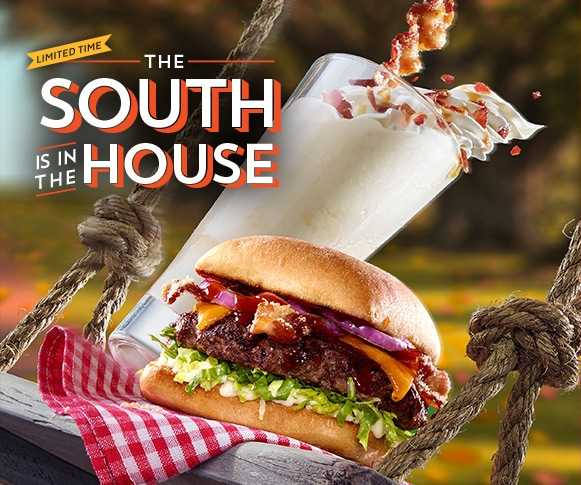 This fall, the South is in the house at Red Robin Gourmet Burgers with a new milkshake and burger sure to satisfy a guest's sweet (and savory) tooth! Guests 21 and older can enjoy a Beam-N-Bacon Boozy Shake made with Jim Beam Maple Bourbon, caramel and vanilla soft serve, blended to perfection and topped with bacon bits and a strip of candied bacon.
It's as amazing as it sounds (trust us, we sampled quite a few of them over the weekend), and this one-of-a-kind shake pairs perfectly with the Southern Charm Burger, the newest addition to Red Robin's Finest line, which features a brown sugar-glazed half-pound Black Angus beef patty, candied bacon, house-made honey BBQ sauce, extra-sharp Cheddar, seared red onions, lettuce and mayo served on a toasted ciabatta bun.
"The growing popularity of bourbon-infused menu items inspired us to create the Beam-N-Bacon Boozy Shake by re-mixing a classic vanilla milkshake with the unexpected flavors of bourbon, maple and candied bacon, further raising the bar on our adult mixology," said Donna Ruch, Red Robin's master mixologist. "This milkshake perfectly captures the rich flavors of fall to offer a unique cocktail experience — with a bit of Red Robin charm."
This amazing milkshake is only available through November 2nd, so make sure to visit your local Red Robin soon and try it out for yourself! And while you're at it, be sure to check out these additional flavorful Fall menu items, also available through November 2nd:
Yes, these tasty treats might require you to spend a little extra time at the gym afterwards, but I'm telling you, they're totally worth the extra calories! As the commercial says, YUMMM