Red Robin Serves Up 'The Cure Burger' For Holiday Hangover Relief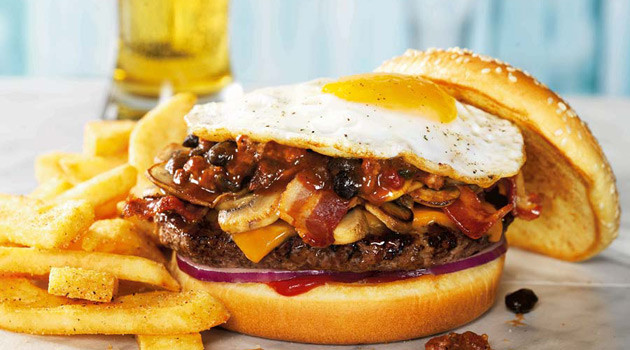 Feast your eyes on Red Robin's Cure Burger, the perfect remedy for those in need of some hangover relief after a long night of drinking on New Year's Eve. If ever there was a case for saying "YUM!", this would be it.
So what comes on The Cure Burger? A fire-grilled gourmet patty is topped with chili, cheddar cheese, crispy bacon, mushrooms and a sunny-side up egg on a sesame seed bun, served with Bottomless Steak Fries.
We think this is genius (though hold the mushrooms on mine), as many Americans believe that food is the key to hangover relief, with eggs, burgers, and French fries listed as top hangover cures. Red Robin simply took all these ingredients and put together a mammoth burger that'll either cure your hangover or make you hurl. Either way, you should feel better afterwards..
The Cure Burger is available by special request only at participating Red Robin restaurants from January 1-7, so if you're interested in trying this for yourself, don't delay!