Review: 2015 Hyundai Genesis 5.0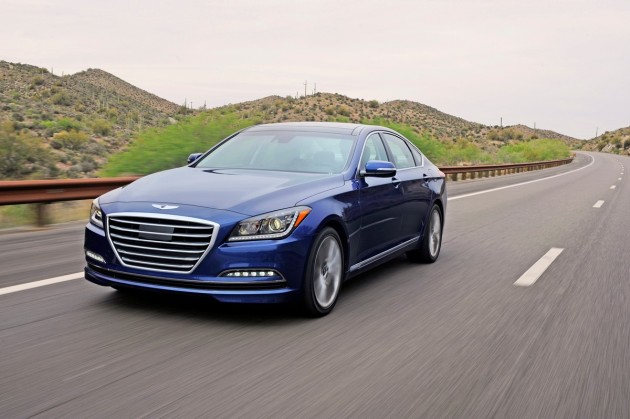 When the 2015 Hyundai Genesis was unveiled to the world at the Detroit Auto Show last year, I was rather disappointed at the styling changes they made. The previous-generation Genesis had a very distinct styling all it's own, while the new model has a cleaner design that borrowed heavily from Audi and the likes.
Still, as a huge fan of the older Genesis sedan, I was excited to see how the 2015 model had evolved. And after a week of driving this stealthy beast pretty much everywhere, I was pretty sad to hand back the keys to the car, as it's just that good!
The Hyundai Genesis sedan competes in a crowded segment, going up against luxury cars like the Audi A6, Cadillac CTS, Mercedes-Benz E-Class, and the BMW 5-Series. So how does Hyundai, a brand that carries that "economy car" stigma, compete against these heavy hitters? On price, technology, and all around fun.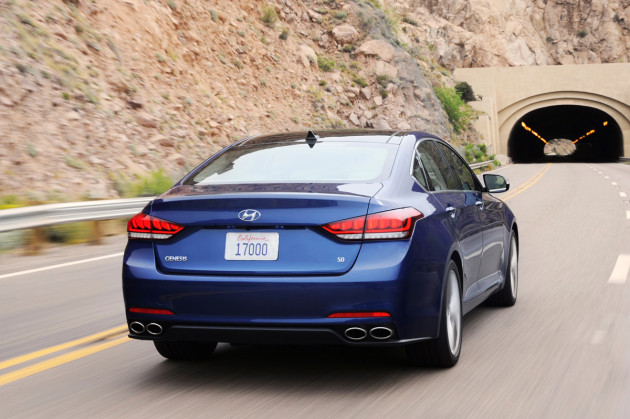 Much like Lexus did 25-years ago, Hyundai studied what made luxury cars like Audi, MB and BMW so good, and they started mimicking them. And today, I'm here to tell you that they've cracked the code, building cars like the Genesis and Equus that will break any preconceived notion you have about a Hyundai.
The rear-drive, V-8–powered 2015 Hyundai Genesis 5.0 that we drove is an incredible machine. When driven normally, it rewards you with a buttery-smooth and quiet ride. But drop the hammer, and a freaking beast is unleashed, as the 420HP engine propels the 4601-pound Genesis to 60 mph in 5.0 seconds and on through the quarter-mile in 13.6 seconds at 105MPH. The Genesis also handles great, thanks to some suspension-tuning help from Lotus Engineering.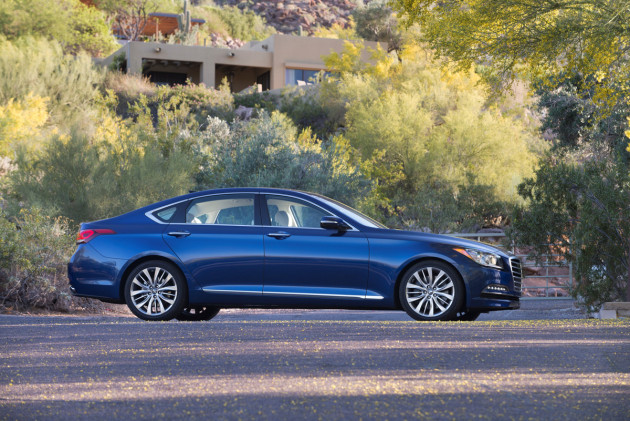 The interior of the 2015 Hyundai Genesis is a HUGE upgrade from the previous model, and it'll give some of it's competition a run for their money. The Genesis features a premium-crafted interior that offers a host of features and amenities to enliven the senses and provide every convenience, including available genuine matte finish wood trim, ultra premium leather, ventilated seats and a power rear window sunshade.
Our tester had the "Ultimate Package" option, which adds a heads-up display, a premium navigation system with a 9.2″ high-def display, a Lexicon 17-speaker audio system, adaptive suspension, and a power trunk lift. Sure, it adds an extra $3250 to the cost of the car, but it's well worth it.
I also want to take a moment and praise Hyundai's engineers on the rotating knob that controls functions like navigation, radio and phone functions. Many companies have tried to do this with varying levels of success, but you guys finally got it right! And the rolling volume control on the steering wheel, another great touch.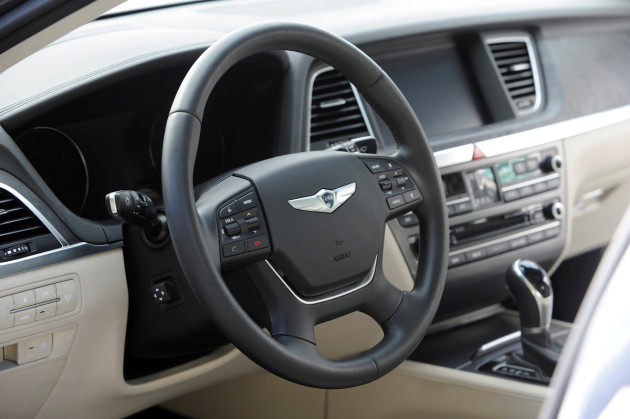 The Genesis also comes with a suite of safety features designed to proactively keep you and your family safe from multiple angles. It's got everything imaginable: Automatic emergency braking, lane departure warning, lane keep assist, rear cross-traffic alerts, and blind spot detection. Everything works seamlessly together, and it's never overly intrusive like in other cars we've driven.
Overall, I was beyond impressed with the 2015 Hyundai Genesis 5.0 sedan. While I'm sure that the Genesis 3.8 will suit the needs of most (at a substantially cheaper price to boot), for those yearning for that brute force of a Mustang GT but needing the practicality (and maturity) of a 4-door sedan, it doesn't get much better than the Genesis 5.0. Take one out for a test drive, and you'll never look at a Hyundai the same way again.
2015 Hyundai Genesis 5.0:
Base Price: $51,500
As-Tested Price: $55,700
For more information: https://www.hyundaiusa.com/genesis/