Review: 2016 Hyundai Genesis AWD 3.8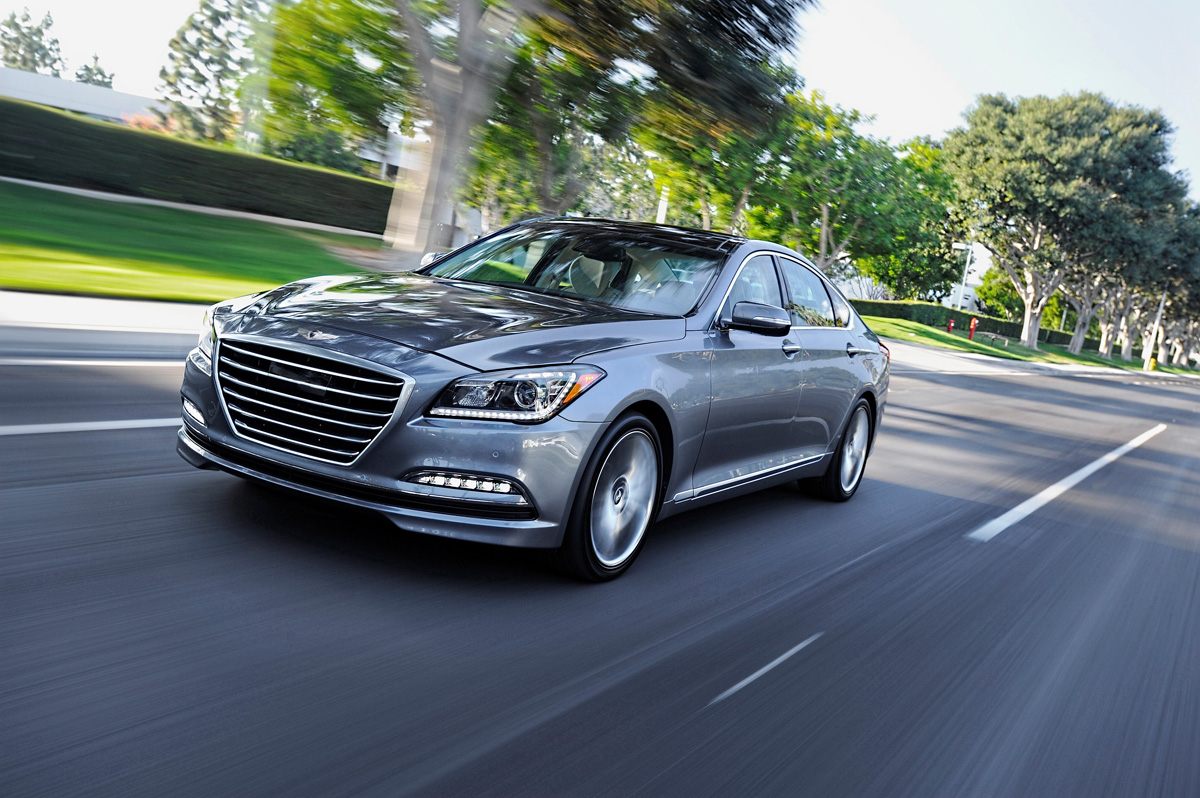 I'll be honest, when I heard that we were getting a 2016 Hyundai Genesis AWD 3.8 loaner, I was expecting to be disappointed. You see, we reviewed the 2015 Hyundai Genesis 5.0 last year, and it was a BEAST, with 420HP propelling the stately sedan from 0-60 in 5 seconds flat. So how would the same car perform down 2 cylinders and 100 horsepower? You'll have to keep reading to find out.
The Hyundai Genesis sedan competes in a crowded segment, going up against luxury cars like the Audi A6, Cadillac CTS, Mercedes-Benz E-Class, and the BMW 5-Series. But if you're able to look past the badge on the grill and judge the Genesis on it's merits, you'll find that it bests the competition in almost every category, from power to tech to all-around fun. And of course, price.
Lets start with power. The Genesis 3.8 is powered by a 3.8-liter V6 engine that produces 311 horsepower at 6,000 rpm and 293 lb-ft of torque at 5,000 rpm, with a nice flat torque curve that delivers power at any speed. Compared to the 5.0, it's about a second slower to 60 and in the 1/4 mile (0-60 in 6.2 seconds, the quarter-mile in 14.6 seconds), but in the real world the difference isn't noticeable at all.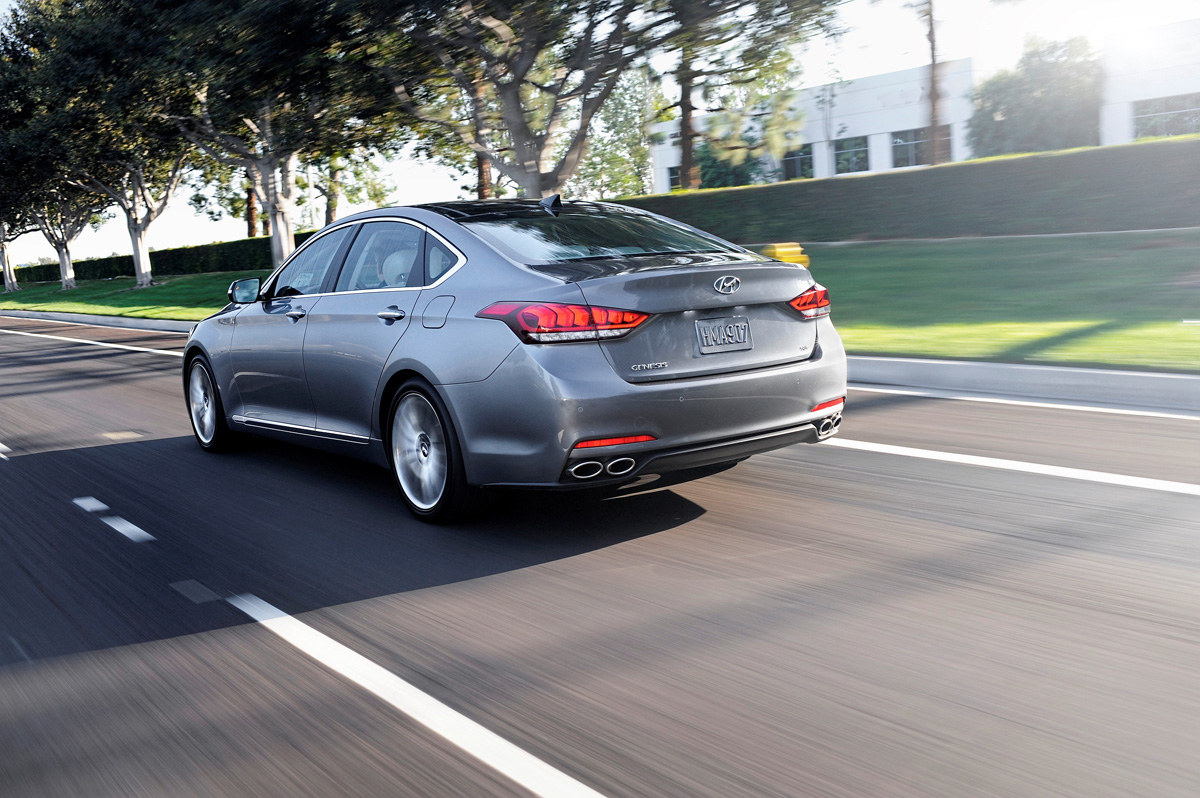 Unlike some of the other competitors, no one will be complaining about lack of the space in the Genesis. The car offers an impressive 123.0 cubic feet of interior volume and provides best-in-class front headroom and rear shoulder room. Needless to say, the cabin is very spacious and comfortable. It's also pretty luxurious, with high-grade materials like genuine aluminum and matte-finish wood used throughout the cabin.
The Genesis is loaded with technology. On the safety side, Genesis offers Lane Departure Warning, Brake Assist, Electronic Brake Distribution, Automatic Emergency Braking (where the car helps avoid a potential collision by automatically braking when it detects another vehicle at an unsafe closing rate of speed), Smart Cruise Control, Blind Spot Detection, Lane Change Assist, Rear Cross-Traffic Alert, Lane Keeping Assist, parking sensors, and a slew of other nannies designed to keep you safe.
But it's not just about safety. The Genesis Smart Trunk system allows you to open the trunk hands-free, but unlike its competitors who use a leg-kick sensor under the rear bumper, this system automatically opens the trunk if the smart key is detected within a few feet of the rear bumper for longer than 3 seconds. The heads-up display projects all the pertinent information on your windshield so you never have to take your eyes off the road. The infotainment system in the Genesis is one of the best we've used (intuitive UI, easy to navigate, etc), and Apple CarPlay is a welcomed addition. And the Genesis Intelligent Assistant app is amazing!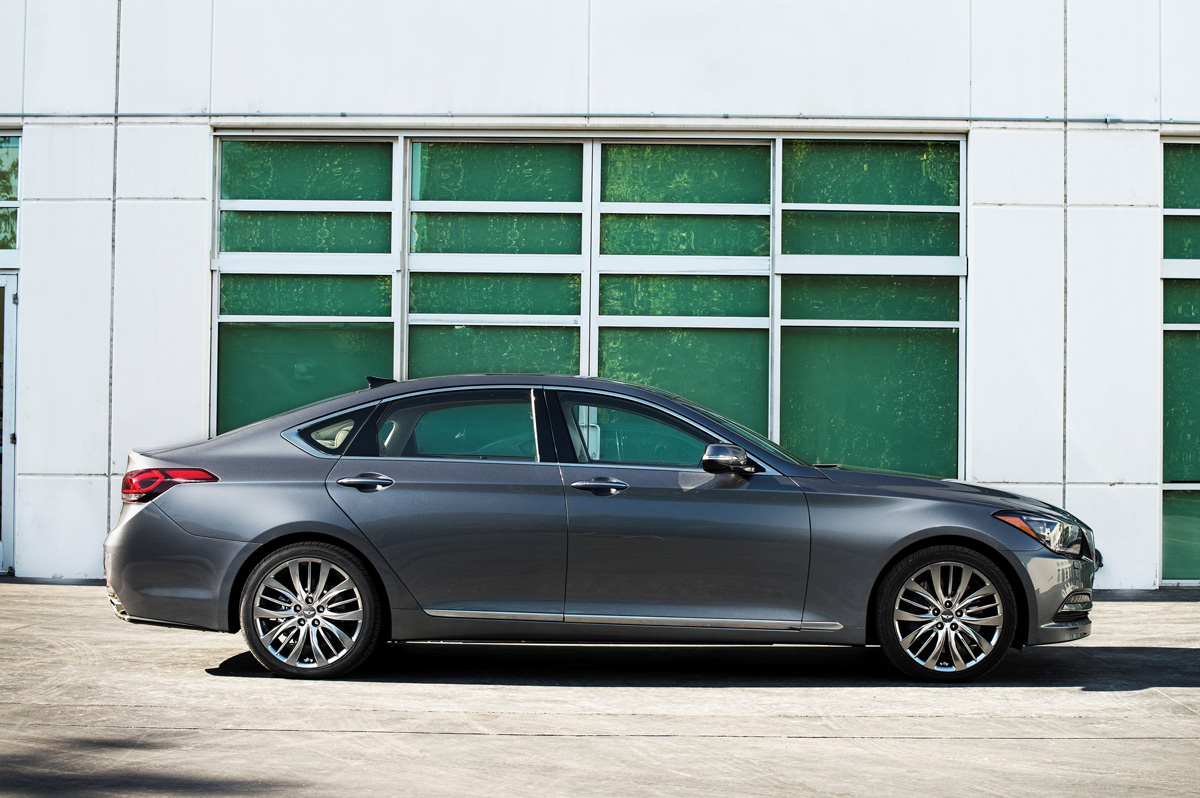 As for handling, it's actually pretty remarkable how well the Genesis handles, considering that it weighs in at a hefty 4,300 pounds. But thanks to the car's rigid chassis, rear multi-link suspension, HTRAC All-Wheel-Drive system, and well-balanced 52/48 weight ratio, it delivers that perfect mix of dynamic performance and ride comfort. You can further fine-tune your ride by selecting the Intelligent Drive Mode that best suits your needs, with ECO, NORMAL, SPORT, and SNOW modes to choose from.
Lastly, lets talk about pricing. The Hyundai Genesis AWD 3.8 has a very attractive starting price of $41,250, which is substantially less than its competitors. But start adding some options, and it can get expensive rather quickly. Our tester came with the Signature Package ($3,900), the Tech Package ($3,500), and the Ultimate Package ($3,500), for an as-tested price of $53,100.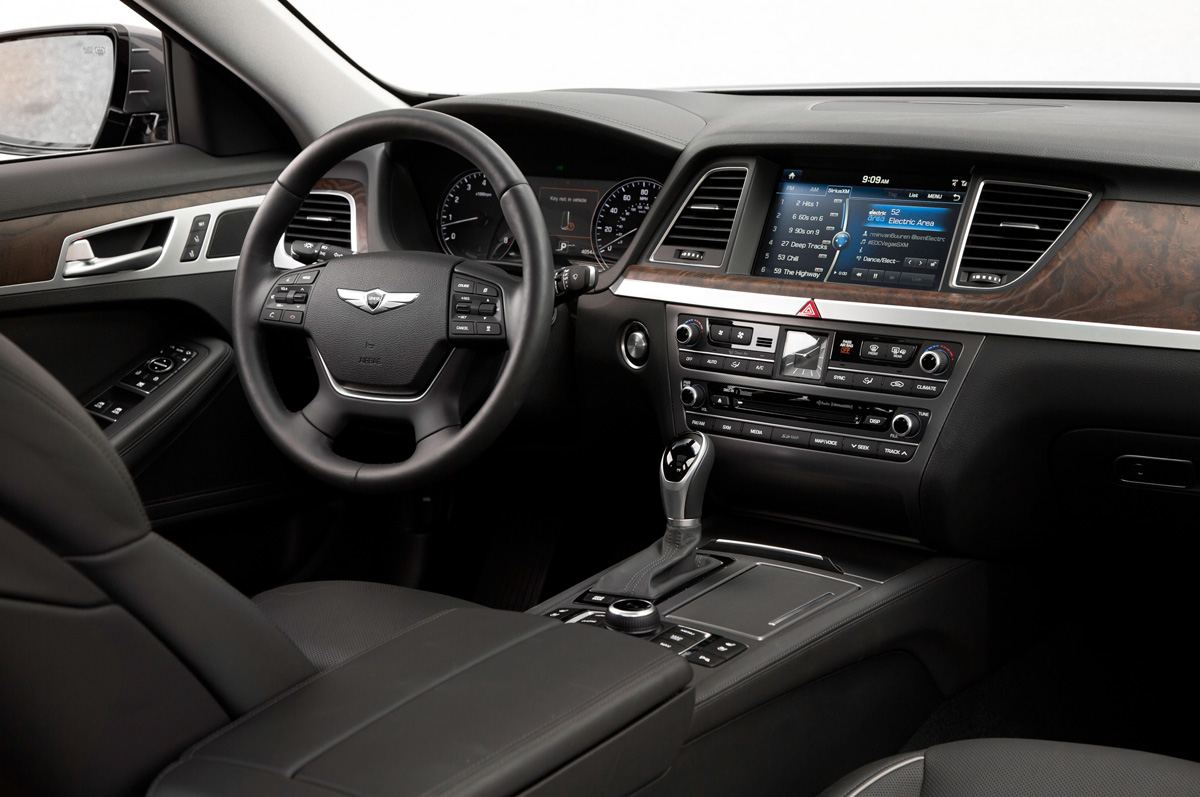 Honestly, I think the 2016 Hyundai Genesis AWD 3.8 is one of the best kept secrets on the road today, with beautiful (though understated) styling, loads of technology, world-class handling, and unbeatable bang-for-the-buck. So if you're in the market for a large luxury sedan, head on over to your local Hyundai dealership today, and prepare to be amazed.
2016 Hyundai Genesis AWD 3.8:
Base Price: $41,250
As-Tested Price: $53,100
For more information: https://www.hyundaiusa.com/genesis/