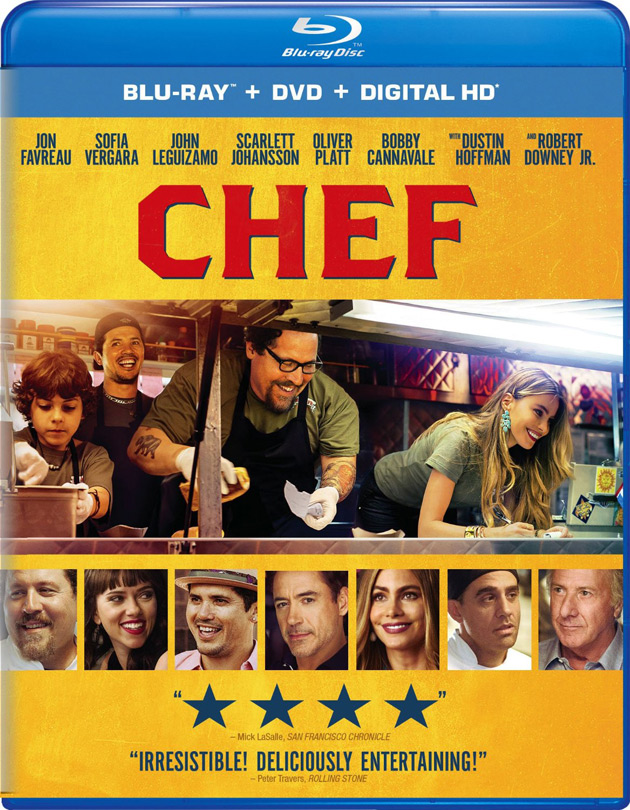 If you missed out on the theatrical release of Chef earlier this year, you're in luck, because the movie is being released on Blu-ray and DVD tomorrow!
In Chef, we meet Chef Carl Casper (Jon Favreau), an acclaimed chef at a prominent Los Angeles restaurant who has lost his mojo. When Casper learns that an influential food critic is coming to the restaurant to do a review, his creative juices start flowing, and he begins working on an inspired menu for that night. But when the restaurant's controlling owner (Dustin Hoffman) forces the chef to go against his instincts and cook the same food as always, it leads to a bad review, an online Twitter war with the critic, and ultimately a raucous public confrontation against the critic that ends up going viral.
With Carl's career sullied, Carl's ex-wife (Sofia Vergara) suggests that he head back to Miami to rekindle his love of food and launch a food truck where he can serve quality food on his own terms. With his young son Percy and old colleague Martin in tow, Carl takes a working trip across America with El Jefe to rediscover his gastronomic passion.
Check out the trailer for Chef:

Now it should go without saying, but don't watch this movie on an empty stomach, because your stomach will start growling uncontrollably. There is so much food porn going on in this movie, it's unbelievable. (Which is even better on Blu-ray, you can practically taste that sizzling bacon) Clearly Favreau is a foodie himself, and that comes across on the big screen. But the movie's about more than just food, it's the story of a down-on-his-luck guy rediscovering what's important to him (his passion for cooking, family, and life), and making a triumphant comeback in the culinary world.
As Pete Hammond of Movieline said: "Highly entertaining!…It's got it all: laughs, warmth, terrific actors and lots of mouthwatering food. Jon Favreau has cooked up a real winner NOT to be missed!"
So if you're ready to watch a deliciously entertaining movie with an all-star cast (including Jon Favreau, Sofia Vergara, John Leguizamo, Scarlett Johansson, Dustin Hoffman, and Robert Downey, Jr.), make sure you pick up Chef when it hits store shelves tomorrow. You don't be disappointed!