Review: Ink48, a Kimpton Hotel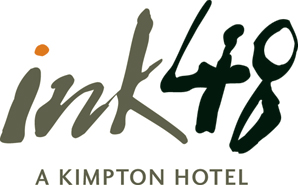 Ink48 is a distinctive boutique hotel, located where 11th Avenue meets 48th Street in Midtown Manhattan. The hotel was a former printing house, and there are clever reminders of the building's past throughout the place. "In the spirit of the occupants here who have long made their impression, Ink48 inspires our guests to make their own mark in the world."
Ink48 features open-air gardens, panoramic city and Hudson River views, and the kinds of services and amenities that address the multi-faceted moods and desires of it's guests. It's also a pet-friendly hotel, which we felt was an important selling point for the hotel's clientele.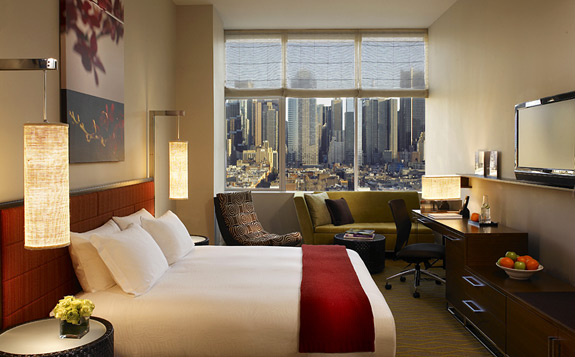 As you can see, our room was beautiful. We went with the Cityview King Premier Room, which is quite roomy (for NYC) at 400 square feet! The room has spectacular city views (especially at night), but if you really want a treat, splurge a little and go with one of the rooms that has a view of the Hudson River!
The rooms have stylish furniture (think Crate and Barrel), comfortable beds and pillows, wall-mounted Plasma TVs (you'd think that's the norm these days, but the hotel we stayed at the following night had an old 32″ TV), along with some nice features like an iHome, Etro spa-inspired bath products, and terry cloth animal print robes!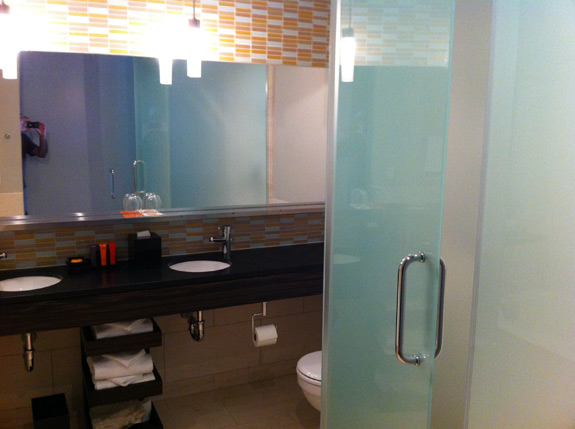 The bathroom was just something else! You get a deep soaking tub (perfect after a long day of walking around NYC), a luxurious shower with dual shower heads (you can't see it in the picture, but there's a rain shower head above), and double sinks. Absolutely gorgeous..
Prior to visiting Ink48, I looked online to see what others had to say about it. While most of the reviews were great, the same complaint kept coming up, and that was regarding the hotel's location. If you're familiar with NYC, you know that 48th and 11th is "off the beaten path".
If you're ok with taking cabs everywhere, it's not a huge deal. But the closest subway stop is 0.6 miles away, which was a good 10-12 minute walk (in 90 degree weather, saddled with our bags). The Hell's Kitchen Flea Market was about 10 blocks away. The wife bought a purse there, so she walked away happy. 🙂
If you're looking for someplace to eat, you have two options. Eat at one of the restaurants in Ink48, or go back into town. The local offerings were sketchy at best. We ended up eating at Mother Burger, a very cool burger joint that's very popular with the young local crowd. And it was only 3 or 4 blocks away from Ink48, which was an added bonus!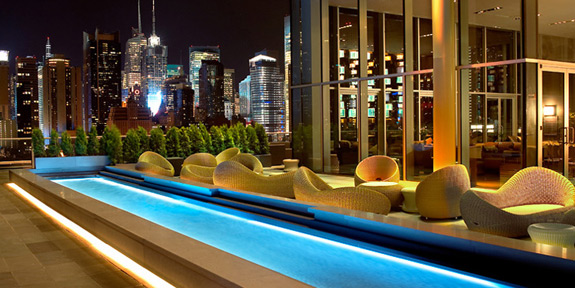 Lastly, let's talk about PRESS Lounge – Located on the 16th floor atop Ink48, PRESS Lounge presents spectacular views and light fare in a casual setting. Enjoy unobstructed Manhattan and Hudson River views, while enjoying a cocktail or tasty snack. The views are unreal, and the line to get in after dark was out the door – It's definitely a popular spot!
All in all, our stay at Ink48 was a great one, and we look forward to checking out other Kimpton hotels in the future.
Book a room at Ink48, and you're sure to have a great stay!