Review: Le Parker Meridien New York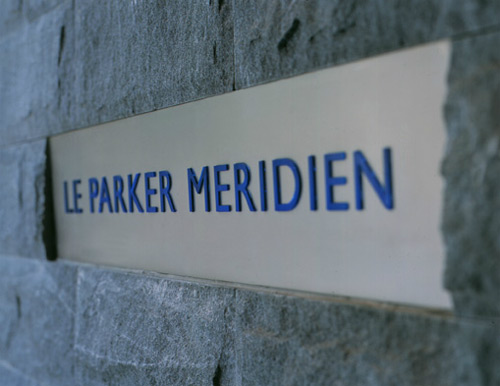 On our recent trip to New York City, we spent a night at Le Parker Meridien. We've stayed here a number of times before, and we've always had a great experience. If you're a fan of modern design (much like TheHotel in Las Vegas), then you're going to love the decor here.
Location-wise, you can't beat it. You're two blocks away from Central Park, and there's great shopping all around you. Despite being in the heart of the city, the rooms are nice and quiet.
We went with a Standard King Room with a City View – In this case, that city view was of a parking garage roof, and a hotel across from us. On our last visit, we were upgraded to a Central Park view, and that was amazing! But when it's on my dime, I'd much rather spend that extra money on something else..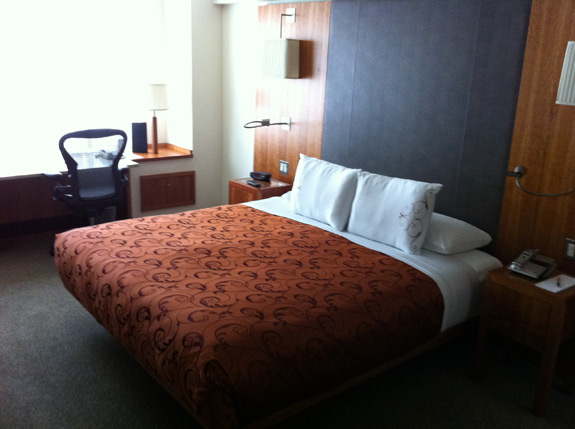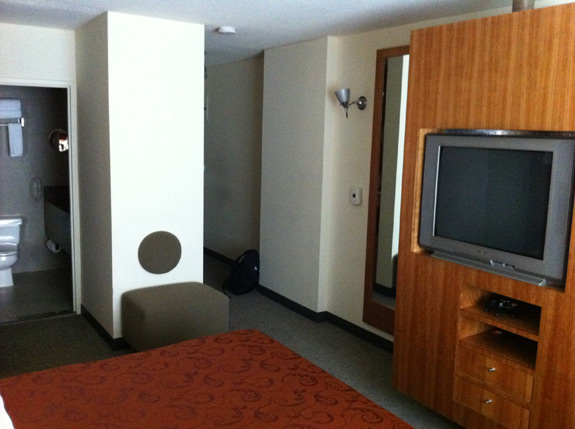 As you can see from the pictures above, it's a good sized room, 320sq/ft to be exact. The bathroom is a bit snug (especially compared to the massive bathroom we had at Ink48), but it's very sleek and sexy. Unfortunately, even though our entire floor was recently updated, they kept the prehistoric 32″ CRT TV, complete with HUGE entertainment center. If they went with a wall-mounted Plasma instead, there'd be a lot more usable space in the room.
Like I said, our floor was recently renovated. How do we know this? Because when we got into our room, none of the lights worked. When I called down to the front desk, I learned that the 6th Floor had these eco-friendly lights, and you had to put your room key in a slot in order to turn them on. WTF? Later in the evening, our thermostat stopped working, and they had to send up a maintenance guy to fix it. Also, our mini-bar fridge never worked..
In the interest of saving electricity, the hotel made a number of changes to these rooms, but they didn't do a good job in testing everything. Steer clear of the 6th floor!
Le Parker Meridien houses two famous restaurants, Norma's and Knave. But they've also got a "secret" restaurant located just to the right of the check-in desk, called Burger Joint.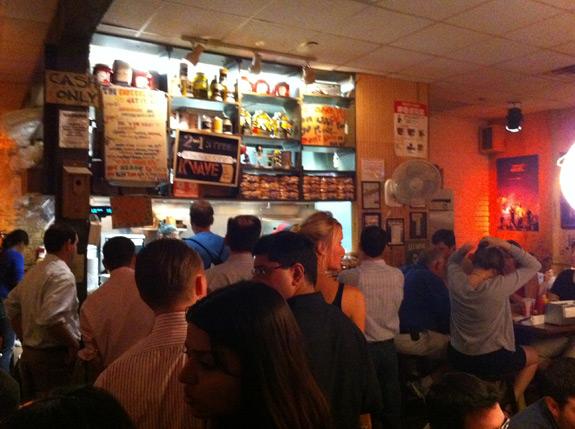 At lunchtime, there's a line 30-people deep extending out into the lobby! The wonderful smell of burgers fills the halls, and I knew we had to try it out. As you can see from the pictures above, the actual restaurant is really small. Thankfully, we had checked in early, and were able to take our burgers back to the room. My picture doesn't do the burger justice, but trust me and the hundreds of Yelpers that tell you how great these burgers are!
The food is a little pricey – And you don't realize this until you get up to place your order, as the menu is written in crayon on a piece of paper that's impossible to see until you get to the front of the line. So here's the deal. A hamburger is $6.89. A cheeseburger is $7.35. Fries are $3.67. A soda is $2.30. Milkskakes are $5.05. Typical New York City prices, I guess..
All in all, our stay at Le Parker Meridien was very good. Management assured me that they'd be looking into the problems we reported, and we look forward to staying here again on our next visit to the city. Maybe next time we'll finally eat at Norma's. 🙂
Book a room at Le Parker Meridien, and tell them Guys Gab sent you!