Review: PEEPSHOW with Angel Porrino
PEEPSHOW has brought in Angel Porrino as a temporary replacement for Holly Madison (who left PEEPSHOW because of her pregnancy), and she'll be assuming the role of Bo Peep until December 3rd, when Coco Austin (from Ice Loves Coco) takes over the lead. Angel takes the stage as Bo Peep, a timid girl […]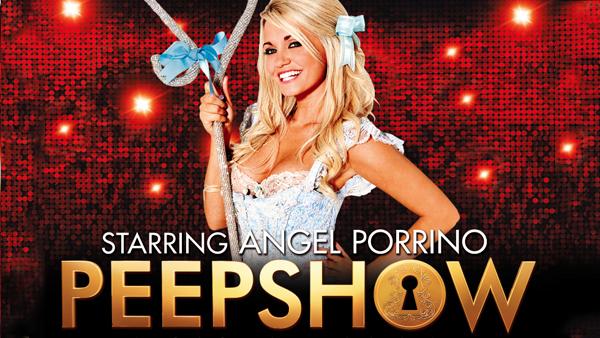 PEEPSHOW has brought in Angel Porrino as a temporary replacement for Holly Madison (who left PEEPSHOW because of her pregnancy), and she'll be assuming the role of Bo Peep until December 3rd, when Coco Austin (from Ice Loves Coco) takes over the lead.
In PEEPSHOW, Angel takes the stage as Bo Peep, a timid girl who is guided by the Peep Diva in her transformation into a confident, sensual woman. A highly-trained dancer, Porrino performs alongside a sizzling ensemble of sexy showgirls handpicked from Broadway, TV and film to complete a highly-skilled, voluptuous cast unlike any other on The Strip.
As a Holly's World fan, I've been wanting to see Peepshow for awhile now. And when I heard that Holly was pregnant and Angel was taking over, I made a beeline for the box office!
C'mon now, Angel is smoking hot, especially with her new implants.. 😀
The show itself is very entertaining, with something for everyone – Singing, dancing, aerial acrobatics, eye-candy for both men and women, humor, and much more.
Critics have called PEEPSHOW "spectacular," "a frisky, flashy update" and "the sexiest show on the planet," and I tend to agree. It's the perfect naughty night out for any fan of first-class live entertainment – Vegas style!
Look around the audience, and you'll see people from all walks of life – Men, women, couples, bachelor parties, bachelorette parties, and in our case, a bunch of cowboys (PBR was in town). Everyone had a blast, including my wife.
Now's the time to go see PEEPSHOW. Angel is adorable and sexy, and she does a great job as Bo Peep. And as an added bonus, an exclusive meet & greet with Angel Porrino takes place in the lobby following all Sunday-Friday performances and following the 10:30pm performance on Saturday, with the exception of Wednesday.
Tickets for PEEPSHOW can be purchased by calling Ticketmaster at 800-745-3000 or online at Ticketmaster.com. Use the code SEXY241 at Ticketmaster, Ticketmaster.com or at the Peepshow box office to take advantage of their special 2-for-1 ticket offer!
For more information, visit www.LasVegasPeepshow.com.