Review: Sabotage (Blu-Ray)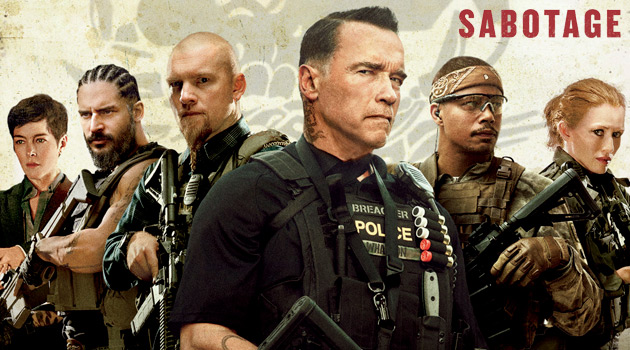 If you're looking for a non-stop adrenaline rush, look no further than the pulse-pounding action film Sabotage, which comes out on Blu-ray and DVD on July 22nd.
When DEA task force leader Breacher Wharton (Schwarzenegger) storms a heavily armed cartel safe house, rogue members of his team use it as a cover to steal $10 million in cash. But just when they think their secret is safe, agents are killed off one-by-one, and everyone is a suspect, including the squad itself.
Schwarzenegger is joined in Sabotage by an impressive supporting cast including Sam Worthington (Avatar), Olivia Williams (Hanna), Terrence Howard (Iron Man), Joe Manganiello (Magic Mike), Josh Holloway (Lost) and Mireille Enos (World War Z).
You can watch the trailer for Sabotage here:

The movie is directed by David Ayers, acclaimed director of End of Watch and screenwriter of Training Day. With a resume like that, it goes without saying that Ayers knows a thing or two about hard-boiled tales of law enforcement along the California/Mexico stretch, as it's sort of become his calling card.
When Sabotage first came out in theaters, it received harsh reviews from the critics, and after watching the movie myself last week, I can see where some of the frustration lies, as the movie starts heading downhill after the first act, and it never really recovers. Adding insult to injury is an ending that twists and turns in an attempt to be clever, but it's really just convoluted and convenient.
But that didn't stop me from enjoying the movie. Schwarzenegger and his all-star cast kept me on the edge of my seat for the full 1 hour and 50 minutes, and I genuinely had a good time getting lost in the story. Picture quality on the Blu-ray looked stunning, and the DTS-HD Master Audio 5.1 surround track made you feel like you were right in the thick of the action.
As for extras, you get two alternate endings, both of which are notably different from the theatrical ending and might appease those who had issue with the original ending. There are also eight deleted scenes, including a small romance arc with Breacher and Caroline, and a little more on the Sugar arc. In addition, there's Making Sabotage, a behind-the-scenes look at the making of the movie that had some interesting moments.
Overall, I thought Sabotage was entertaining enough that kept my attention for nearly two hours, a feat into itself. Sure, it might not be for everyone, but if you liked what you saw in the trailer above, ignore the critics and give it a shot when it's released on Blu-ray and DVD next week.