Saying Goodbye To Another Season Of Jersey Shore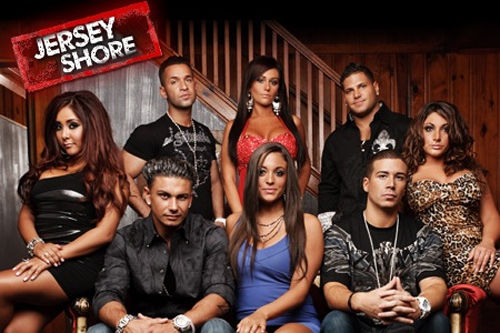 "The ending of summer has arrived. I'm going to miss everybody so much. This summer was awesome," Snooki said at the end of the season 3 finale of Jersey Shore on Thursday.
The episode wrapped up the cast's return to Seaside Heights, and it seemed to have it all: JWoww and Roger becoming "boyfriend and girlfriend", Snooki doing cartwheels in a super short dress and inviting someone to the "smoosh room," The Situation stirring up more Arvin drama, Deena getting drunk and cock-blocking Vinny, Pauly D spinning records and using copious amounts of hairspray, and Ronnie and Sammi having one last blowout fight, complete with hateful words, tears and a breakup. Bella (JWoww's dog) even pooped on the carpet!
Karma had a viewing party last night, and it was something else. Affliction shirts (Ed Hardy is so last year), crazy blow-outs, and people so orange they looked like oompa loompas! I've taken two showers already, and I still stink of Aqua Velva. Ugh!
Also in attendance were some of Jersey Shore's older fans, including Pee-Pops:
Peeps means fucking business, and he was there to party. Flip flops? Cardigan? Jeans? Glasses? Liver spots? Forget GTL, it's all about the FFCJGLS!
Can you believe that Peeps used to like Rap music?
But these days, he's all about House and Techno – He's even going to see Deadmau5 with Danny DeVito in a few weeks. Should be a fun show!