Take Your Bloody Mary To The Next Level With V8.. And Beef Jerky!
There's nothing quite like a Bloody Mary. Some like 'em mild, others want them over-the-top spiced, but the basics pretty much remain the same – Vodka, tomato juice, and combinations of other spices and flavorings.
But what if you want to take your Bloody Marys up a notch? Don't be afraid to experiment with your recipe a bit. Instead of traditional tomato juice, use V8® 100% Vegetable Juice for a bit more flavor. Add a little beef broth into the mix to make your cocktail intensely savory. And if you want an extra little kick, a little dash of Worchester and/or Tabasco sauce works wonders.
If you're not comfortable tinkering with recipes, the Bloody Mary Society has you covered. Working with the world's finest bartenders, mixologists and connoisseurs, they have built a time-tested collection of the most brilliant Bloody Mary recipes around. After looking through them, I was really eager to whip up a few of these delicious concoctions for our Sunday brunch!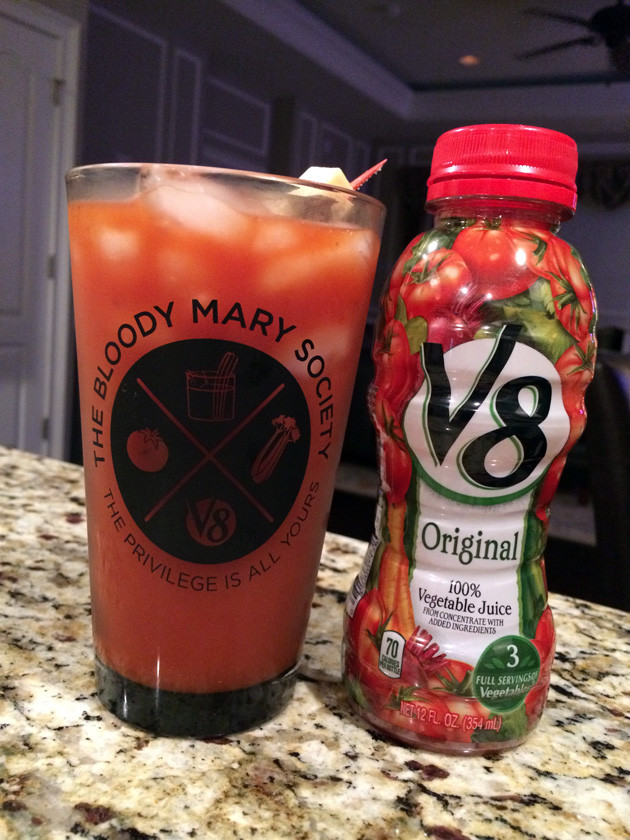 Since I'm a Philly native, I decided to try the Philly Cheesesteak Bloody Mary, tinkering with the recipe a bit to get it just to my liking. And let me tell you, this Bloody Mary was so freaking good that it might just become a part of my Sunday morning ritual!
Want to try this savory cheesesteak-inspired Bloody Mary for yourself? Here's how you make it:
Ingredients:
1 1/2 oz. V8® 100% Vegetable Juice
1 1/2 oz. vodka of choice
1 1/2 oz. Campbell's double-strength beef broth
2 dashes A.1. steak sauce
1 dash Lea & Perrins Worcestershire sauce
1 dash Tabasco sauce
Pinch of freshly ground black pepper
Fill a highball glass with ice cubes and add vegetable juice, vodka, beef broth, steak sauce, Worcestershire sauce, hot sauce and black pepper. Stir gently. Garnish with a skewer of cheesesteak-inspired bites, like beef jerky with cheese, caramelized pearl onions and/or peppadew peppers. (I went with horseradish cheddar and peppered jerky, but it's all personal preference)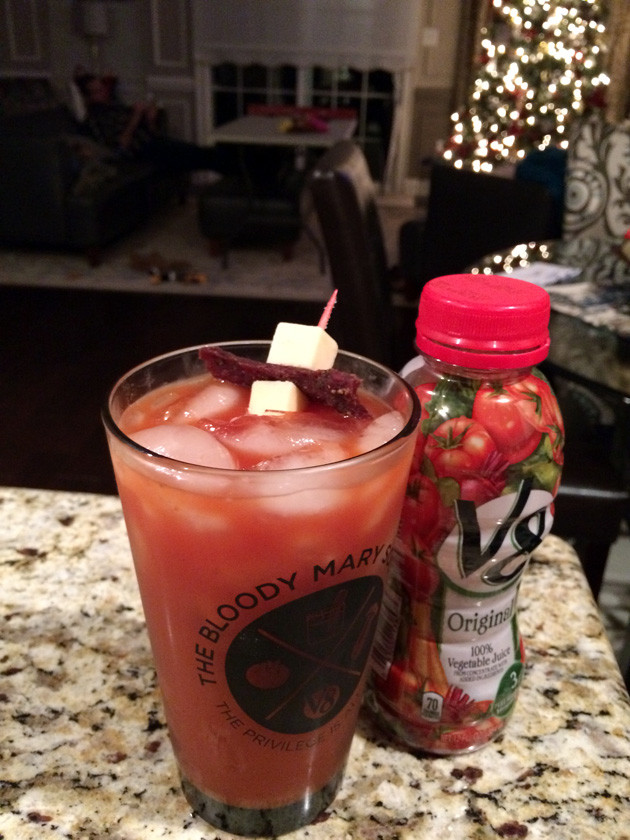 Did you know that National Bloody Mary Day is on January 1? And honestly, I can't think of a better time to try out these amazing Bloody Mary recipes with your friends and family. My suggestion? Invite them over for a New Year's Day Brunch with the promise of great food and drinks.
Set up a Bloody Mary bar full of delicious ingredients, pull up the Bloody Mary Society website so your guests can look at the various recipes, and let them build their own Bloody Marys. As far as the food goes, you can't go wrong with Eggs Benedict.
Got a great Bloody Mary recipe of your own? Share it with us in the comments section below.
Thank you to V8 for sponsoring this conversation.