Get Into The Holiday Spirit With An Ugly Sweater Party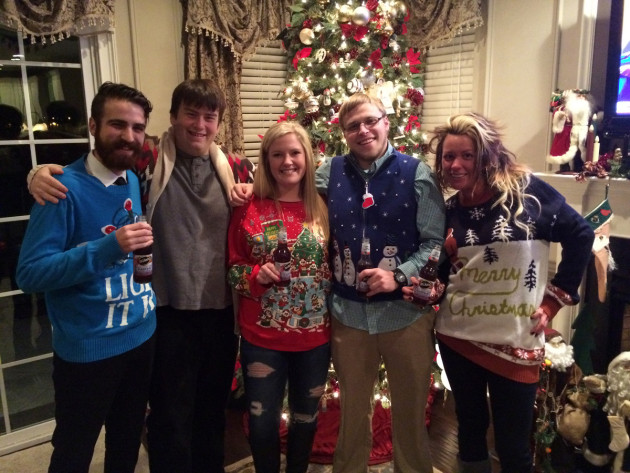 We all have our own Christmas traditions that get us into the holiday spirit. Some may go out looking for that perfect tree to bring home and decorate. Others prefer to snuggle under the covers at home while watching their favorite old holiday movies (A Christmas Story, Home Alone, Elf, Die Hard, etc). My girlfriend, she likes baking holiday cookies, which I like eating.
But for me, it's all about the ugly sweater party. That's right, every year we throw an epic party where people shows up in their most obnoxious sweaters – the more frills, bows and gauche decorations, the better!
Honestly, it's a great way to catch up with old friends and family in a casual setting, and everyone always has a blast. This year was no exception. We had tons of food (including some awesome ugly sweater cookies to keep with the theme), holiday music playing to get people in the spirit, the iconic Yule Log playing on the TV, and plenty of Mike's Glacier Berry to go around.
If you haven't tried Mike's Glacier Berry yet, you definitely have to check it out. This flavorful seasonal offering from Mike's Hard Lemonade has a unique taste of mixed berries and includes notes of blackberries, black currant, raspberries, blueberries, tart cherry, and strawberry. It has a refreshingly clean finish with a lingering hint of sweetness. It's kind of awesome, and my mouth is watering just thinking about it!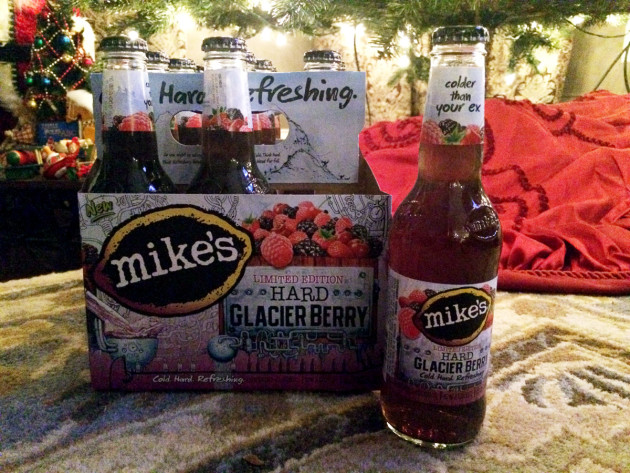 In addition, we also did a White Elephant gift exchange (aka Yankee Swap, Dirty Santa, etc), which was a lot of fun. If you've never participated in one before, here's how it works. Everyone brings one wrapped gift (with a value of $20-25), which they place in a pile. Numbers are drawn from a hat to determine the order in which everyone chooses their gift.
Then one by one, players select a gift from the pool and open it in front of everyone. The following player can choose to pick an unwrapped gift from the pool or steal a previous player's gift. Anyone who gets their gift stolen in this way can do the same – choose a new gift or steal from someone else. After everyone has gone, the first player gets a chance to swap the gift he or she is holding for any other opened gift.
So as you can see,it really pays off to draw the #1 spot, as you get your choice of all the gifts (except for ones that have been retired after having been stolen three times). I ended up with a copy of Ted 2 on Blu-ray/DVD, which I was totally stoked to get! And my Bacon Chocolate Chip Pancake Mix gift went over REALLY well, getting stolen more than once. In the end, everyone had fun, and it was a great way to end the night.
Now you know what gets me into the holiday spirit. What brings out the "merry" in you?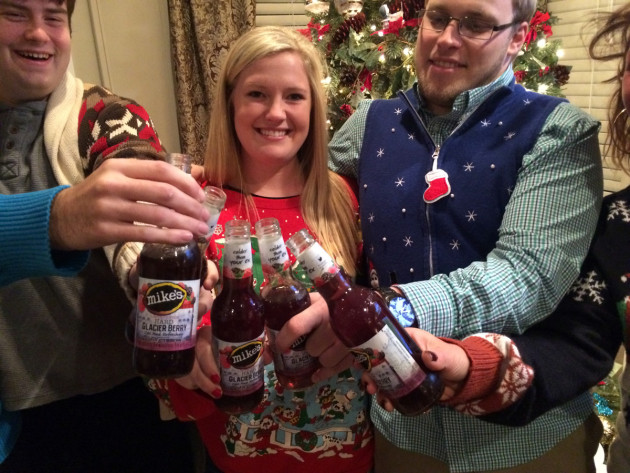 This post has been sponsored by Mike's Hard Lemonade, but all thoughts are our own.