The 2014 Kia Forte EX : A Second Opinion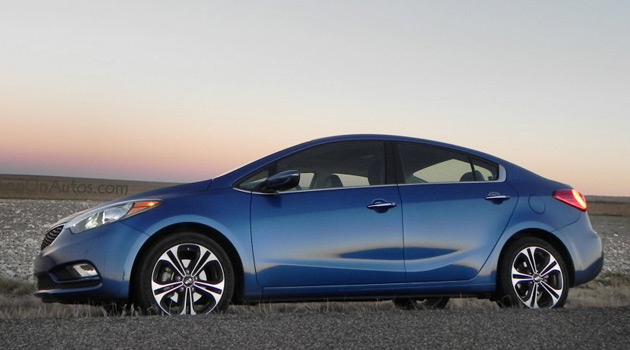 Kia is working hard to change its image from that of the low-end cheap and reliable, but boring automaker to a more premium, high-value seller. The goal is to be more competitive in looks, fit and finish, but still keep the low-cost, value-oriented reputation. To this end, Kia has upgraded nearly all of its lineup with far better offerings. The 2014 Kia Forte is one of those.
Earlier this summer, Sujeet put the 2014 Forte EX through its paces. He was impressed, but not ecstatic about the car's abundance of premium-level gadgets. What was well-stated, however, was that this new small car offering from Kia will change people's perception of the automaker as a brand.
On that note, he was completely correct. Kia makes solid vehicles, but doesn't exactly have a reputation for making vehicles that are fun to drive or performance-prone. That changes in the Forte EX, with its 2.0-liter four-cylinder GDI and well-tuned six-speed automatic Sportmatic transmission package. At 173 horsepower and 154 lb-ft of torque, nearly everyone will agree that this car is sportier than many in the segment.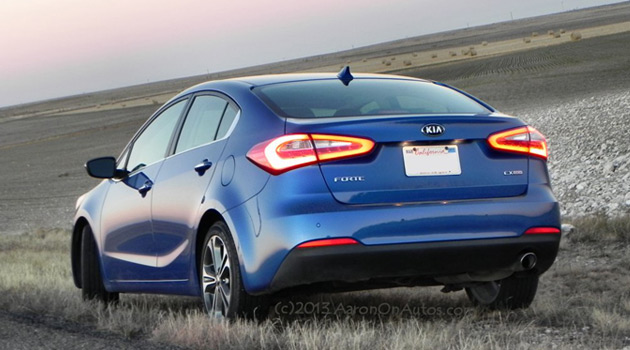 It's also very well-outfitted. At the top level $25,515 price point, which is steep for the segment, you get luxury accoutrements you won't find in this segment without going into the luxury market. A comparably appointed Cadillac ATS, for example, will set you back over $33,000 and, frankly, it doesn't deliver much more than the Forte EX does. The Forte is also roomier than the Caddy, though perhaps not quite as sport-tuned.
From heated and ventilated seats (even in the back!) to auto-folding exterior mirrors and a premium sound system, the top-fit Forte EX has it all. It sports beautiful wheels, great color options, and an exceedingly comfortable interior. The trim package has just enough bling factor to make it look good without going over the top as well. Only two things are out of place in this car: the little pocket windows and the park assist button. The small triangular windows ahead of the rear view mirrors are odd and bring in light that splashes across the dashboard on the passenger's side in a distracting way when the sun is just right. Down next to the shift knob are several buttons to control seat heating and such. One of those is the Park Assist on/off toggle, which is way more prominent than it needs to be given how often you don't actually use it. This may be a European holdover as their version has a self-parking option. See more here:
Outside of those two things, however, the 2014 Kia Forte EX is a huge leap forward from the 2013 model while keeping the endearing value, large interior, and big trunk of its predecessor. The sporty drive, enhanced by the steering control that allows for three steering options with the electric assist, and great fuel economy (36 mpg on the highway, as tested) add up to a good all around car that isn't boring to look at or drive.
Of course, for the bean counters, it should be noted that the upper-level Kia Forte as we drove it is priced at about the same level as the entry-level Optima sedan. The Forte, however, has better economy, a smaller package, and a lot of bang for the buck in terms of what's inside for that price tag. The Optima, which is a great vehicle in its own segment, is not a comparison.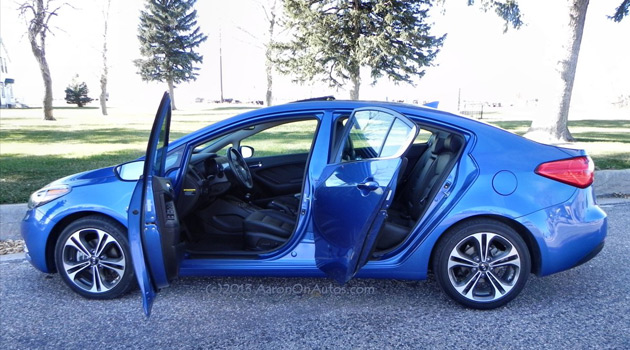 The small car segment has a lot of competition and Kia has brought its best foot forward to get in there and make a showing for itself. Its greatest strength is its value for the offer and the premium-level amenities that aren't found anywhere else in this segment.