First Drive: 2014 Toyota Highlander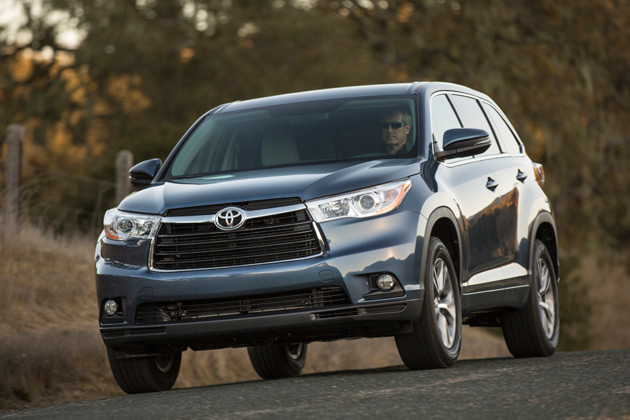 Last week, Toyota brought us out to Northern California to drive the all-new 2014 Toyota Highlander. Now in it's third generation, the Highlander has been completely redesigned with bold new exterior styling, family friendly features, and the latest in advanced safety and audio technology. All while maintaining its Toyota DNA of quality, durability, and reliability.
While the Highlander was primarily marketed to families in the past, they're also targeting baby boomers with this new vehicle. As such, it was important for the new Highlander to have attractive styling and a luxurious interior, while still delivering the features important to families, such as reliability and safety. After spending a day with the Highlander, I can say with confidence that they've achieved this goal without compromise.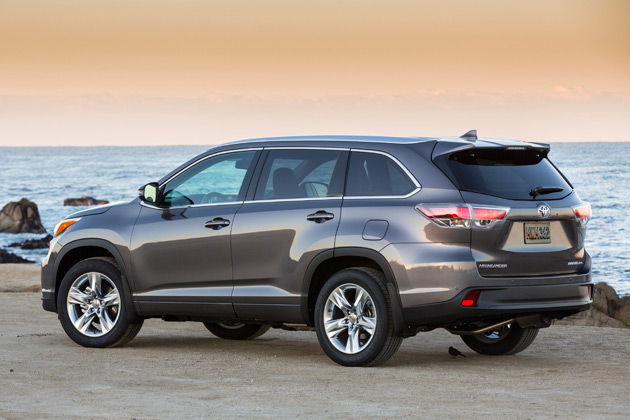 The 2014 Toyota Highlander was designed to be accommodating for the whole family, with seating for up to 8 (up from 7), increased cargo capacity, and smart storage areas around the interior cabin (including a center console with a 24.5-liter capacity, large enough to swallow a large purse, tablet, or 50+ juice boxes). It can accommodate the whole family on a road trip, or just the parents on a date night. You won't feel embarrassed pulling up to a fancy restaurant in the new Highlander.
Another clever feature in the Highlander is in-dash shelf with soft-touch padding (so things don't slide around) that's angled to allow for easy storage of your phone or MP3 player, and there's a pass thru to USB/12V that allows you to keep your devices charged up without wires in your way.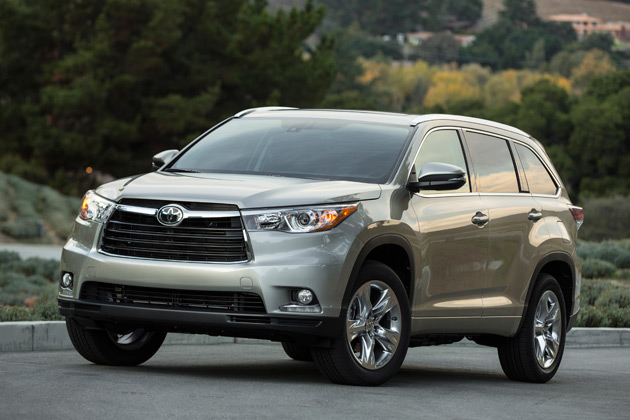 Not only does the 2014 Highlander have bold, eye-catching exterior styling (made more aggressive to attract more male buyers), but it also has premium interior amenities and upgraded materials similar to a luxury vehicle. A 6.1-inch touchscreen is standard, with an 8-inch touchscreen in XLE and Limited models. Limited models also have heated and ventilated front seats, with a heated steering wheel and heated second row seats available.
Soft-touch interior materials and satin chrome metallic accents can be found throughout the cabin, and more light can be brought in with the available panoramic moonroof. 18-inch alloy wheels fill out the wheel wells nicely, and Limited models get stunning 19-inch Chromtec wheels.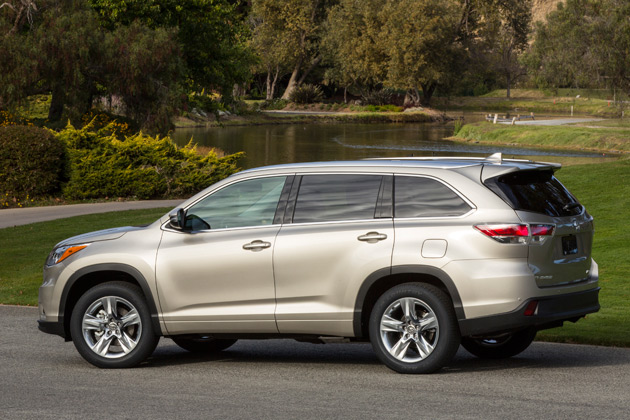 These days, car companies load their cars up with as much technology as possible, and Toyota is no exception in this department. The 2014 Highlander comes with a backup camera and next-generation Entune Audio systems, which includes hands-free Bluetooth streaming technology and advanced voice recognition as standard.
Limited models also offer advanced safety features including Blind Spot Monitoring with Rear Cross Traffic Alert, Rear Parking Assist Sonar, and an available Driver Technology Package that includes a pre-collision system with Dynamic Radar Cruise Control, Lane Departure Alert, and Safety Connect.
While these features are on-par with the safety offerings from other manufacturers, Toyota has developed something called Driver Easy Speak that's unlike anything I've ever seen before. Rather than turning your head behind you to yell at your kids while driving, you simply turn on the system, and a microphone in the overhead console amplifies your voice and broadcasts it through the rear speakers. There's also a flip-down mirror, so you can see what's happening behind you without looking away from the road. Very cool!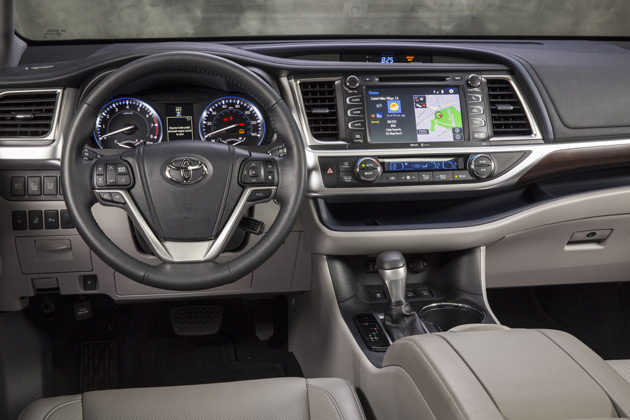 Of course, all the features in the world don't make a difference if the performance isn't there. Thankfully, the Highlander doesn't disappoint in this area. The 2014 Highlander has three different engine options to choose from, a 2.7L 4-cylinder engine that puts out 185HP and 184 lb-ft of torque (only available on the LE model), a 3.5L V6 engine that puts out 270HP and 248 lb-ft of torque, and a 3.5L V6 Hybrid that delivers 280 net HP.
We spent the day driving a Highlander with the 3.5L V6 engine that most buyers will opt for, and it had plenty of get-up and go, while still returning respectable mileage. (19/25/21 for FWD / 18/24/20 for AWD)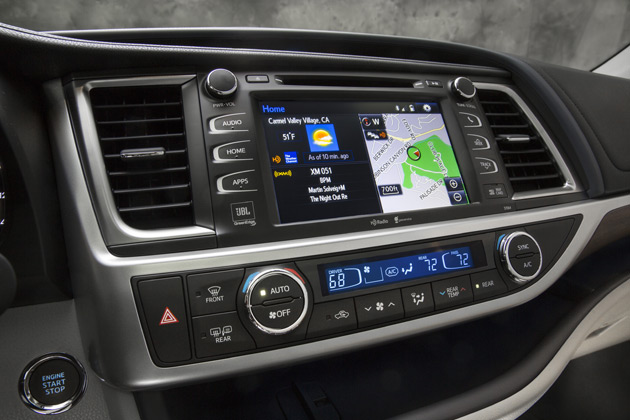 Pricing for the 2014 Toyota Highlander starts at $29,215 for the LE grade, and tops out at $49,790 for a top-of-the-line Hybrid Limited with the Platinum package. We imagine most people will be shopping for the XLE and Limited grades, which are priced beginning at $36,040 and $39,640 respectively.
With more standard equipment than comparably priced competitors, bold new styling that sets it apart, and Toyota's continued commitment to quality, we think the 2014 Highlander will be a huge success.
If you're in the market for a mid-size SUV, be sure to check out the all-new 2014 Toyota Highlander. Visit http://www.toyota.com/upcoming-vehicles/ for more information.