Review: 2014 Kia Forte EX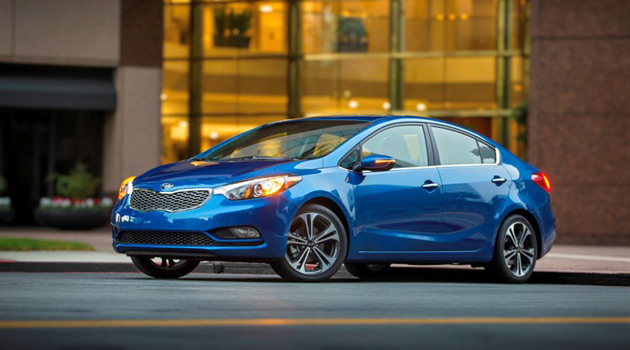 The Kia Optima has single handedly changed the way people look at Kia's, and now the Korean brand is setting their sites on the ultra-competitive compact car segment with the all-new 2014 Kia Forte. Sitting on an all-new chassis that is longer, wider and lower than the previous-generation Forte, the new Forte offers more room, more performance and more premium amenities than the outgoing model.
Having been completely enamored with the Kia Optima SX Limited and Kia Optima Hybrid Premium that we drove last summer, we were eager to get behind the wheel of the new Forte and see how it stacked up.
Kia gave us a 2014 Kia Forte EX to drive for the week, which came with the more powerful 2.0L engine that puts out 173HP and 154lb-ft of torque. While the EX starts at $19,400, our option heavy model came in at a staggering $25,515.
After picking our jaws off the ground, we looked closer and realized that the car was loaded with options you don't normally find offered in the compact car segment. Many options found their way over from the Optima, including a heated steering wheel, ventilated drivers seat, headed rear seats, and a cooling glove box.
Opinions were mixed when it came to the styling of the new Forte. Kia wanted the Forte to look more like the rest of the brand's lineup, so they added the familiar "Kia grille" and new taillights. Some felt it made the car look too generic, the rear which could easily be confused with a Focus or Sentra. And the confusing glass window triangles ahead of the side mirrors didn't go over well with anyone. But overall, I think the new sleek looks will really appeal to buyers in this segment.
What really impressed us about the Forte was it's performance. The 2.0L engine works well with the 6-speed automatic, giving you plenty of power at will. Handling was another strong suit of the Forte, and the optional FlexSteer system allows the driver to choose between three distinct steering profiles: Comfort, Normal and Sport. Braking performance was equally impressive, though the brakes seemed a little grabby at first.
Overall, if you're looking for a driver's car rather than a car to drive around in, you'll be pleasantly surprised with the all-new 2014 Kia Forte. Go drive one, and it'll completely change your perception of Kia as a brand.
2014 Kia Forte EX:
Base Price: $19,400
As-Tested Price: $25,515
More Information: http://www.kia.com/forte