The 2014 Nissan Versa Note Is Surprisingly Roomy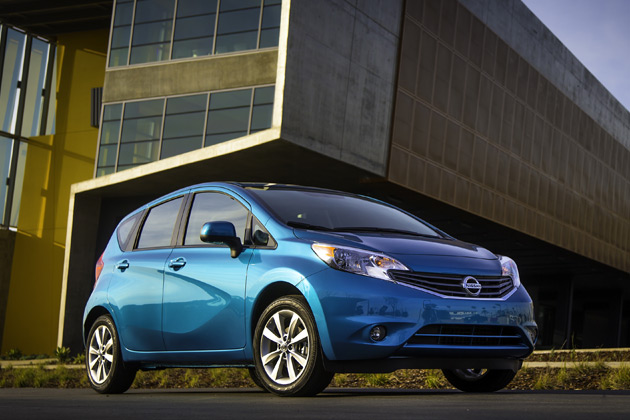 The subcompact segment is both the place where entry-level vehicles give transportation to those without much to spare and where fuel efficiency soars. It's rarely been thought of as the "roomy" or "versatile" car segment. Until now. The 2014 Nissan Versa Note is versatile, roomy, and gives much more than expected for a sub-$20k vehicle.
Our test model was a Versa Note SV, ringing in at just over $20,000 with all the fixins. Base price for the 2014 Versa Note is just about $15k and at about $16k for the SV trim. Whatever package you choose, it will have the things we noted immediately about the Note: space and efficiency.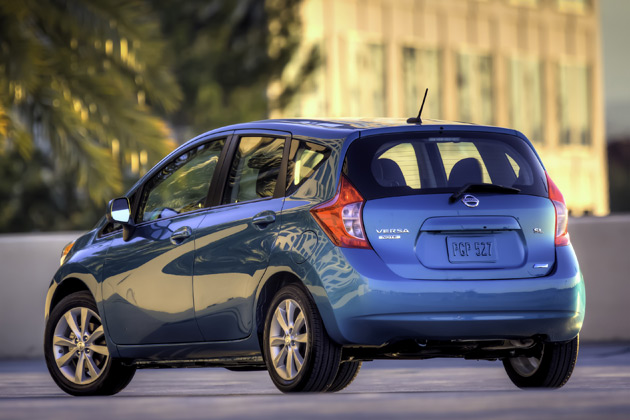 The 2014 Nissan Versa Note has a 1.6-liter four-cylinder engine which turns through a continuously variable transmission (CVT) to the front wheels. This gives an EPA rating of 40 mpg on the highway. That may not seem like much, since it's basically the norm now in this tiny car segment, but the Versa Note is not tiny. No, this little five-door has a huge interior compared to many of its rivals like the Chevy Sonic or the Ford Fiesta.
This became immediately apparent when I adjusted the front seat for my six-foot, three-inch frame. It was surprisingly comfortable, with a lot more leg, head, and shoulder room than I'd expected. Imagine my amazement when, after adjusting that seat, I went to the seat behind it and found that I not only had leg room to spare, but was still comfortable with enough head and shoulder room to make it realistic for me to ride in the back seat. And the hatch means that even with four people of my size in the car, there is room for a lot of stuff behind us – two checked bags easily plus some carry on and other gear.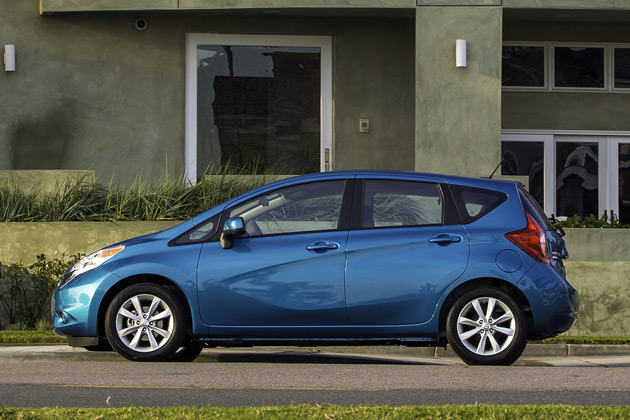 The interior of the Versa Note is low-key and rather boring, we will note. Given the price point, something had to give to keep the sticker small and this was it. On the highway, though, the Note is no more noisy than are the competitors in this segment and although it's not a race car, it has enough get-up and go, given the fuel economy and tiny engine, to get you where you want to be. Sporty? Not really. Fun? Nope. Nice looking, reliable, and easy to drive? Yes on all counts.
In everyday driving, the 2014 Nissan Versa Note gives an air of confidence. The engine can be a bit loud at freeway speeds, but the smooth movement of the CVT and the good-natured driving the Note has make up for this.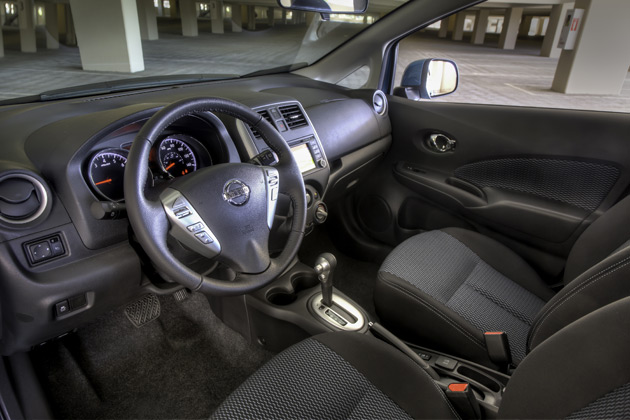 After a week of driving, we were impressed with the 2014 Versa Note's overall feeling of competence. The Versa is a best-seller, and has been for some time, in the subcompact segment. The slightly larger and more versatile Versa Note was added to capture the "I need a little more than that" audience and has done well for itself since its introduction late last year. Now we know why. The Versa Note delivers on every front with an air of confidence. It may not be the best at most things, but it's at least capable or good at them. Where the Versa Note really shines is in passenger and cargo space. For that, we give it top billing.
The 2014 Nissan Versa Note is definitely a car to consider if you need a good commuter vehicle, a budget-minded vehicle, or a safe and reliable first car for your teenager. The Versa Note is one of the best entries in this segment, delivering everything you could want from an entry-level vehicle that's both useful and efficient.