Highlights From The 2014 'Further With Ford' Trend Conference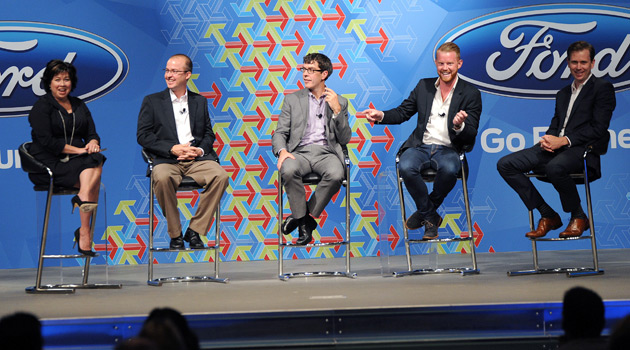 A few weeks ago, we visited Ford's headquarters in Dearborn MI for the fourth annual Go Further with Ford trend conference. This event took a deeper look at key global trends and issues influencing consumers today and well into the future. Ford brought together a collection of thought leaders and trend-spotters, as well as Ford designers and scientists to explore key trends in sustainability, design, technology and innovation and discuss future implications on consumer dynamics in 2015 and beyond.
On the first night in Dearborn, we attended a dinner reception where incoming Ford CEO Mark Fields, iconic designer Kenneth Cole and innovator / author Clayton Christensen explored big ideas and issues in the auto industry. It was a very interesting session, and hearing about Kenneth Cole's road to success was personally exciting and inspirational. But the real highlight of the evening was the unveiling of the 2015 Ford Edge, an absolute stunner that's sure to be a huge hit for Ford!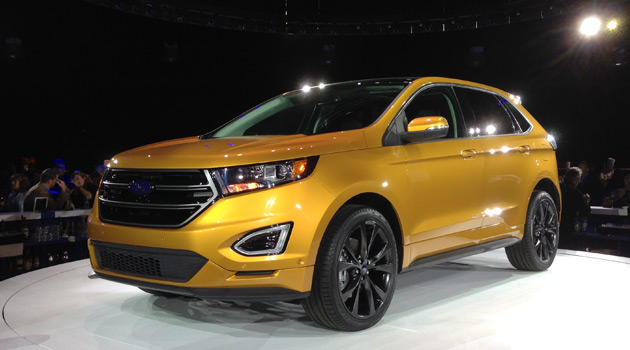 The following day, we headed to Ford World Headquarters to attend a series of sessions, including "What's The Deal With Big Data?", "Sustainability Blues", and "Decoding Design". All three sessions have strong ties to the Ford brand (Alan Mulally's motto – "The data will set you free," has helped drive the company to new heights of success, Ford has reduced total global water consumption by 62% between 2000-2012, and great vehicle design can cause a crescendo of emotions in buyers), and we got to hear from a variety of leaders in these respective fields to give us a better understanding of why these areas are so important to Ford.
Surprisingly enough, the most powerful session for me was Sustainability Blues, which talked about the water crisis that plagues much of the world. Water is a resource that we take for granted here in the US, but learning about the poor conditions facing many third world countries was really quite sobering. We learned that some of the world's poorest people have to make do with a mere 4 liters of water a day (a little over 1 gallon). How much water do you think you use everyday? Not just to drink, but also for cooking, bathing and cleaning? About 550 liters (145 gallons) every day!
To further illustrate this point, George McGraw (founder of DIGDEEP, a non-profit focused on the global water crisis) asked if any of us were willing to take the 4 Liter Challenge, where we'd commit to live on just 4 liters of water a day. When you put yourself in their shoes for a few days and learn what water poverty is like, it gives you a whole new perspective on things, making the problem that much more real.
You can watch an overview video from the Sustainability Blues session below:

Ford has made huge strides to pare down water usage across the board, and these efforts have resulted in a savings of 10.6 billion gallons of water over the past 12 years. To put that in perspective, that's the equivalent of 1 billion five-minute showers, 250 million loads of laundry, or the amount of water that flows over Niagara Falls in 3.7 hours. Ford has always been a very eco-friendly company, and green initiatives like this just go to further illustrate that point.
After the sessions, we got to go "Inside The Oval" at the Ford campus, getting a more intimate understanding of how Ford vehicles are created. From Virtual Reality to Safety Innovations to Tough Testing, it was quite an afternoon, showing us just how much goes in to each car that gets produced. I even got to put on a suit that simulated being drunk, and then trying to complete a sobriety test (which I miserably failed). It was pretty wild.
On our final day in Dearborn, we headed to the Ford Test Track to get behind the wheel of some of Ford's latest vehicles. This is always my favorite part of the event, and this year didn't disappoint. We got to drive some cool cars (like the Focus ST and Fiesta ST), test out the all-new perpendicular parking feature in the 2015 Edge, experience the Lane Keeping System at speed (sensors detect if you're veering out of your lane and apply torque to the appropriate wheel to gently nudge you back into your lane), and get a ride in a van that was being driven remotely from a location 30 miles away.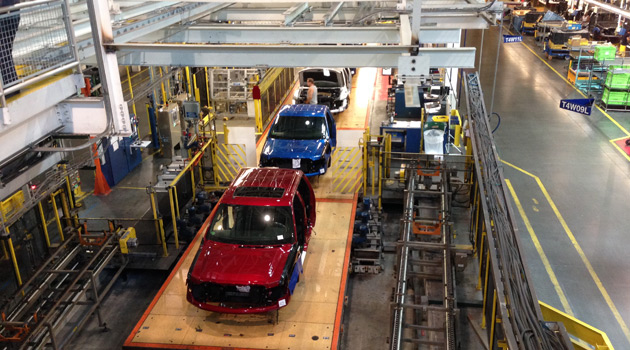 After that, we headed over to the Dearborn Truck Plant where all the F-150's are built. It's an amazing facility, and one that carries a lot of history for the brand. We learned about the upcoming 2015 F-150 (a clear winner in our book), and a few lucky people even got to go for a ride in the new F-150.
It was a whirlwind three days at Ford HQ, and it was great to connect with friends old and new, while learning more about Ford and where they're headed in 2015 and beyond. Thanks to Ford for bringing us out for this annual event, and we can't wait to see what next year will bring!