The 2015 Subaru BRZ Series.Blue is Limited Edition Awesomeness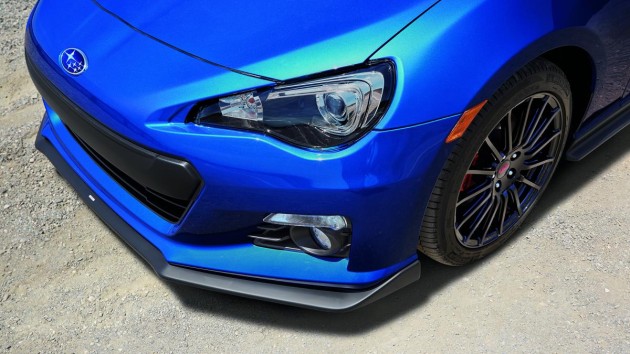 When we hear phrases like "limited edition," we generally take it with a grain of salt. One man's "limited" is another man's "ton of 'em." Most of us would agree, though, that a production series of 1,000 is truly a limited edition. Especially when it's something as desirable as the 2015 Subaru BRZ Series.Blue.
The Subaru BRZ is already a pretty rockin' little car. With a curb weight of not quite 2,800 pounds and engine output of 200 horsepower (honest output, no turbos) plus one of the best shift throws in the business, this entry-level sports coupe is kick ass. Forum trolls like to whine about this car being "gutless," but these are mainly people who don't know how to drive, just point a car in a straight line and punch the throttle. Drivers who really like carving roads and snaking turns all know what the BRZ is really about.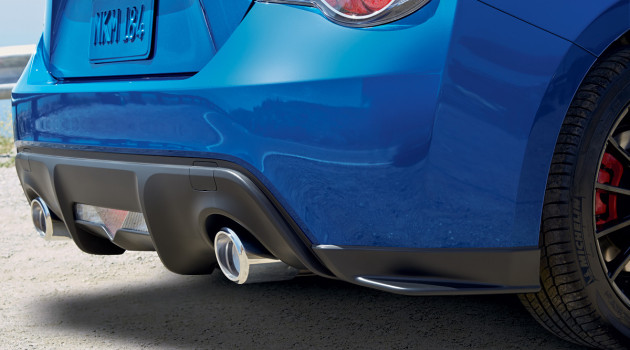 The success of the Toyobaru (read our review of the Scion FR-S here), is in its simple, no-nonsense layout. Start with a rear-wheel drive chassis, place the engine just-so behind the front axle, tune the suspension, and let physics do the rest. Many sports cars started this way and eventually got too big for themselves (*cough* Porsche *cough*) and lost their purity. So when we heard a special edition of the BRZ was forthcoming, it rightfully made us worry.
There was no reason to. It's easily the best BRZ to date. The 2015 BRZ Series.Blue is bespoke for its limited availability, but the changes are all good things. You're basically getting a fully-loaded BRZ Limited with STI-tuned front and rear spoilers and dampers, some fascia treatments, details like black wheels and red calipers, and a way awesome-looking interior. The Limited model has a price tag of about $27,700 and the Series.Blue adds another $2,500 or so to that. Well worth it for the great look, exclusive paint, and beautiful interior.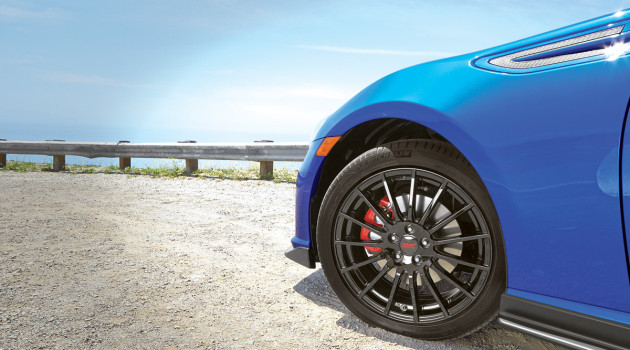 Even if you don't opt for the Series.Blue, the 2015 BRZ is still a whoopass little speedster. The road-hugging mentioned earlier gets some additional excellence thanks to a bit of tuning from Subaru on the suspension of this year's BRZ. The engine, while not powerful, has plenty for the little car's needs and throws out great torque (151 lb-ft) through what might be the best six-speed manual transmission on the road.
The trans comes in two basic parts for the driver: clutch and shifter. The clutch is tight and has a very definite positive point where it's engaged. There's almost no gray area and zero mushiness. If you're used to driving loose clutches, which are the norm in most vehicles, it will take some adjustment to get used to the Subaru's quick engagement. After dropping second gear a couple of times, I got the idea and it was smooth sailing from there. As for the shifter, it's a very, very short throw. I was literally shifting with just my wrist, pulling and pushing the knob in and out of gear with a wrist flick. Total travel is less than four inches. The combination of tight clutch and fast throw means exceptionally quick shifting. It's beautiful.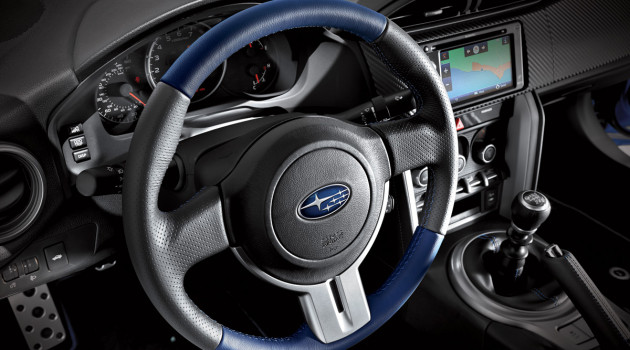 The suspension in the BRZ is tight (though not as stiff as in the STi) and steering is precise. Add all of these elements together: great suspension, smart steering, excellent transmission, good-performing engine.. and you get a complete package that offers a lot of road and track feedback for the driver. This is why the Subaru BRZ is so great. It was built as a driver's car and it hits the mark perfectly.
There are pathetically few true driver's cars available at dealerships today. Many sports cars are either cheap knockoffs of their earlier greatness or are "sports cars" in name only. A very few are driver's cars rather than pure speed demons bent on maxing out bragging rights. Not so with the 2015 Subaru BRZ Series.Blue. This is a real driver's car. And it's awesome.