"The Agent" Docuseries Explores Four Top Real-Life 'Jerry Maguire' Sports Agents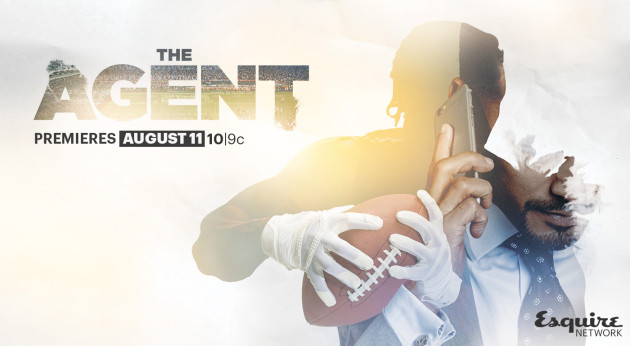 Behind every professional football player is an agent. Their clients make the plays on the field, but they run the game off the field. Esquire Network gives an inside look at the business behind America's biggest sports obsession as cameras follow four top real-life 'Jerry Maguire' sports agents navigating the cutthroat world of professional football in The Agent. This 10-part documentary series premieres August 11 at 10/9c.
With exclusive access beginning last September, The Agent chronicles the journey leading up to the 2015 draft. From contract negotiations, endorsement deals, recruiting, private clubs and training to meetings with scouts and veteran players in the NFL, viewers will get raw insight into these behind-the-scenes business dealings. The relentless ambition, ruthless pressure and high-stakes of the pursuit to securing that top pick are revealed. Some call it the hustle and grind but it's all about survival.
Forget about hokey shows like HBO's Ballers, this is the real deal!
Meet the agents:
Jeff Guerriero: Since 1998, he's represented over 100 professional football players and has negotiated over 130 NFL contracts to date. He's got those invaluable contacts to ink the big deals.
Peter Schaffer: A certified NFL agent for 24 years, he's negotiated over one billion dollars in contracts and has had the honor of representing such Hall of Fame greats as Barry Sanders and William Roaf.
Sunny Shah: Prior to becoming one of the youngest and most successful independent sports agents in the business, he worked on Wall Street. Having represented two top 15 NFL draft picks, his name has quickly become synonymous with some of the NFL's most promising first-round picks.
Ed Wasielewski: After attending Villanova and Temple Law School, he's now put everything on the line for these young football players. With 13 years as a professional agent under his belt, he's ready for some big signings.
We had a chance to screen the premiere episode, and we were loving every minute of it! Their clients make the plays on the field, but they run the game off the field.
The Agent premieres August 11th 10|9c on Esquire Network.