The Next Great Burger Premieres Tuesday on Esquire Network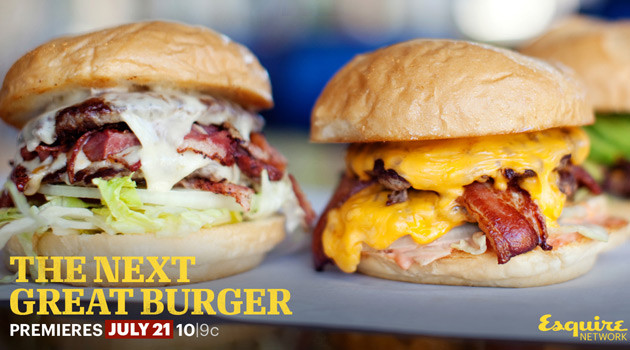 There's no food more quintessentially American than the burger. This summer, Esquire Network is hungrily on a mission to find the next best iconic classic in St. Louis, the birthplace of burgers and Budweiser. A new generation is looking to take burgers to a another level, and that means a bigger, better, more adventurous experience that dares the taste buds.
In the 6-part competition series The Next Great Burger, ingenuity is on full display as backyard BBQ kings and up-and-coming culinary hopefuls have a shot to showcase their perfected version of one of the nation's greatest obsessions: the burger.
"The Next Great Burger is our homage to the all-American summer," stated Matt Hanna, Head of Original Programming, Esquire Network. "We've rallied the best burger chefs you've never heard of, uncovered their secret ingredients and unorthodox techniques, and wrapped them up into six burger-and-beer-filled episodes for guys across the country to watch and enjoy."
These burger bosses will descend upon St. Louis, where it is said the first-ever hamburger was likely paired with an ice cold Budweiser at the 1904 World's fair, to cook and serve their burger for the judges and a crowd who will weigh in with their votes. Brewmaster Bryan Derr will be on tap to determine which burger best complements the smooth taste and clean, crisp finish of a Budweiser. At the end of every episode one winner will advance on, while the other contestants are sent packing.
The 5 winners of the stand-alone episodes will be joined by the winner of the Bud & Burgers Championship, and the six will compete for the ultimate prize in the finale. In the end, one burger will be crowned as The Next Great Burger, and the winner will be awarded this ultimate title, along with a $25,000 prize.
The Next Great Burger premieres on Tuesday, July 21st at 10/9c on Esquire Network!