Grilling With Guinness Blonde American Lager
Our friends at Guinness recently sent over samples of their new Guinness Blonde American Lager, and they challenged us to come up with the best summer barbeque dish to pair alongside it. As Barney Stinson would say, "Challenge accepted!"
Of course, before we could start thinking of dishes to make, we had to try out a beer or two.. or three.. Well, we lost count after awhile, but you get the point. Guinness Blonde is a complex and flavorful lager, hoppy and citrusy on the nose from the hops used, delivering a long malt, biscuit finish, and perfectly balanced. It really hit the spot on a hot summer day.
The GuinnessHooley.com site suggested pairing Guinness Blonde with a warm artichoke or spinach cheese dip, we opted for something a little more traditional and in theme with the whole "American" lager – Burgers! Yes, we could have done something more exotic like Guinness Braised Short Ribs or Red Mole Chicken, but honestly, who doesn't like a good old fashioned burger?
Since Omaha Steaks provided the meat for the challenge, we picked up some of their gourmet burgers and grilled them up in the backyard. We kept it simple, just American cheese, ketchup and mustard. That's it. If you want more vegetables, eat a salad. And since you can't have a burger without chips, we threw in a side of Guinness Burts Hand Cooked Chips, along with a tall glass of Guinness Blonde American Lager.
The lager really brought out the taste of this savory burger, and it was delicious! Heck, as soon as I took this photo, I devoured everything on the plate! 🙂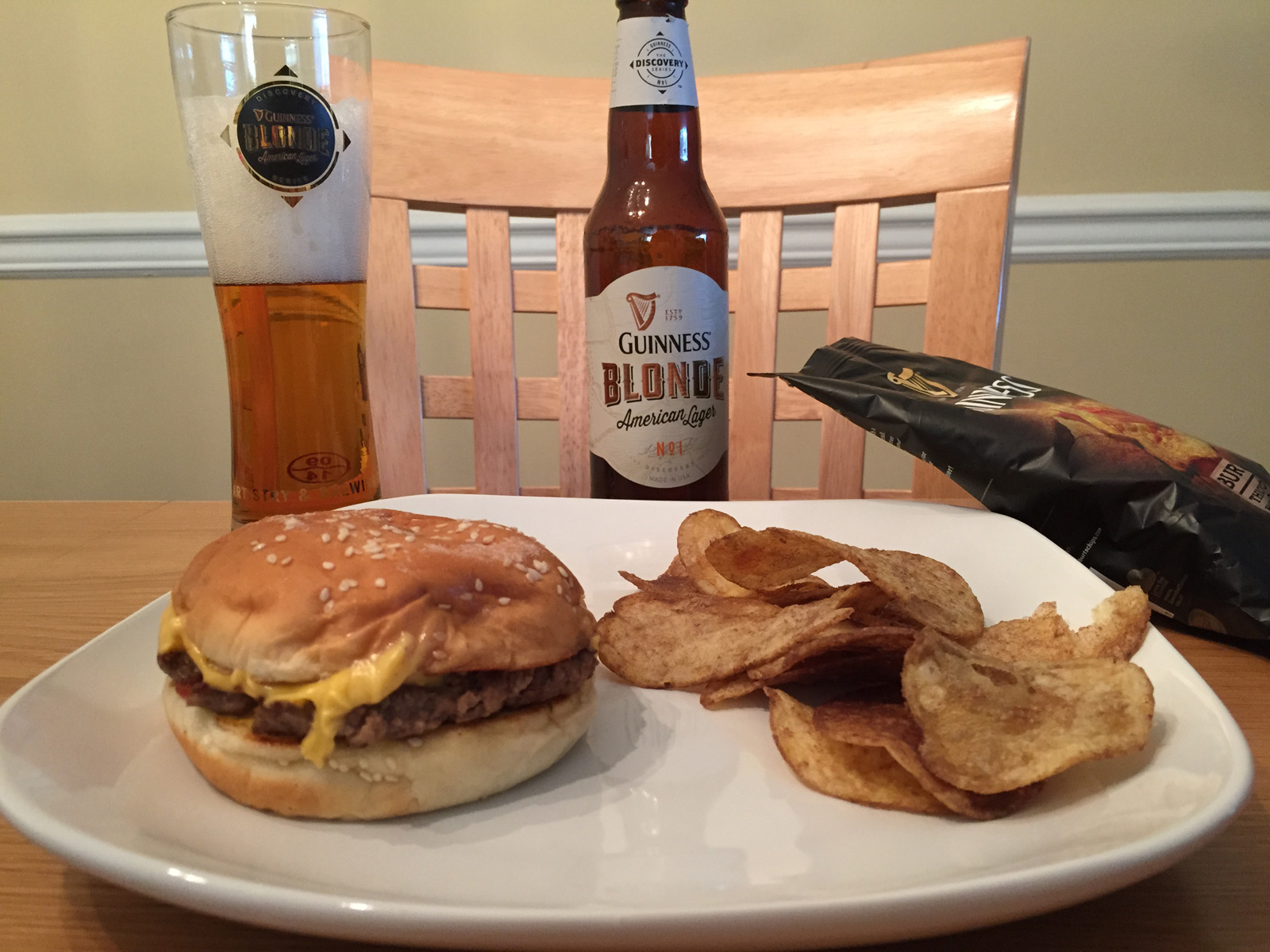 And if you want to make your own burgers from scratch, here's an amazing recipe from Chef David Chang:
What You'll Need:
Short rib beef blend (or at least a 80/20 lean/fat beef blend)
American cheese slices
Hamburger buns
2 TBSP butter
2 TBSP neutral, high heat oil
Bread & butter pickles
Cast iron skillet
How You'll Make It:
Ask your butcher for a short rib blend (16 oz will make four 4 oz burgers). If you can't get a short rib blend, make sure you get a blend that has 20-30% fat content. Form the patties. Measure out 4 oz portion and form into 1/4″ thick patties. Season liberally with salt on each side. Add oil to cast-iron skillet over medium-high heat. Cook patties for 3 minutes on each side. During the last minute, add one slice of cheese to the patty and a dab of butter to the pan. Baste burger until cheese is melted and set aside on a cooking rack to rest. In the same pan, toast buns face down until golden brown. Dress with bread and butter pickles to taste.
Bon appetit!