The Halfway Point of the ESPN History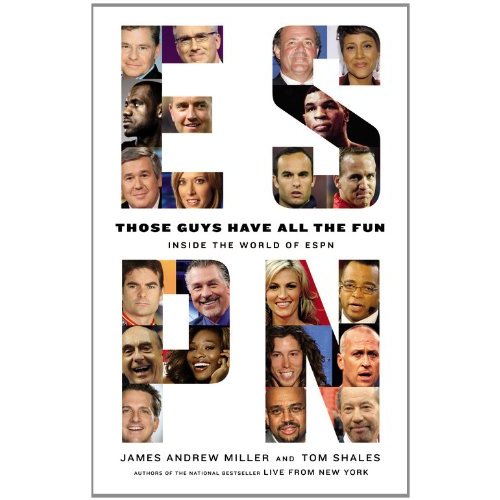 CJ did a preliminary review on Those Guys Have All the Fun by Miller and Shales. I started reading the book about 2 weeks ago. It is a riot and one heck of a long read – 750 pages. I haven't laughed out loud reading a book for years. This book had me in hysterics by page 15.  I'm currently up to page 373 and I'm just breaking into the early 1990's. This is a complete history of ESPN. The authors interviewed hundreds of people and they did EXTENSIVE research. This isn't a rah-rah give ESPN blow jobs book. It has all the dirt, whores, overzealous executives, and pompous athletes that you could dream of.
My favorite quote is the advice that was given to Andrea Kremer when she started out:
She asked the producer, What should I look like? The answer? Friendly, fuckable, and informative. Its like they want to be fucking you while they're talking about football!
The book is an easy read. I thought how am I going to be able to read a book that looks like an encyclopedia! Once I started I realized this is a piece of cake. The way it was written keeps you on the edge of your seat. It is amazing that a company that started on cable in 1979 turned into the worldwide presence that it is today.
As a 34 year old male I have to admit this is like going back into my childhood. You get to hear all about Chris Berman in the early years, revisit the Cal Ripkin consecutive game streak, and get into the head of most brilliant but borderline insane Keith Olberman. His insanity and on the fly antics helped him and Dan Patrick redefine Sportscenter. I was that teenage boy that tuned in to hear those antics. In a sense ESPN helped drive my love of sports. The instant on availability of ESPN created an entire generation of sports geeks.
This book has got something for every male. I highly recommend given this book a read. It is amazing how this company succeeded. It is shocking, hilarious, and an incredibly enticing read! I'll be back with a rap once I complete this monster!